Blueberry Lemon Zucchini Bread with Lemon Glaze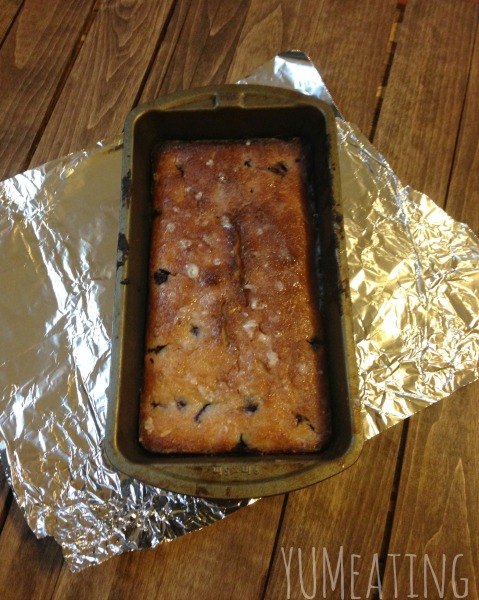 Because blueberry donuts with lemon glaze wasn't enough. Because making blueberry lemon rhubarb crisp wasn't enough. I had to find a way to use up some of the last bits of zucchini that came out of the garden. I have some stored in the freezer for future use. We do a lot more baking in the fall and winter than we do in the summer. When I saw this recipe for a raspberry loaf I was inspired to kick it up a notch and go back to the summer flavor of blueberry and lemon I had become obsessed with.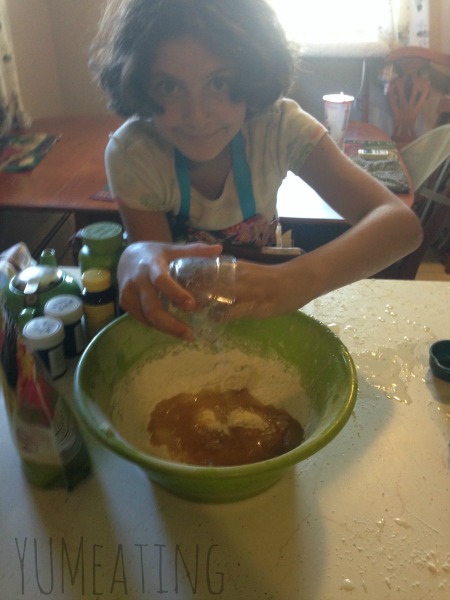 Kiddo is such a wonderful helper. I remember being her age and helping my mom in the kitchen with the cooking and the baking. I've been trying to teach kiddo all of those life lessons my mom was always so keen to throw in the baking mix. I'm sure someday I'll know that she actually is listening. For now, I'm content with her knowing how to cook certain things and watching her baking skills improve over the years. We always have so much fun and tend to pick on her dad quite a bit. 🙂
Kiddo was a little confused by the zucchini. She finds it weird that we sometimes put vegetables in desserts. I had hubs shredding the zucchini and she worked on the rest of the ingredients. I love it when we have full family contribution. To some that might mean less work for me, but let me tell you , spend a few days with these two and you'll change your mind. It's Ms. Big Mess and Mr. Bigger Mess I tell you.
We made two loaves and I froze one so we could have a warm lemony bread treat later in the year. For those who are wondering, zucchini bread holds up really well in the freezer so long as you package it up nice and tight!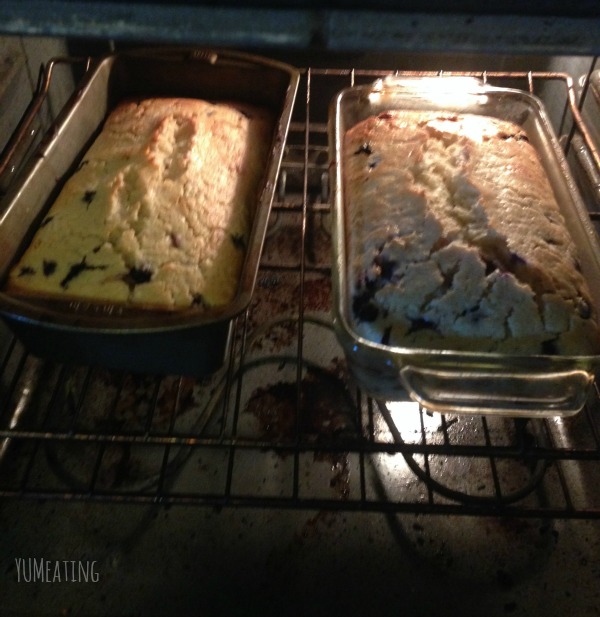 I have also just realized my oven is in desperate need of attention! Yikes!  I don't use my oven much (if at all) in the summer because it heats up the house and our poor little a/c unit has to work overtime.
This recipe was rather easy. I ended up using the same lemon glaze that I had made for the blueberry donuts. So that part was easy enough. I always worry when I start baking. My old farmhouse wall oven pretty much sucks. You have to watch things and recipe instructions are never correct when it comes to the time and temp for my old girl. I spend a lot of time guessing and adjusting. Someday I'm going to move and we'll have a super-duper fancy oven/stove in one that actually works.
Hey, a girl can dream. Someday, it will happen.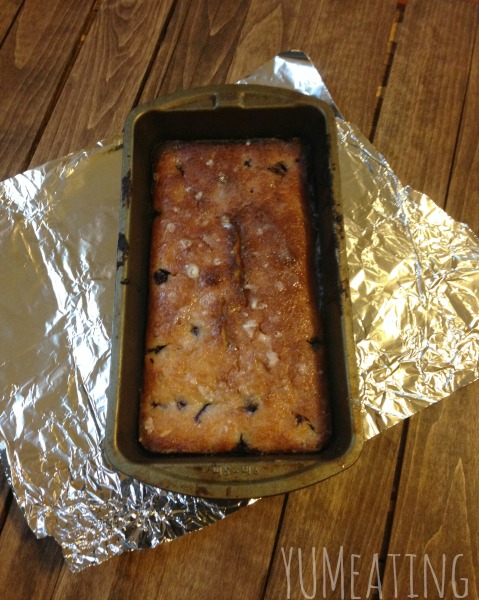 Blueberry Lemon Zucchini Bread with Lemon Glaze
Ingredients
For the Bread

2

cups

blueberries

2

cups

grated zucchini

Zest of 1 lemon

1/2

cup

lemon juice

1

cup

skim milk

1

cup

sugar

or substitute

1/2

cup

canola oil

4

eggs

1/2

tsp

salt

4

tsp

baking powder

4

cups

flour

For the Glaze

¼

c

Skim Milk

⅛

c

Lemon Juice

⅛

c

Powdered Sugar
Instructions
Preheat oven to 350.

Grease two bread loaf pans.

In a large bowl combine these dry ingredients - flour, baking powder, salt. Set aside.

In a medium size bowl beat the eggs with a mixer until they are well blended.

Add the oil and sugar to the egg mixture. Beat on low until well blended.

Slowly add the milk, lemon juice and the lemon zest. Continue to blend on low until everything is completely mixed.

Slowly add the zucchini. Use a baking spatula or plastic soft spoon to stir so that the zucchini is evenly distributed.

Add the blueberries and stir again.

One the blueberries have been mixed slowly add your bowl of dry ingredients. Take care to not over stir and smash the blueberries and mush the zucchini.

Divide the mixture between the 2 bread pans.

Bake for 45 minutes or until a knife comes out clean.

Allow to cool.

While the breads are cooling prepare the glaze.

Add all ingredients to a bowl and blend well.

Divide the glaze between the two loaves, pouring over the top.

All the glaze to set before slicing and serving.

For a quick set, places loaves in the refrigerator.
Now that summer is over and we are officially into fall, what summer flavors are you missing?