Super Simple Low Carb Pizza Omelet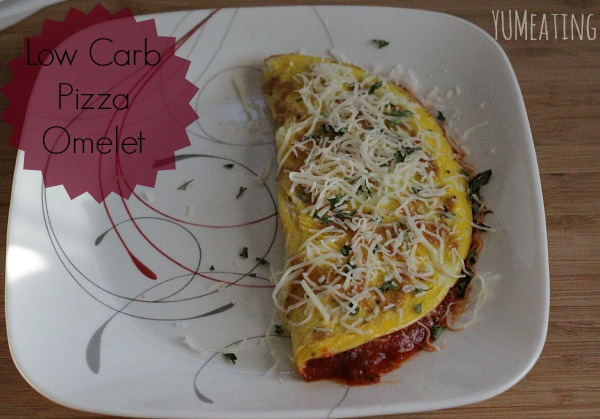 I love a good omelet. But even I can get bored with using the same meats and cheeses.
It can also be hard when juggling a low carb diet, especially if you are like me and get stuck in a rut.
There are a few reasons why this recipe is so awesome.  Great, now I will be singing "Everything is Awesome" for the rest of the day.
1. If you want pizza but don't want all the crazy calories or ingredients of the dough, eggs are the perfect solution.
2. It takes mere minutes to  make.
3. It's suitable to have breakfast for dinner.
Sounds perfect, right?
My mom started making these many, many (many) years ago when I was in my 20s. These were made for dinner as her signature 'quick meal.'
I hadn't really thought about them in a long time. Maybe I just ate so many I wanted to block it out of my mind for a while. As I was sitting here the other day trying to figure out something to make for dinner that was low in sugar and low in carbs it came to me that I could have pizza and just use eggs. Oh wait, mom did that! I can do that. I know how that tastes. Yes, I talk to myself when I am home alone. Happens every time.
If you know how to make an omelet, you are in luck.  If you don't, it's just like making a fried egg, only scrambled and scrambled only you don't scramble it up.
Let me rephrase that. To make an omelet is like making a friend egg in that you'll be flipping an egg, or two, or three. It's like scrambled egg in that you are going to crack a few eggs in a bowl and whisk them together. If you want a thin omelet, stick to eggs. If you want one that's a little fluffier you can add some skim milk but just know that will change your sugar and carb macro. I have not done it with coconut and almond milk, but assuming it's like baking, I doubt the eggs will fluff up much.
I use a small frying pan. As a matter of fact, this one is the Green Earth pan. I just love it and still continue to use it on a weekly (almost daily) basis.
I whisked together a few eggs, put a tiny bit of coconut oil in the pan and then poured the eggs in.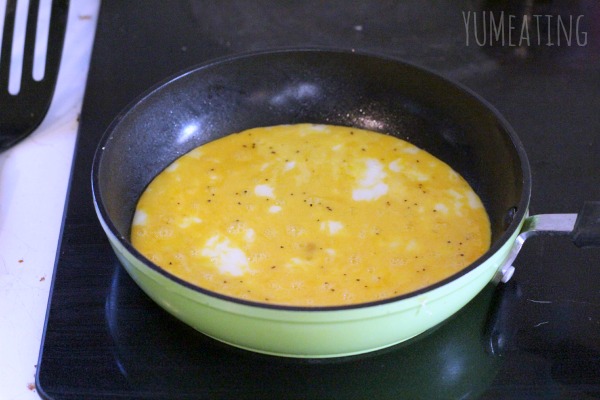 I left them alone as they cooked. Using a spatula I flipped them.  Once flipped I put some low sugar pizza sauce on one side. You could add meat if you would like. I didn't have any as we made thin crust pizza's a few days prior. Turkey pepperoni or regular both taste really well. You could also use ground sausage.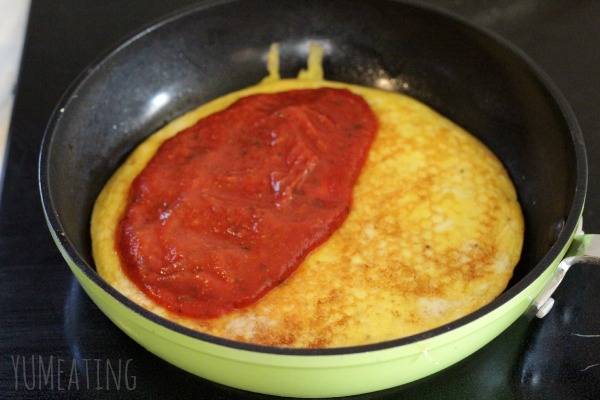 Instead of mozzarella I used an Italian blend. Gives it a bit more flavor.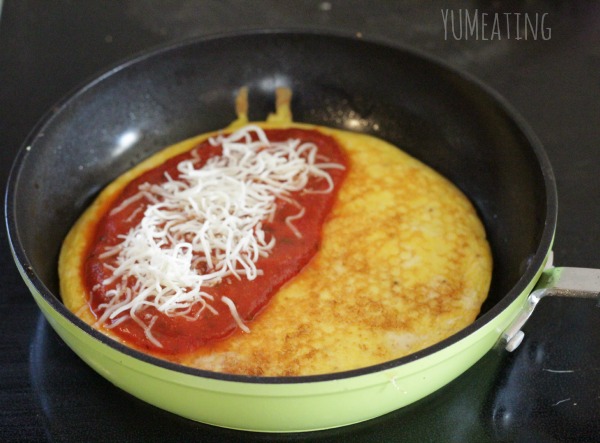 Then I folded the half over.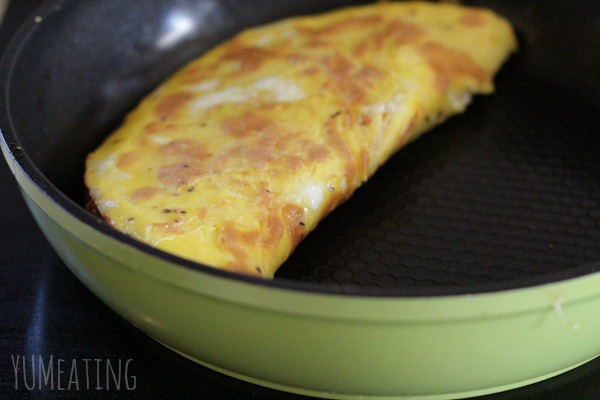 Plated it with some cheese and parsley.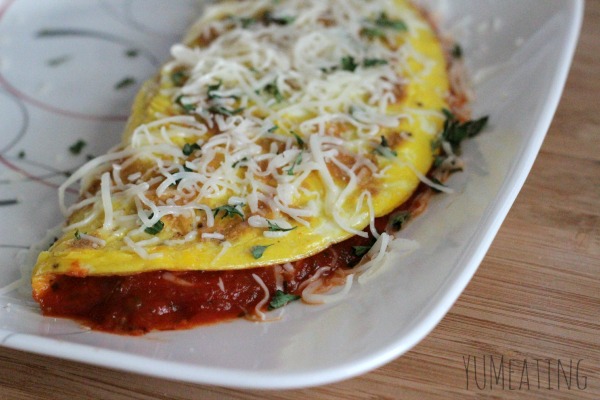 Super Simple Low Carb Pizza Omelet
Ingredients
2

eggs

Salt

Pepper

1/4

c

low sugar pizza sauce

1/4

c

Italian blend cheese

Parsley
Instructions
In a small bowl whisk together two eggs.

Add a dash of salt and pepper. Whisk again.

Grease a small frying pan.

Pour the eggs into the greased pan.

Cook on low-medium heat.

Using a spatula, after about 2 minutes, peek under to see if the egg is firm.

Flip.

Add sauce to one side of egg patty.

Top with cheese.

Fold other side over the top of the mixture.

Plate.

Sprinkle with cheese and garnish with parsley.
Do you like omelets? What is your favorite flavor combination?
If eggs aren't your thing I've also made these low carb version: