Gorgonzola Butternut Squash Mac and Cheese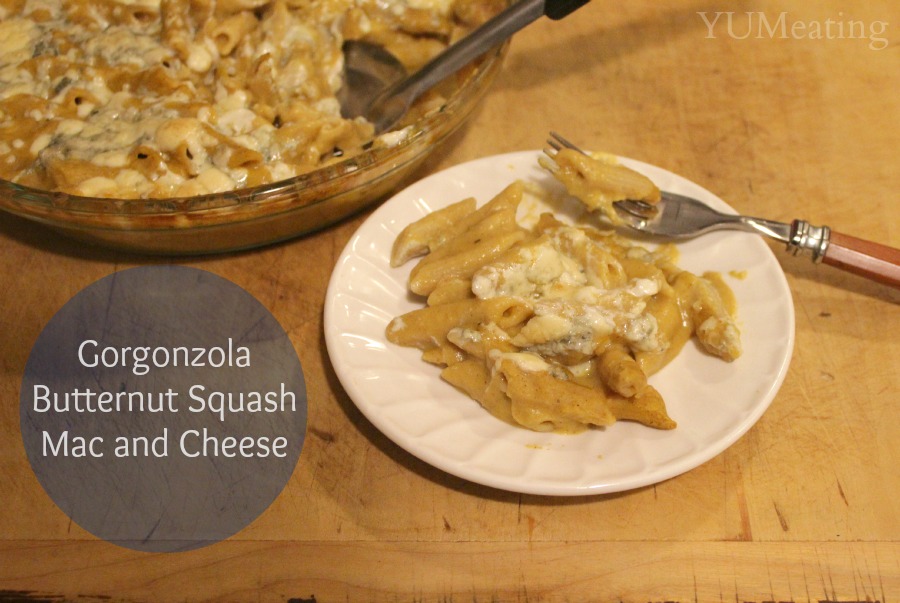 I'm in love you guys.
No..no. Not with my husband.
Wait!
Yes, obviously, but that's not what I am talking about.
I'm in love with this Gorgonzola Butternut Squash Mac and Cheese. I may never looks at macaroni and cheese the same again.
This may also be the most difficult mac and cheese I have ever made. It wasn't hard but it was a step up from boiling water and adding cheese, milk and butter.
I blame a book called "The Melt." Ever since I have read it I have been dying to make some fancy smancy mac and cheese.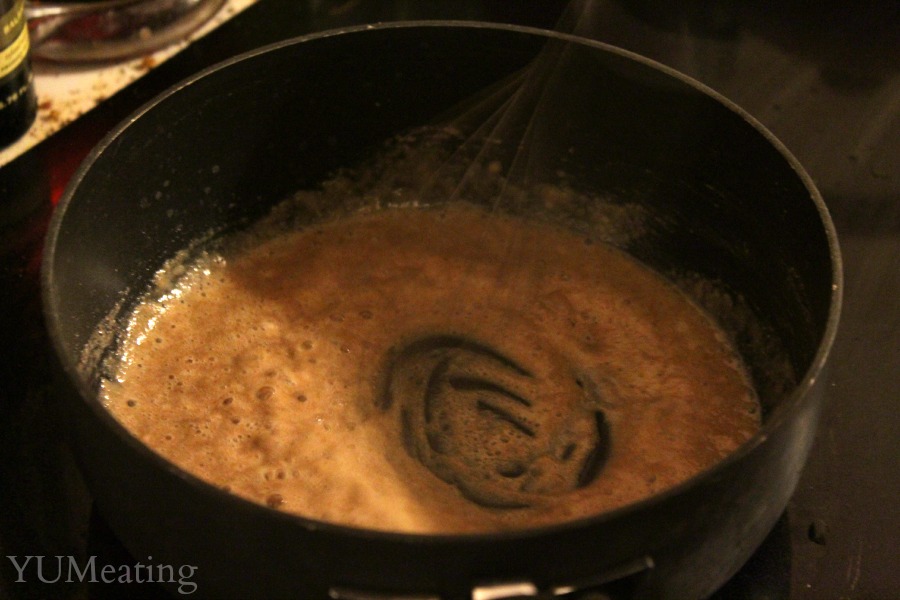 First, I had to make a roux. I can't count on one hand how many times I have had to make a roux. I would not call myself an expert or really much of a fan.
Second, I was not sure I was going to be able to pull this off because the husband is not a fan of squash and kiddo might just follow his lead. She is pretty good about trying everything once, but I was afraid the squash and strong cheese combo might make her turn her nose up.
Third, I used 100% whole grain penne pasta.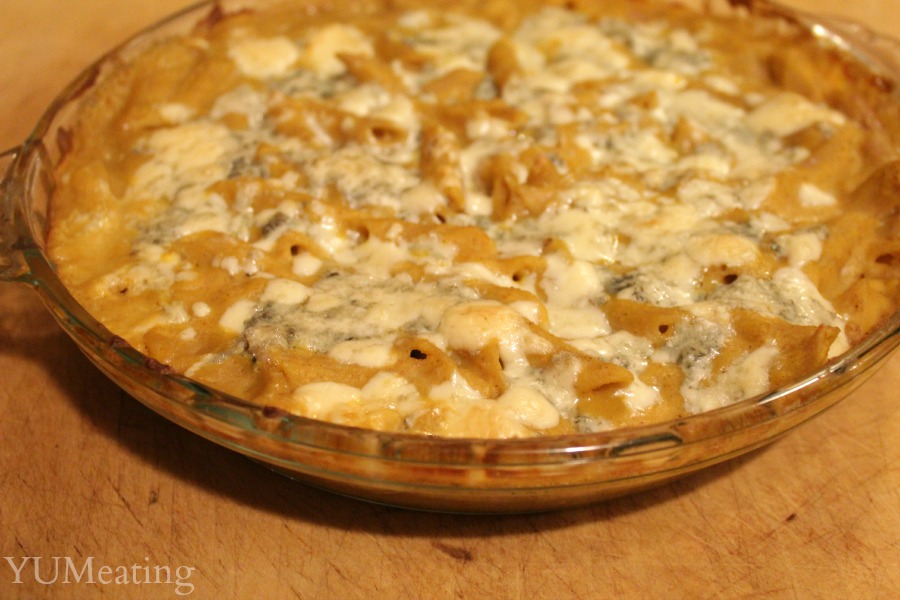 Gorgonzola Butternut Squash Mac and Cheese
Ingredients
Butternut Squash

1

cup

Almond Milk

unsweetened and plain plus 1 cup for sauce

1

box 100% Whole Grain Pasta

1/4

tsp

Cloves

ground

1

tsp

Pepper

1

tsp

Cinnamon

1/2

Stick plus 2 TBSP Butter

2

TBSP

Whole Wheat Flour

1/4

c

- 1/2 c Gorgonzola cheese crumbles
Instructions
Preheat the oven to 400.

Cut the squash into quarters.

Place quarters into a microwave container along with a small amount of water. Cover squash with lid.

Microwave 8-10 minutes.

In a large pan boil water and cook pasta per the box instructions.

While pasta is cooking start on the sauce.

In a small sauce pan heat on medium-low the almond milk, ground cloves, pepper and cinnamon.

Cook until small bubbles start to appear along the sides.

Take off heat and set aside.

Drain your pasta and set aside.

In another saucepan over the same heat melt the butter and then add the wheat flour.

Using a whisk stir the mixture until it becomes a dark brown.

Do not cook longer than 5 minutes. This will be your roux.

Take your almond milk mixture and add it to the roux 1/4 cup at a time.

Keep whisking until all of the almond milk has been added and stirred.

In a food processor add the cooked squash and almond milk mixture.

Melt 1/2 stick of butter and add it to the mixture along with another cup of almond milk.

Blend until smooth and creamy.

In a pie pan dump the cooked pasta and then add the squash sauce.

Give it a little mix.

Sprinkle Gorgonzola cheese on top.

Bake in oven for 10-15 minutes or until its warm and the cheese is melted.
I have to tell you this dish was worth the effort. When I made it I did not tell the husband what the secret ingredient was. I had hoped it would not taste so squashy so that he might actually like it. Well, even though (to  me) it does not taste like squash at all he didn't like it. He did however appreciate the flavor combination but he "just doesn't like squash." I gave some to kiddo and she looooooved it. However, the cheese got to be a bit much for her 9 year-old palate. I did give her some more from the bottom of the pie pan and she happily ate it. I think next time I make it I will make a little pan with no cheese just for her.
I can certainly see myself making this again, but maybe not a whole box. I was eating the Gorgonzola Butternut Squash Mac and Cheese for a week.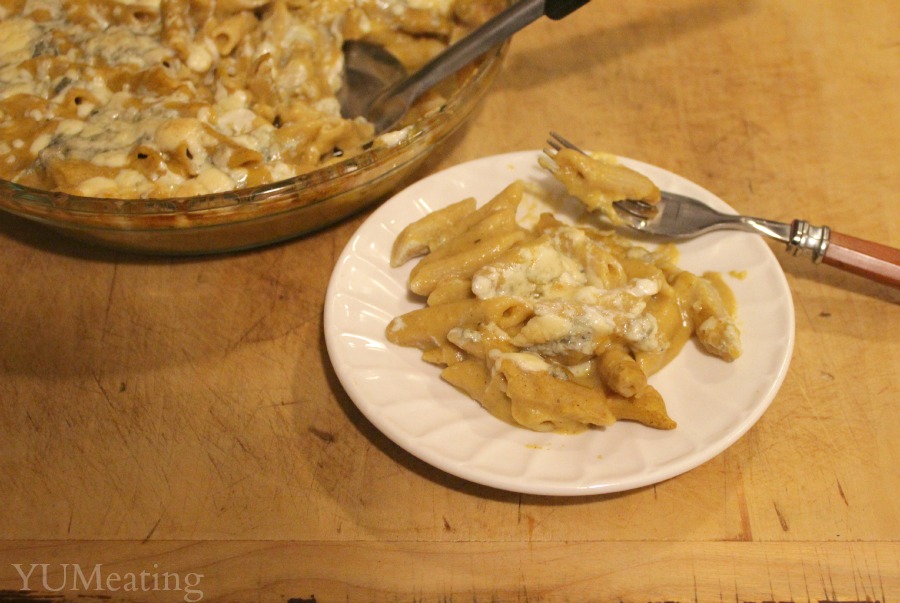 Have you ever had butternut squash mac and cheese? Tell me about your favorite mac and cheese dish.
One week ago: Guinness Grilled Shrimp
One month ago: Vegetarian Grape Leaves
Five months ago: Sausage, Cheese and Spinach Omelet