January Foodie Pen Pal : I'm In Love with Tea!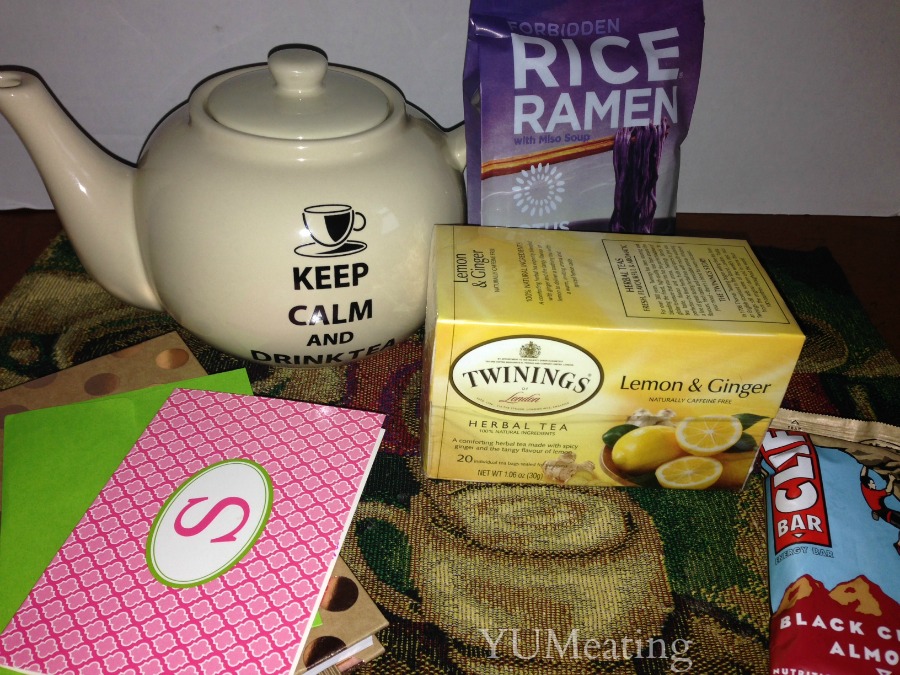 It's no big secret I love tea. I have a drawer in the kitchen full of different kinds of tea. I have tea bags, loose leaf tea, and many different devices to steep the loose tea. I have a warmer in my office to keep my mug warm (which I often use for candles.)  I was tickled to death when I opened this months foodie pen pal box. Sara blogs over at Not So Doughie and it just so happens she not only shares my love of tea, but she's a fellow Michigan blogger! I just have to say that Sara went above and beyond her call of duty as a Foodie Pen Pal. I understand this was her first time and she wanted to make it special.
I thanked her face off let me tell you.
This tea pot she sent me is so adorable and I can see myself using it for a long time! I have a shamrock steeper that will fit perfectly across the top for a pot of loose tea. YUM!
She also sent a box of Twinings Lemon Ginger tea.  I love Twinings tea but have never tried Lemon Ginger. It looks delish!
Sara sent the cutest little notecard, too. Love the pink and green. In my box there was also a small journal to put in my purse to "jot down blog-spirational ideas."
There was also a Black Cherry Almond Cliff Bar which I wasted no time nomming on. I've never had the black cherry almond flavor and have to say, it was amazing.  These things are pretty filling, so I will be saving the other half for another day. If you've never tried Cliff Bars, you should. All organic and they donate 1% back to the planet. Such a great company and I have been enjoying their treats for many years.
The last item in my box was a packaged of Forbidden Rice Ramen with Miso Soup. I've never seen or heard of this before and I do love me some good Miso Soup so I am really looking forward to trying this. The Ramen noodles are made from black, white and brown rice.
In October I had a some-what of a bad experience. I did not do one for November because of this. December there was not one. So, when January came around I knew I wanted to try at least one more time. I'm glad I did. I really happy to meet Sara and really appreciate everything she sent me.
I am beyond thrilled that she's here in MI!
How was your experience? Did you get something amazing?
If you are interested in joining the Foodie Pen Pal program head on over to The Lean Green Bean for US and Canada  members or contact Carol Anne This is Rock Salt  rocksalt@thisisrocksalt.com for UK members to get signed up.