#FreebieFriday Free Meal Plan Printable
It smells like FRIDAY! Today I have something really special for you guys! When I first started YUM I had some printables made by a friend and I have always had them here on YUM, free for printing.
They have my old logo and colors. Since then, my site has gone through some changes! So, I'm offering you a spiffy new version.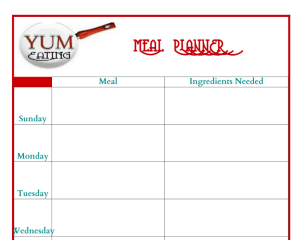 Do you recognize that pan? It's the same pan from the cover of my Food Bloggers Tax Guide. I'm actually in the process of hunting for a new cover to update it. Give it more of a professional tax book feel; whatever that looks like.
I loved that pan, the fonts, and colors I had picked. I actually still use these when I am going through my "trying to meal plan" phases. But, I was thrilled when I was able to get a new one made with the pretty grey and blue.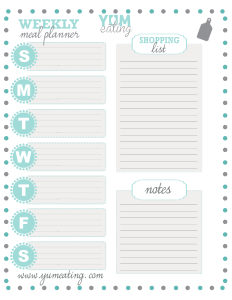 Click here for the printable version.
I've been working on some fun printables so stock my Etsy shop and get it going. I hope to offer you a lot of fun typography, graphics for  your websites, and plenty of color options for binder/planner printables. This is something I have been wanting to do for quite some time. I'm even working on a Zazzle store! YUM eating is going to have a new look soon. I just can't wait to share all the wonderful new things with you guys!
Good things come to those who wait 😉
So, if you could have any printable in the world to help you manage your home, time, office, life, kitchen, or work space; what would it be?