Try the World ~ Marrakesh Box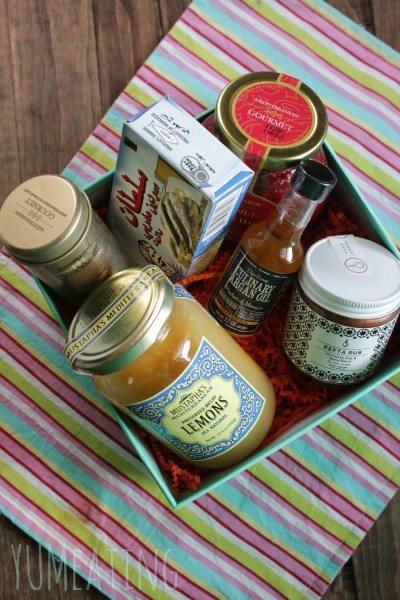 And so we meet again. Here we are, traveling the world with Try the World. This is my second box from Try the World (my first was Venice) and I was really excited to receive it since the theme was Moroccan based with the city of Marrakesh. I waited patiently for my pretty blue box to arrive. When it finally did, I set out to make a video recording the opening.
There were so many great things in my box. So, let's go through each one, shall we?
Mustapha's Mediterranean Preserved Lemon Confit. This is basically pickled lemons. Only, I didn't know that until I popped open the jar thinking these would taste good on some vanilla frozen yogurt. Nope. While they don't taste pickled like you would think of pickles or something like pickled okra, there is a very different lemony taste. So, Mr. Yum and I decided that we'd try to make some Moroccan chicken and roast a whole chicken and cook it with some of these lemons to see how it turned out. I'll update when we get it made.
Mediterranean Gourmet Ras-El-Hanout Blend. I used this spice on my boneless porkchops I made for my Weight Watchers weekly meal prep. My house smelled amazing as they cooked. Tasted good too. This is one spice I can't wait to use more of.
Sultan. Fancy smancy sardines. Seriously. In oil. I love sardines but I have not tried these yet.
Villa Jerada Kefta Rub. This smells amazing. I roasted up a giant slab of ribs over the weekend that had this rub on them. Mr. Yum and kiddo had no problems picking the bones clean. She said they were the "best ribs ever!"
Dip & Scoop Culinary Argan Oil. Argan oil can be used for so many things (protect your skin) and in so many dishes. It's also perfect for bread dipping. I need some fancy bread. Then I'll show you 😉 For those new to Argan Oil, this oil has a bit of nutty taste. It is one of the healthiest oils next to olive. What I love is that is has three times the Vitamin E than olive oil.
Mediterranean Gourmet Harissa Sauce. My husband was excited for this. These are zesty peppers ground with spices like coriander and cumin. We love those spices. I want to try this with some couscous or quinoa.
All-in-all it was a really nice box. Not sure yet how to incorporate the goodies into a recipe. But I promise, I'll share with you when I do!
If you'd like to sign up for your own Try the World check out their homepage and read all about this wonderful subscription box that comes out every two months. Every box has a new theme based on an amazing city somewhere around the world.
Right now Try the World is offering new subscribers a free Paris box when they sign up with the Marrakesh box.
Also, as a special gift to my readers, Try the World is offering you 30% off with your 1st box when you sign up with the $39/mo plan. Shipping is always free and you can cancel any time! Just use code: YUMEATINGTRAVELS at checkout.
Try The World works with artisanal producers from around the world, and therefore each box may be a little bit different. All boxes have a curated assortment of delicious and authentic gourmet products of similar value. When opening your Try The World box, you may be pleasantly surprised to discover different local flavors than the ones I have received! The card included in your box will guide you through your culinary adventure.
Disclaimer: I was given this Marrakesh box by Try the World free for my honest review. I received no compensation. All opinions are 100% my own. Links to Try the World are affiliate links. If you make a purchase using my link I might make a few cents.