Prost! Wine Bar & Charcuterie in Frankenmuth, MI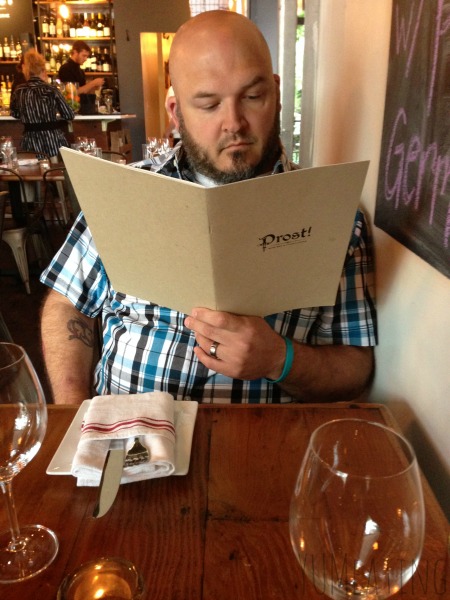 It has come to my attention that many of you actually have heard of Frankenmuth, MI. It has often splashed the pages of many travel magazine, websites and articles. As, it should. It is one of the cutest little towns if I have ever seen one. Of course, it is in my backyard so I could be just a teeny tiny bit biased. 😉 If you  have ever watched the Gilmore Girls and are familiar with Stars Hallow then you'll understand this small town charm. The only real difference is that this town is German and it's known worldwide for its German roots.
Frankenmuth is home to the great German restaurants Bavarian Inn and Zehnders. Some of you might know these two establishments through their water parks. If you are fimilar with Great Wolfs Lodge, well, Zehders just spent millions of dollars expanding their indoor water park, Splash Village, which is now bigger than Great Wolf's Lodge. Neat, huh? While some might be thrilled to have that in their backyard, I'm not really one of them.
When I was younger and would travel from OK to MI to visit my family ever summer, my grandmother, mother, aunts and girl cousins would all have girls day and go to Frankenmuth. To me, this was a small town with its unique shops and eats. I loved how every store had free samples of candies, nuts, cheeses and fudge. We had so many shops to walk through and an old schoolhouse was converted into a large variety of stores. They knocked that shop down a few years ago.
Since moving here I have seen plenty of shops come and go. But, despite that, the town still keeps growing. They  have just put in another hotel, right on the main street. I feel sorry for the storybook homes who used to have a gorgeous view of the waters and downtown who now have to stare at the backside of an ugly hotel. I am all for growth, but  not when it compromises the integrity of what made the town popular in the first place.
It's still a gorgeous place and I love walking around and enjoying the memories of past and present. Since Mr. YUM was born and raised in this area, between the two of us we both have quite a few stories to share with kiddo. Now we make new memories with her.
Last year a new restaurant took over the once famous fudge shop. Prost! (which is a German cheer to good food, great wine and warm conversation) I kept telling Mr. YUM how much I wanted to eat there. I am a huge fan of small plate restaurants, but even more of a fan of wine with specialty meats and cheeses. Every time we tried to go, something else came up. And when we had a free moment to go, we ended up doing something else. It was like the stars were never aligned.
Finally we went Friday night. Kiddo was with her family doing a bit of traveling. I took a full-time summer gig so I haven't been able to do a whole lot as we have been working overtime every weekend. Since it's just for the summer, I'm just trying to make as much bank as possible. Hubs has been working both his hospital jobs and even picking up a few painting jobs for some side money. Oh, I am sure I have mentioned we've been trying to get ready to move at some point in the next few months.
I can't remember the last time hubs and I went on a date.
I was so excited that he mentioned we should go to Prost! when I was trying to figure out what to do. Another one of the reasons this isn't usually on our list is because of it being a wine bar, it's not budget friendly. However, you must treat yourselves once in a while and just splurge.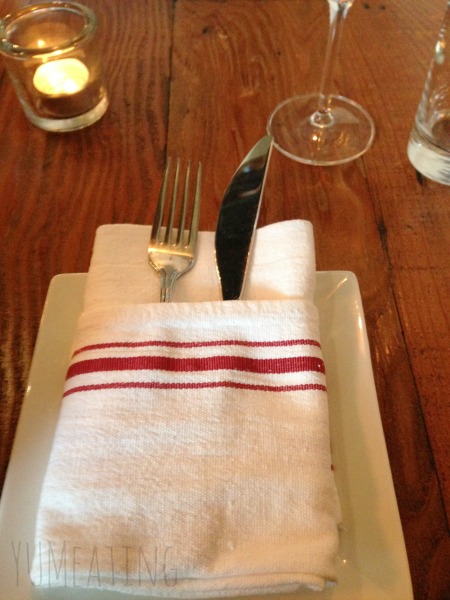 Splurge we did.
First thing I did was order a whisky sampler. I figure, I am going to be 40 soon. There are a few drinks I have wanted to try but had no desire to buy a whole bottle, even a small one, if I wasn't going to like it. So, this was the perfect opportunity for me.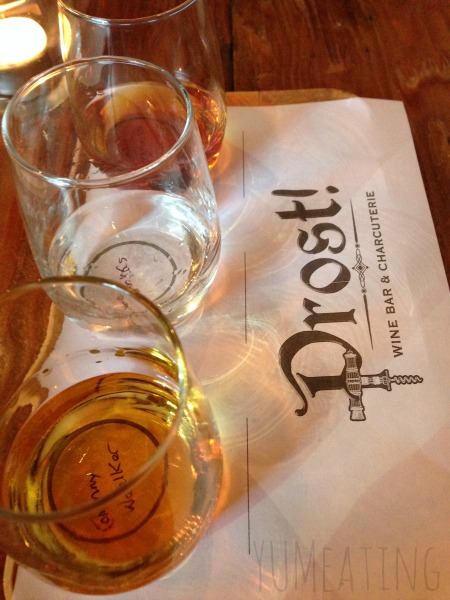 I ordered: Johnny Walker Double Black Scotch, Hendrix Gin, and Henessy.
I felt extremely fancy. While I did like them, I also didn't. I am not sure you'll see me sipping these any time soon. I did feel the Hendrix really needed some club soda and lime. YUM.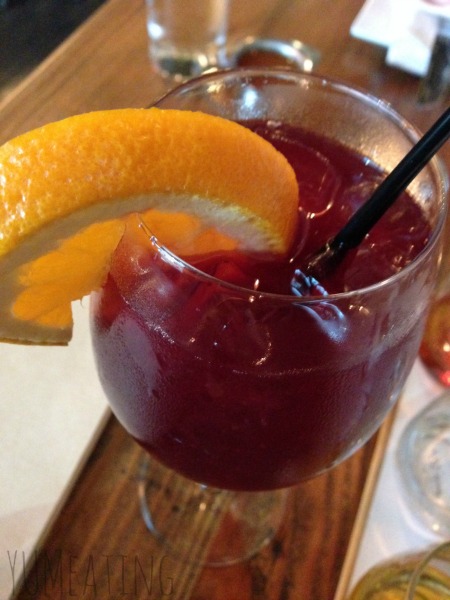 Hubs order a Sangria, his standard and then I ordered Jim Barry, "Lodge Hill,"  Shiraz, Clare Valley, Australia, 2011 . Oh man oh man. I love dry reds but a lot of times many have this aftertaste and that bugs me. Not this one. This might just be my new favorite.
Now for the food.
Hubs ordered the Charcuterie Salad. I wanted nothing to do with salad. I had one for lunch 😉 It was really pretty and he said it was the best salad he ever had.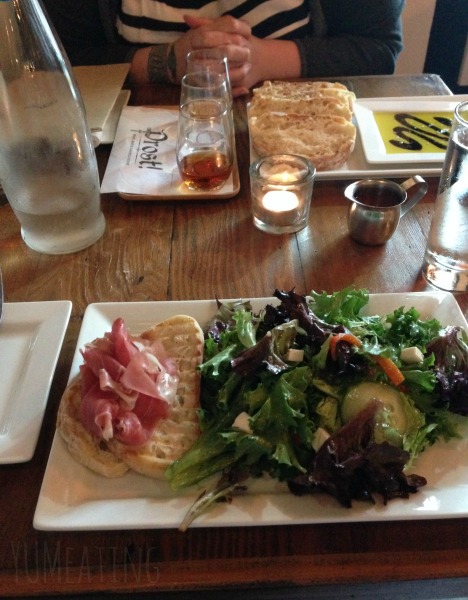 Then came the Olive Oil and Balsamic Glaze – bread and dipping.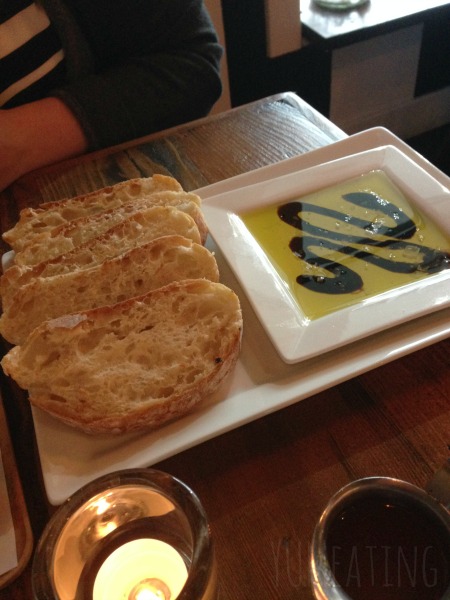 Then he ordered the Tomato Brushetta Crostini. Now, while I am a fan of Brushetta, and this was really good, it also had a wide drizzle of balsamic reduction and that I am not a fan of. So, hubs gladly ate it all.
For our 'main meal' we ordered the Italian Specialty board and the Prost! Farmhouse Cheese Board.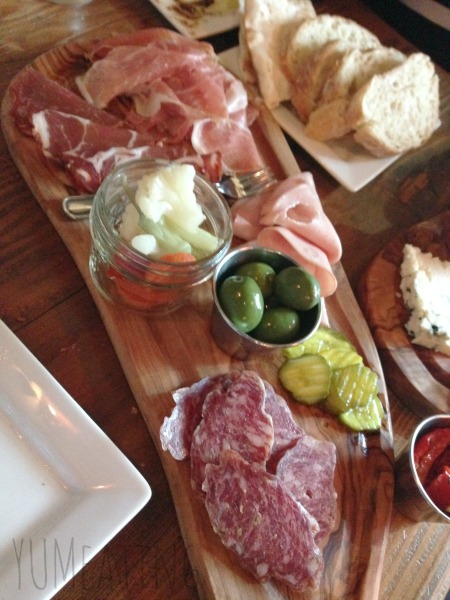 The Italian Specialty was a selection of Prosciutto di Parma, hot Coppa, Salami, and Mortadella served with Castelvetrano olives, slow roasted tomatoes, and gardiniera. It was one of the best meat platters I have ever had. The wine paired so nicely with it.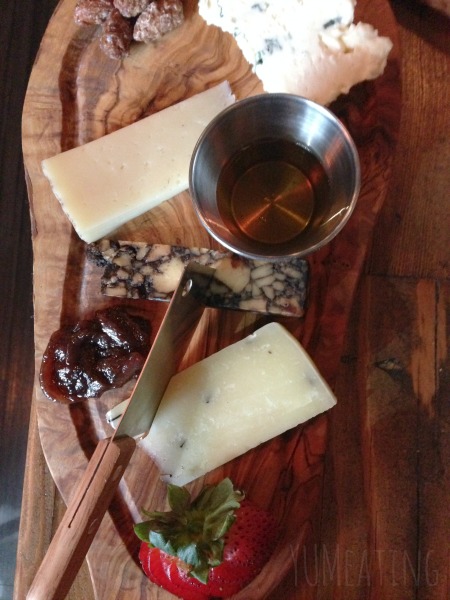 The board game with more bread and these giant saltine sesame seed crackers.
The Farmhouse Cheese Board was a selection of  cow, sheep and goat cheeses, served with mixed candied nuts, Michigan made honey, and balsamic onion jam. It was so unique with the cheeses. Non of which I had in the past. It was so yum. For the life of me I couldn't tell you what the exact cheeses were. 2 were sheep and they were amazing. The darker one was an Irish aged. It and another was cows milk cheese. All of it was amazing.
I was so full by the end of the night. We had a great waitress named Karen. I know I have told you guys about how Mr. YUM tends to ask a lot of questions when we go out to eat. Some staff members tend to get frustrated with him. She was awesome. Extremely patient and she had fun right along with us. I hope she is there the next time we go. You can tell she is someone who enjoyed her job.
Zack, the owner, was extremely friendly and he didn't cringe when I told him I was a food blogger and how much we really enjoyed having this treasure in our backyard.
When we were getting ready to pay the bill, Karen came out with the Truffle Trio. So I would like to thank both Zack and Karen for that. You really made us feel welcome and made our first date night in ages very special.
These truffles are from a local candy maker in Frankenmuth. They were pretty awesome.
We laughed. We shared a good meal. We talked and enjoyed each others company.
We needed that.
Next on my list, and I am hoping I get this for my birthday, it to take a drive down to Detroit to check out Micheal Symon's restaurant, Roast. I better get to saving. LOL
Disclosure: I paid for my own meal. These opinions and photographs are my own. I was not required to do any sort of review, I just wanted to. It's what I do. 😉
Have you have a phenomenal dining experience recently?