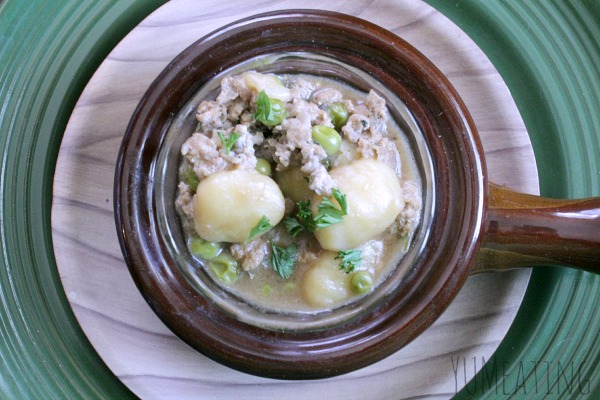 Has anyone figure out that we are a family which likes gnocchi? Well, since today is the last day of March and I am officially done with Irish American Heritage Month I thought I would share with you my Shepherds Pie Gnocchi recipe. Part Irish, part Italian. Whole lot of yum eating.
I stumbled on this recipe quite by accident. It wasn't even a recipe I had seen. I was trying to make some gnocchi soup based off the Skinny Rustic Italian recipe, but because I didn't have the same ingredients I was just sort of winging in. Some ingredients were missing. I used different meat. So, I decided to use different stock altogether. I had no idea how things were going to turn out. I was just hoping that because I added some peas and there was gnocchi in it that my husband would eat it.
I didn't even taste test as I went. I think I was just too scared. If it was going to be gross, then we would experience it together.
It really is crazy how I went through this. I used ground pork. And since I did not have ham stock, I ended up using beef stock. Using chicken just seemed to weird. I guess I could have used vegetable, but I didn't have any of that on hand either.
I made a slurry with flour and water to thicken the stock and basically just followed the previous recipes except for leaving out some ingredients and swapping others.
When Mr. Yum texted to let me know he was heading home from work, I told him dinner probably wasn't going to be good. I just had a funny feeling. So, I started looking for something else to make quickly, just-in-case.
And then I decided that maybe I should try it. My kitchen was started to smell good so that was a good sign.
I grabbed my little spoon and gave it a sip. Then a slurp. I added a bit more salt and pepper.
Slip. Slurp.
Nice. Big. Spoonful.
I stood there for a minute wondering what it the world I was putting in my mouth. It had a familiar taste.
I took another bite.
Oh Emm Geee
It tasted just like Shepherds Pie! I think I stood there and danced a little Irish jig for a second.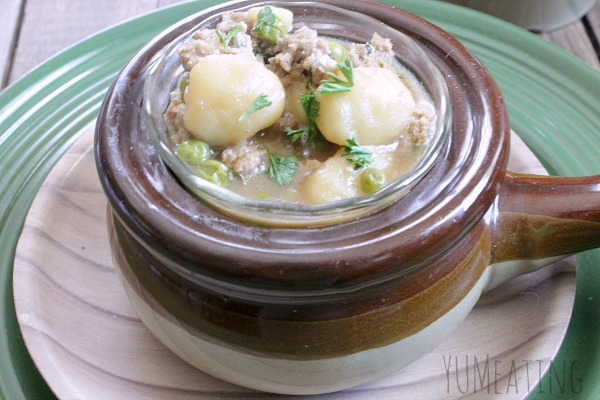 When Mr. Yum walked in the door I greeted him with a spoon full, ready and waiting. He was rather impressed.
It's defiantly a good day in my neighborhood.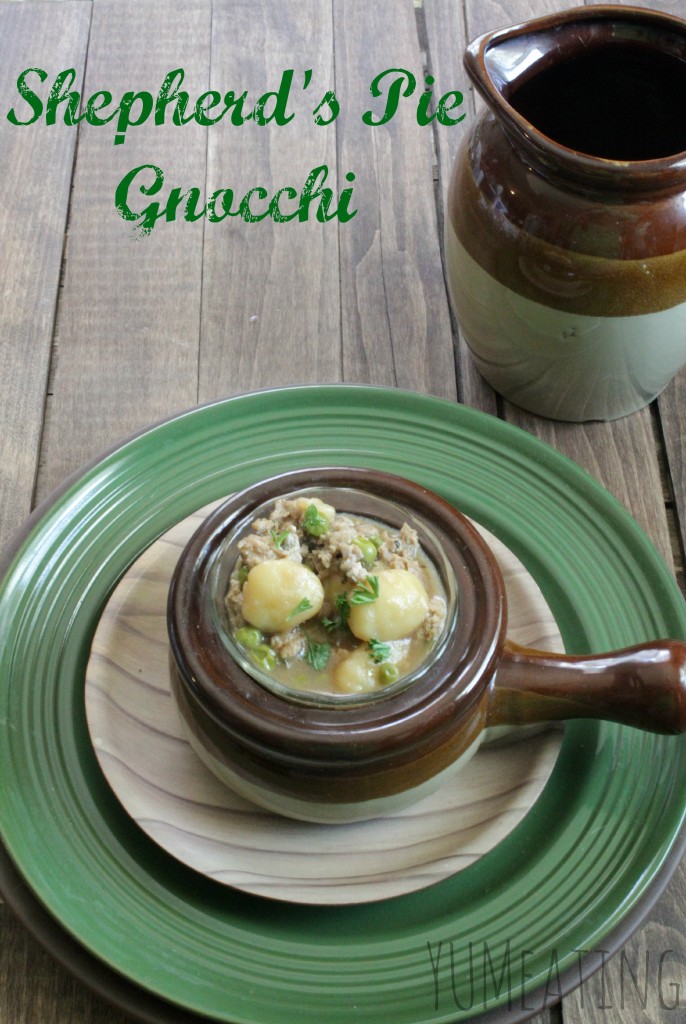 Shepherds Pie Gnocchi
Ingredients
1

pack potato gnocchi

1

lb

ground pork

5

oz

frozen peas

garlic powder

oregano

onion powder

fresh parsley

chopped

salt

pepper

5

cups

beef stock

1

cup

skim milk

3

tbsp

Parmesan

1/2

cup

water

3

tbsp

flour

olive oil

basil
Instructions
In the bottom of a dutch oven add 1-2 tbsp olive oil.

Let it warm and add your ground pork; cook on low.

As it cooks make sure you are breaking it up.

Add garlic powder, onion powder, oregano, fresh parsley, salt and pepper to your taste.

While that is cooking, create your slurry by combining the 1/2 cup water and 3 tbsp flour in a small bowl.

Mix well and set aside.

Continue breaking up your meat and cooking until its brown on all sides.

When meat is done add the 5 cups beef stock, 1 cup skim milk, 3 tbsp Parmesan and 5 oz frozen peas into the pan with the ground pork.

Bring soup mixture to a boil.

Turn down heat.

Stir in the slurry.

Bring back to a boil.

Add the gnocchi.

Reduce heat.

Add basil.

Continue cooking on low to medium heat.

Soup is done when gnocchi floats to the top.
True story, the pitcher in the photo, I dropped it when I was taking it from the photo board to put it back in the cabinet. *sigh*
Have you ever created a recipe that you thought was going to be horrible and it actually turned out pretty amazing?