How to Get Started Creating a Meal Plan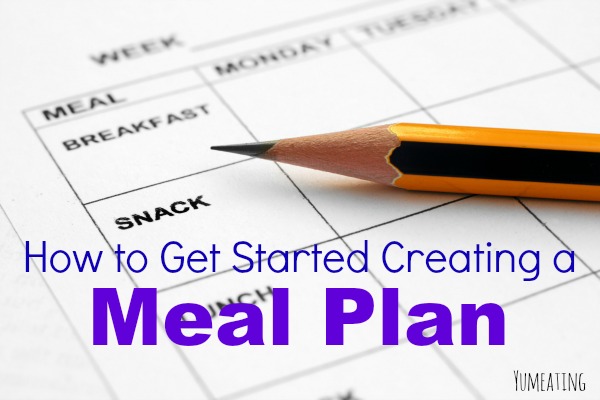 Last week I posted a free meal plan printable and as I was scrolling through the comments I saw a common theme among my readers. I know these area all-to-well because I am terrible about this myself. A lot of my readers mentioned that they just don't meal plan because they feel so overwhelmed with getting started. I've been there. Sometimes I am still swimming around in that pool. Things have changed in our life so our grocery budget is not what it used to be. Because of this I have realized that I am going to have to make some changes in the way I handle things. 
The first step is to try to create a meal plan that is suited to our budget. I know this can be frustrating and confusing to get started, but it doesn't have to be. And trust me, once you do it a few times it does get so much easier!  These simple tips will help you to save money and help you to prepare quicker meals.
Ready to get started?
1. Use your supermarket ads – Take a look at the sale items for the week at your local supermarket. What's on sale? Anything you'd likely buy and eat? Anything that can make a meal? For example, if ground beef is on sale for half price, you may want to make a note of that. If squash is on sale then make a note of that.
Because I live in a rural area I don't bother with the Sunday newspapers because it is not worth the money. Printable coupons are a great option for me. (there's a coupon section here on YUM! you'll need to turn your ad blocker off to view them) I do most of my shopping at Kroger so when the weekly mailer comes I circle the things that are on sale which I know my family will eat. This is my starting ground for meal planning. Kroger also has digital coupons and quite often they'll mail me special shoppers bonus coupons. I use these to maximize my savings.
2. Use your resources – If you have cookbooks on hand, then great. The next thing you can do to plan your meals for the week is open up your cookbooks and look for recipes with ground beef, squash and any other items you found on sale in the supplements. If you don't have cookbooks then simply visit an online cooking site.
Cookbooks are a big thing for me. I also have a subscription to Cooking Light , Clean Eating Magazine and Weight Watchers Magazine. I keep the issues and go back through them from time to time for inspiration. Cooking Light is a good magazine to look at because the recipes are organized by month. This means the recipes will often coincide well with what's on sale at your grocery store. The sale items are usually the produce items that are in season. So if squash is on sale it's because it is in season. Chances are this month's (or last years) Cooking Light will have a few squash recipes. It just makes your recipe search easier. You can also buy old used Cooking Light cookbooks and they're also organized by month.
3. Plan your meals – You now have both sale items and recipes at your fingertips, which means you're ready to plan. Sit down and look at the five to seven nights you have to work with. Consider meals that can be made ahead of time and frozen.
Consider meals that generate leftovers so you don't have to cook every night. Also look to make sure you're providing a well-rounded meal. For example, hamburgers alone aren't a healthy meal. IF you add cole slaw and sweet potato fries then you're providing more nutrients. And if cabbage and sweet potatoes are on sale then you're really doing well!
4. Make a list – Make a list of the ingredients you need for the entire week's worth of food. Don't forget to check your staples like bread, milk and eggs.
5. Go shopping – Make sure you shop from your list. If you deviate from the list, make sure you have a logical reason for the addition. A list helps you stay organized. It also helps you stay on budget.
Meal planning isn't difficult. However, it does require a system. You need to be both organized and a bit patient. Sometimes the sale items just don't mesh with the recipes you have in mind. Or your week is really busy. Pasta, burgers and even breakfast for dinner are options for those busy nights. Get creative and have fun. Meal planning really can alleviate much of the stress of busy families and meal time.
Got a meal planning tip to share?