How to Carve the Perfect Pumpkin
Halloween time means pumpkin carving time. For many households, pumpkin carving time is the main event in October, for all ages. Some want to place their creations on the front porch steps, others have carving parties or contests. One needs to learn how to carve the perfect pumpkin. So, whatever your household does, carving a pumpkin is the Halloween tradition. Last year we went to my cousins house where he had a pumpkin carving party in his pole barn. His kids, along with kiddo, schoolmates and parents all got to pick a pumpkin out of my cousins patch. It was a lot of fun and I was able to score buckets upon buckets of seeds since he left them all over for folks to toss their insides into. I used those seeds to make homemade seeds for canning which I used for Christmas gifts and I also canned my own pumpkin.  I'm very sad that the storms over the summer and the cooler weather we had towards the end of summer (along with more rain) cause a lot of damage to his pumpkin patch. Not only does he do the carving party for his girls classmates, he also donates a lot to a  local school and charity. It's pretty sad news. So, I'll be hitting up the farmers market to pick out a few pumpkins this year. My father-in-law counts on his homemade seeds every year so we can't disappoint!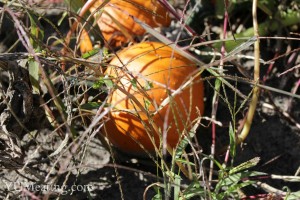 For carving your perfect pumpkin:
You will need:
Pumpkin
1 carving tool such as a knife with a serrated edge
1 scooping tool such as a spoon
Newspaper
Tape
Stencil
Candle
Selecting the Pumpkin
First you will want to decide what you plan to carve on your pumpkin. Once you decide, you can choose the size of your pumpkin based on the design. Tap the pumpkin. A hollow sound will be easier to scoop out.  Look for bruises to discoloration to be sure there is no rotting. You want your pumpkin to be as smooth as possible for learning how to carve the perfect pumpkin.  Pick a pumpkin that has a stem. A strong attached stem is a sign of a strong, healthy pumpkin. Plus, it adds character to your pumpkin after carving. Make sure the pumpkin has a flat bottom so it does not roll away after carving.
Cut Out the Top
Place the pumpkin on the newspaper. Using a long, thin blade knife or carving tool, begin cutting the top of the pumpkin around the stem. You want the hold to be large enough to allow your hand and scooping utensil in to scoop out the seeds and membrane.  Save the top, this will be your lid.
Scooping Out the Insides
Using your special pumpkin scraper that may have come with a carving kit, or your household spoon, reach inside the pumpkin, and scoop out all of the seeds and membrane strings. Leave the pumpkin wall about an inch thick. Make sure the bottom has been scraped flat for the candle to sit and not tip. Once you are done, wash and dry the pumpkin to help preserve the pumpkin and remove any mold.
Tip: Save the seeds! Those are excellent for roasting!
Using Stencils or Hand Drawing
If you are going to hand draw, draw your design on a piece of paper first. Use this as your stencil by taping it to the flat side of the pumpkin. If you are using a stencil, tape it on, picking the flattest side.
Carving the Pumpkin
To carve the perfect pumpkin, begin by using a sawing motion, and carve the smallest pieces first. Go slow and be gentle. Once the small pieces are out of the way, start from the center and work out. This helps with support on the edges when working with more intricate designs. Push the cut-outs with your fingers, not the saw.
Lighting the Pumpkin
Light your candle and place it on the bottom of your pumpkin. Replace the lid.