Homemade Roasted Sunflower Seeds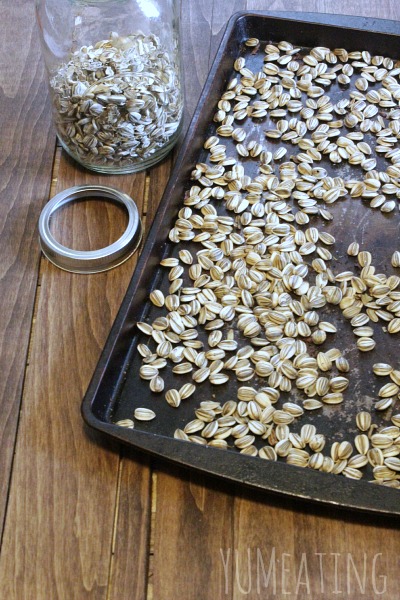 As we draw close to the end of the garden season, some of us are parting ways with summer. Parting is always such sweet sorrow for me here in Michigan because I know winter will be here in a matter of days and it will carry us into 2016. I type that number and I flinch. It seems like just yesterday my friends and I were in our early 20s without a care in the world. We all worked part-time at the same store where I was the assistant manager. My best friends were also my co-workers. It helped that my mother was the manager. We were a true family. Since I spent my life in Oklahoma while my family was up here in Michigan, my friends were my family. 
Every summer I think about them. Our Mountain Dew's, Cool Ranch Doritos and David brand sunflower seeds; usually BBQ or spicy flavor, sat on the warm cement as we floated poolside. The laughter, the smiles and all of the silly things we talked about come flooding back as I watch the sun set.  I turn around to walk down my driveway, transported back to Michigan time.
At the end of my driveway sit too large tires. We filled those tires with roses a few years ago but they didn't do so well. The last two years we've grown sunflowers. I love them. With their bright yellow sunny petals. Reminds me of summers past.
Now we are reaching the time of year where we can harvest some of these sunflowers. The smaller ones are starting to turn and wilt. The larger ones will slowly wilt and around October we can finish them.
To roast your own sunflower seeds from sunflowers, you'll need to wait until they are all done growing and getting to their wilting point. The petals will fall and their seedy middle will start to get heaving and face down. Cut those off at the stem.
I take them inside and put them in a giant colander. I break them into smaller parts. Once you do this, you will see the hidden gems. Each seed needs a good run of water. We clean off the flower and put all the seeds in a separate bowl after they have been rinsed.
Baking is easy. You can make them just like you do roasted pumpkin seeds. We drizzle a bit of olive oil. Add some salt and seasoning. Your choice on the season. We use season salt, cayenne pepper, garlic and even those fun popcorn seasonings. Not all on one batch. We experiment with different flavors.
You spread them out on a cookie sheet. Bake about 350 for almost an hour depending on your oven type. These sunflower seeds will make great mason jar gifts, too. We'll be saving a few jars for Christmas presents.
Sunflower seeds hold a special place in my heart; I'll never forget my girlfriends and the fun times we had sipping our Dew and eating our sunflower seeds as we soaked up the sun.
Is there a simple food that transport you to the past and some fun memories with friends?