Roasted Red Peppers and Bulgur on Kale
So, summer's over.
Boo.
I had every intention of making all these radtastic recipes over the summer that were clean and healthy. I seriously needed to get back to eating clean and getting that sugar down or my PCOS was going to take control of my life more than it already has. My mother gave me this great cookbook called Quick  Cook Vegetarian. Actually, she gave me a whole set of these Quick Cook cookbooks.  So, I had marked all these wonderful recipes to try this summer,  but life got in the way and I didn't even get half done what I set out to do. I'm slowly digging myself out of the funk from earlier this year (death of my father) and then my health problems, along with family issues and the recent death of my grandmother-in-law.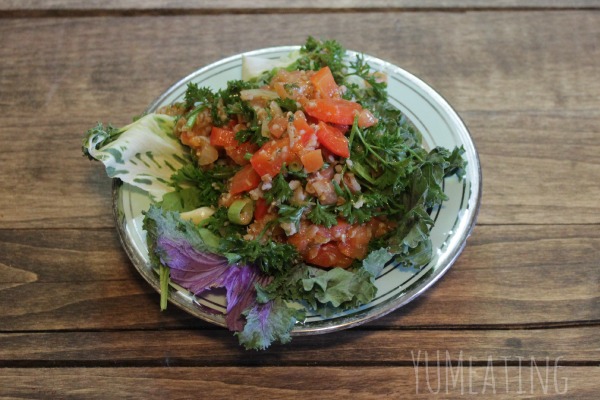 I was able to make my own version of their Bulgur Wheat Salad with Roasted Peppers on Lettuce. What I like about these little cookbooks is that each recipe has a 30, 20, and 10 minute version. This allows the user to change the recipe to suit their time.  Since I always go with the flow when using recipes for inspiration, I don't think this took the full 30 minutes to prep. I also like my  tomatoes a bit chunky, so my recipe looks a bit more like a chunky salsa or pico de gallo which seems to hide the bulgur a bit. But, let me tell you, it tastes amazing. It's light and the perfect complement to any meal. Hubs liked it so much we've made a few batches since then. It holds up really well in the fridge for about a week as long as it's tightly sealed. You could also add in some chickpeas for another variety. Wrap in lettuce instead of kale or eat alone.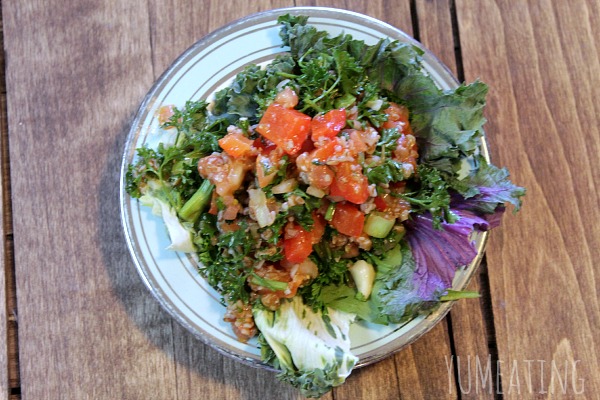 I'm loving this little salad. We tend to keep mass quantities of bulgur on hand because hubs loves his tabouli.  I'm thinking this might even be good with some toasted pitas. Yum! We used a lot of farmers market ingredients, too. It might be sugar free, vegan and clean, but it packs a powerful punch. Totally worth that healthy mouthful 😉
Roasted Red Peppers and Bulgur on Kale
Ingredients
1

red pepper

diced

1

cup

bulgur

2

green onions

diced

2

lemons

juiced

2

cups

diced tomato

1

cup

spinach

1

cup

fresh parsley

coursley chopped

6

leaves

of purple kale

6

leaves

of flowering kale

1

TBSP

tomato paste

1/2

cup

olive oil

1

tsp

ground cayenne

1/2

tsp

salt
Instructions
In a small skillet cook red peppers with a little bit of olive oil. You want them to have a little crunch so take care not to overcook.

Remove peppers from pan and set aside.

Cook 1 cup bulgur according to package directions.

Once bulgur is done, drain excess water.

Add tomato paste, olive oil, salt, cayenne, lemon juice, green onions, diced tomatoes and parsley to the bulgur. Mix well.

Add the roasted peppers. Mix again.

Arrange the kale leaves on a plate. We used 3 on each plate. Rotating as we went around the plate for decoration.

Add the bulgur mixture to the center of the plate.

Use the kale to scoop and wrap the bulgur mixture or eat with a fork.
Have you ever tried Bulgur? What's your favorite recipe?