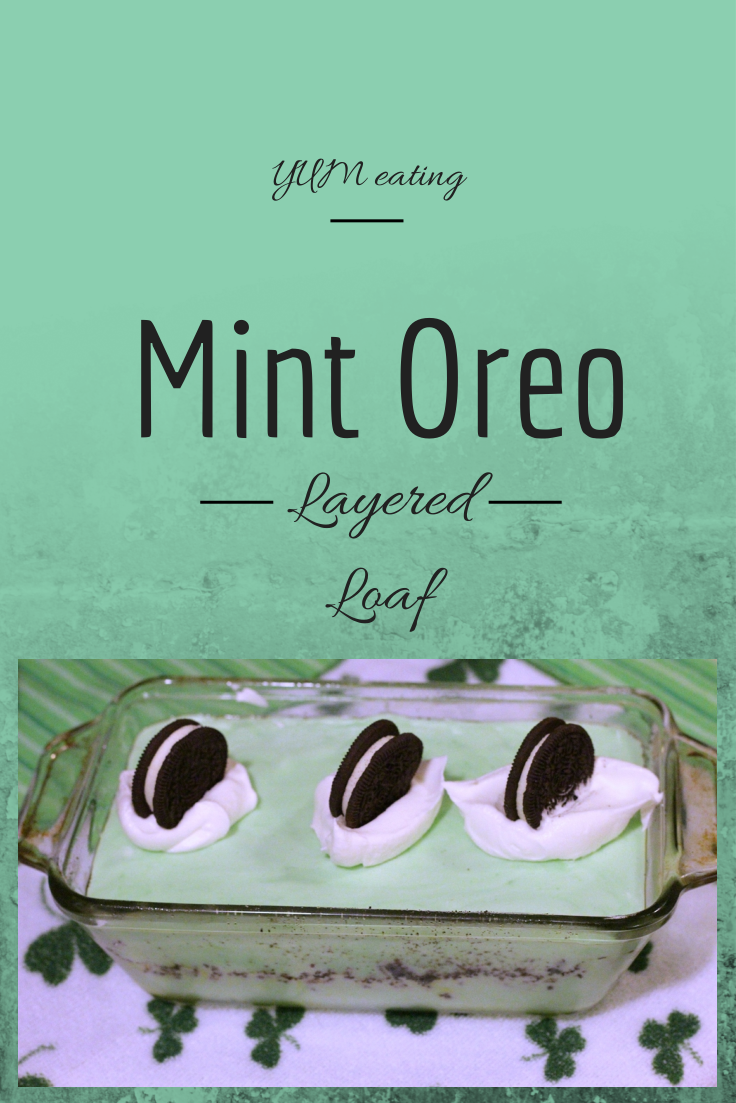 While we were working on recipes to fill my March challenge of Irish recipes all month-long, we came across a few green recipes that we thought we might use. As the days ticked by, I decided to stick with traditional Irish recipes and save a couple of the green colored items for Easter. The color seemed much better suited. While the photos showcase some shamrocks, this wonderful little dessert will actually work well for any springtime holiday meal.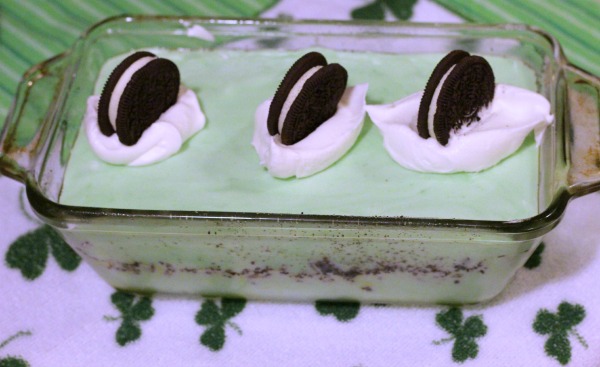 Kiddo and I had a lot of fun making it. I found this recipe in a cookbook my mother purchased for me called "Magical Endings from Cool Whip and Jello." Growing up, my mother was a huge fan of delightful desserts she could whip up combining Jello gelatin and pudding products with a dollop of Cool Whip.  Kiddo and I flipped through its pages with much anticipation. When we stumbled on this lime green delight we knew we had to give it a try. When husband saw it was lime gelatin with Oreo's he was 100% on board.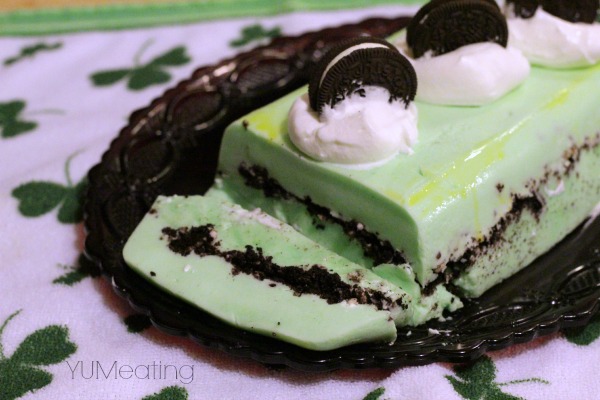 One thing that really bummed me out though was that the directions state that one should make sure their pan is non stick. I have issues with stuff sticking to my non stick pans. So, I went ahead and sprayed it with a little bit of cooking spray. It didn't alter the taste of the dessert but it sure ruined my photo opportunities for those out of the pan. There is a slight yellow color you will notice. Bummer. But still the loaf tastes good.
Because of the fun factor, the taste and the color kiddo and I felt it would be a great dessert to share on Easter or any Spring celebration. Wonderful treat that everyone could enjoy. It's light and refreshing. Just like spring.
Layered Mint Oreo Loaf
Adapted from "Magical Endings" pg. 56 - Layered Mint-Chocolate Loaf
Ingredients
2

cups

boiling water

2

packages sugar-free lime gelatin

4 serving pack

1 1/4

cups

cold water

1/2

tsp

peppermint extract

2

cups

light whipped topping

1/2

cup

light whipped topping

10

chocolate sandwich cookies

crushed

3

chocolate sandwich cookies

whole
Instructions
Boil water.

Stir in lime gelatin. Mix until dissolved.

Stir in cold water.

Add peppermint extract.

Mix until blended.

Place gelatin mixture in the refrigerator for about an hour as we are trying to have it slightly thick like the consistency of unbeaten egg whites.

Fold in 2 cups of whipped topping and gently mix.

Spoon half of the mixture into a loaf shaped pan.

Sprinkled with the cookies.

Add the rest of the mixture to the top of the cookies.

Place in the fridge for another 3-4 hours to allow the mixture to completely set.

Once the loaf mold has had a chance to set, add a dollop of whipped cream to the top and add chocolate sandwich cookies.

Or, you can turn the loaf upside down on a plate and garnish with cookies and whipped topping.