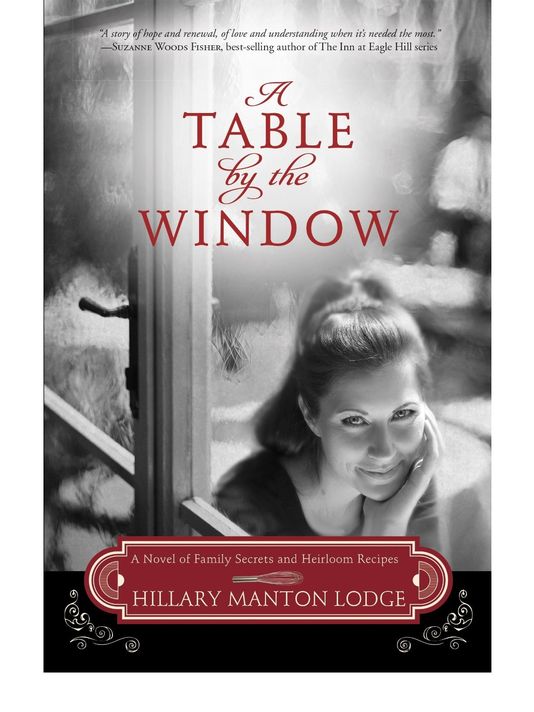 I'm in love with this book.  I'm already counting down until the next book in the series is released, which I am guessing since this book was just released March 18, 2014, it's going to be a while before book two appears.
Boo.
On a positive note though, this book has so much going for it that I could probably read it again and find something that I missed.
Yah.
I'm a sucker for a good book that keeps me around and makes me want to read it again. It is very rare. Top of my most read list is Needful Things by Stephen King if that tells you anything.
Prior to this review I had never heard of Hillary Manton Lodge.  A quick Amazon search and I was amazed to find out that she had written an Amish fiction series in 2010. If there is one thing I have learned about most Amish fiction writers it is that they generally stick to Amish fiction. While A Table by the Window is classified as Christian fiction, it's not overwhelming. In fact, it's quite refreshing. It's also not Amish.
So why am I discussing it here on YUM?
That's an easy question to answer. 
When I set out to create YUM I thought about all of the things I did and didn't want to write here. As time went on I realized some things from my 'do not' list would have to be addressed on a case-by-case basis. While I wanted to reserve cookbook reviews for here on YUM and leave all my regular book reviews on Self Employed Writer, the topic of this particular book was something that fit the 'case-by-case' mold.
A Table by the Window is a beautiful story about Juliette D'Alisa, the youngest heir to a French-Italian restaurant dynasty. No longer wanting anything to do with the family business, Juliette spends her days as a food writer for the local Portland paper. As the book progresses, we find the author discussing in great detail the inner workings of a food writer within the newspaper organization.  It only takes a few chapters to really find yourself absorbed into Juliette's world.  Before long she suddenly feels like your best friend.
Juliette cooks. She cooks a lot. What I really enjoyed about this novel was all the fun recipes sprinkled throughout the book. While I feel many of them are up to Julia Childs standards, there are a few that I've decided to break out my culinary skills (or lack thereof) and see if I can create some of these wonderful yummies. I think it will be quite a bit of fun.
One of the things that really stood out for me was that I could relate to Juliette. When her beloved French grandmother dies she inherits some of her belongings. As she starts to sort through them she finds an old photo that isn't her grandfather and who looks a lot like her brother. As she tries to find some truth to the photo Juliette starts a long distance relationship with a man in Memphis. The story has a lot of cute quirks, life changing events, and a whole lot of food talk hidden behind the great mystery of the grandmother.
Like I said, I can't wait for book two so that more of the mystery is revealed.
In 2007 when my grandmother passed away  I went through a divorce a few weeks later and moved into my grandmother's house with my mother. As we went through some of her things she gave me a necklace that was hidden in a box of my grandmothers rings and other trinkets. In that box was a locket. One side, heart-shaped, was a photo of my grandmother in her younger days. The other side was a man who was not my grandfather. My mother stated that it must have been the man she dated who went off to service. Although we have no family mystery surrounding this man, it was still really interesting to see that grandma had a life prior to grandpa.  My grandparents, married for over 60 years, have their own beautiful love story.
Maybe someday I'll tell it.
Disclosure of Material Connection: I received this book free  from the publisher as part of a review program. I was not required to write a positive review. The opinions I have expressed are my own. I am disclosing this in accordance with the Federal Trade Commission's 16 CFR, Part 255: "Guides Concerning the Use of Endorsements and Testimonials in Advertising."