My First Attempt at a Lime Poke Cake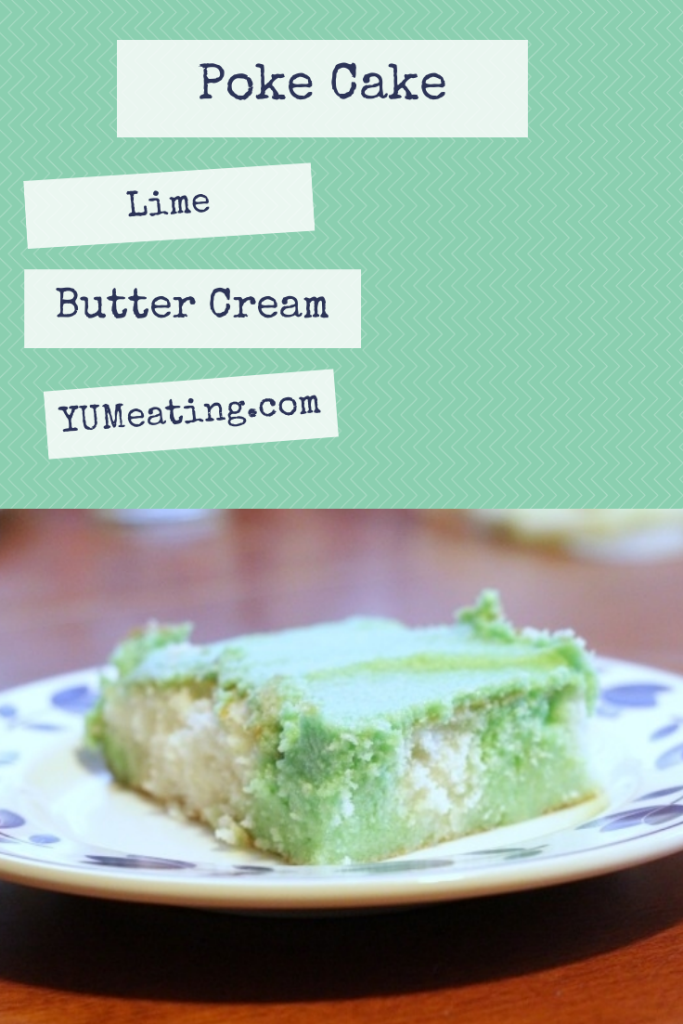 I've done pudding mix with cake.
I've done cake mix with diet soda. That was all the rage in the early 2000s when I was on Weight Watchers.
I've done the cake mix with the can of fruit. Also, all the rage when I did Weight Watchers.
I have no idea why I have never attempted a poke cake. I think a lot of it has to do with the fact that I honestly hate making cakes because husband doesn't have much of a sweet tooth and kiddo is only here two days. What am I supposed to do with a whole cake? I have been buying those little Jiffy cake mixes because they make just enough for us to have a treat and I can get them for 25 cents and the clearance outlet I shop at. Since we don't eat cake a lot, I don't mind having a few of these on hand for a special dessert.
In my honest effort to try to make something green for Irish-American Heritage Month I thought making a poke cake would be a good idea. When it came to uploading the recipes, I had more than enough traditional Irish recipes that I did not have to worry about anything green themed. Since I used lime gelatin for the filling and a white cake, I felt the colors could still be used for Easter or Spring celebrations. I did the same thing with my Mint Oreo Loaf. Made it because it was green, ended up saving it for that very purpose.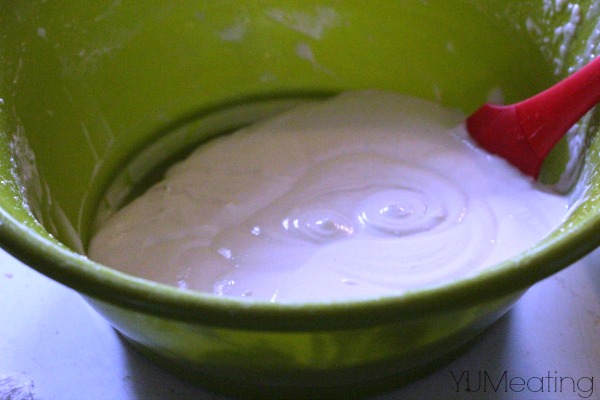 I made the cake batter following the box instructions (gasp, I know, boxed cakes. I don't make cake often. Sometimes its a box cake. *shrugs*)
I am no stranger to sharing my less than stellar recipes. This poke cake would have turned out fine if I didn't use the end of a giant wooden spoon AND let the cake cool a little longer. When I stuck the end of the spoon in the cake, the cake stuck. It was done. I checked it with a knife. And it was perfectly done, too. I was rather happy that for once my oven didn't defeat me. Since the cake stuck and I pulled it off the spoon, my husband felt the need to try to put those pieces back in there. In doing so, he made the holes even bigger.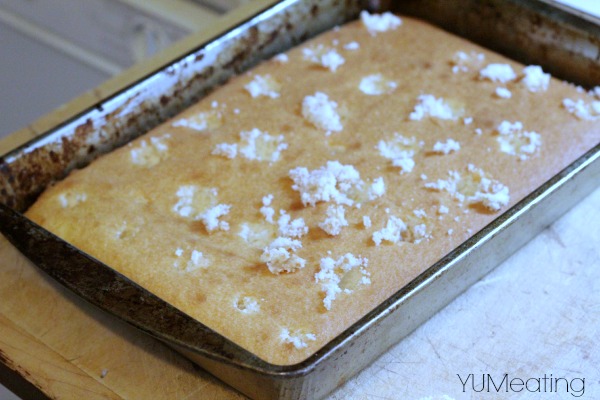 So, my poke holes were rather large and I didn't have enough gelatin to fill them.  I followed the traditional gelatin directions but only used 1/2 the amount of cold water per all the poke cakes circling around Pinterest.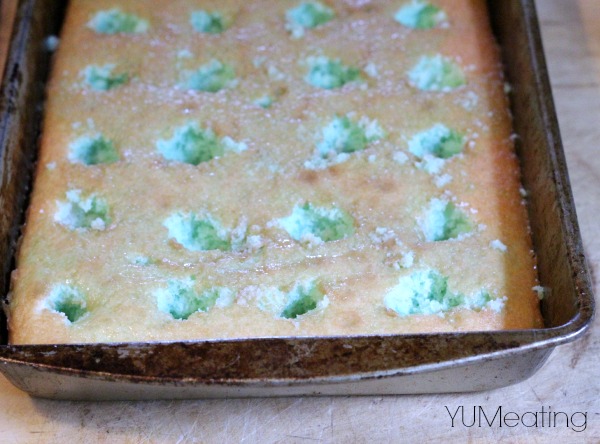 I wasn't planning on making frosting or using a pudding topping, just using some simple whipped cream so the dish would be nice and light.
That didn't happen. I had some leftover light green butter cream frosting leftover from our shamrock cookies, so I thawed that, blended it and used that for my cake topping.
Crisis averted.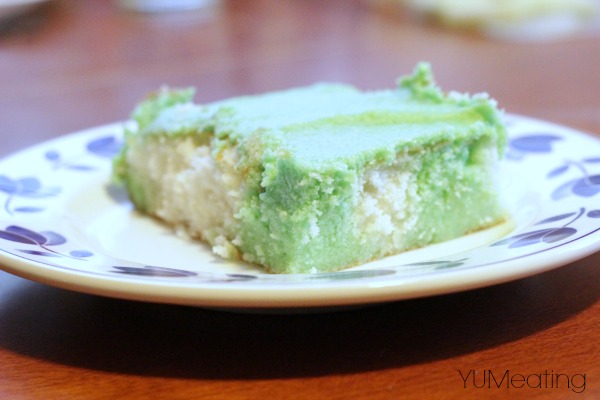 It turned out wonderful, despite not looking so pretty.
Really light and fluffy.
Have you ever made a poke cake? How did it turn out?