Fresh Green Beans with Ham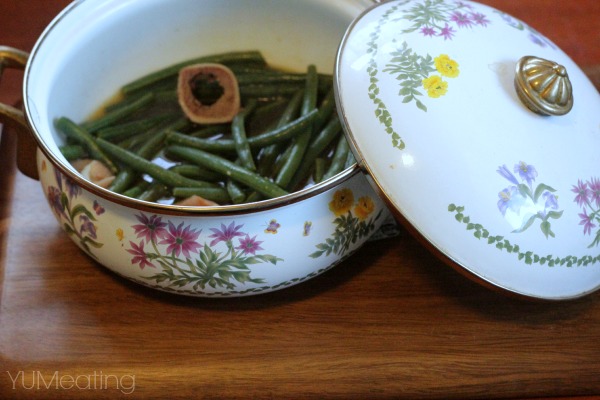 Confession.
This months Recipe Redux was rather tricky for me.
But don't fret, I somehow made it work 😉
The topic:
Treasured Cookware – Share a story of classic cookware – and a healthy recipe to go with it. Some of us will be celebrating Mother's Day next month (May 11,) but it's more than once a year that many of us cook with a pan, a wooden spoon or another piece of cookware passed on to us from the kitchens of our favorite relatives. Let's see what you can cook up with your treasured kitchen tool!
Sounds easy enough, right?
I know I can cook. I know I can make healthy options. But when it comes to trying to figure out something to make with a hand-me-down I draw a blank. There are no cooking utensils that belonged to anyone but me. I have a roaster pan that I borrowed from my mom. That roaster pan I took from the closet at my mom's house, which was my grandparents. The only thing I really cook in it is my roasted chicken. I can't do repeats. There once was roast, but again, that would be a repeat. I don't really have any tales to tell regarding that pan.
The red pattern china you see on a few of my photos, like this one with tea, belonged to my grandmother. I remember admiring her red dishes as a child, but I just inherited them right around the time I started YUM. Not many stories there, other than the ones I have shared.
We do have an electric griddle that was here when I moved in. According to my husband it was his grandmothers, then his mothers. We've used this griddle numerous times in the past, mostly for pancakes. Kiddo has mastered some of her best cooking skills flipping pancakes on this griddle. But, since that's all we use it for and I don't really dig it out for anything else, my brain was farting and I could not come up with anything fun or creative to make on the griddle for this months Recipe Redux.
Ugh. I am doomed.
As I walked by my aunts China cabinet filled with my grandmother's things, I remembered the first pan my mother gave me when I moved in here with husband and kiddo. This white porcelain dutch oven is small, but I love it anyway. I have used it to cook pork loin. I have never really used it to cook anything else. Honestly, I am afraid to. It's such a beautiful pot and I know my grandmother would want me to use it. I just have a hard time with it.
It took some time, but things slowly came together.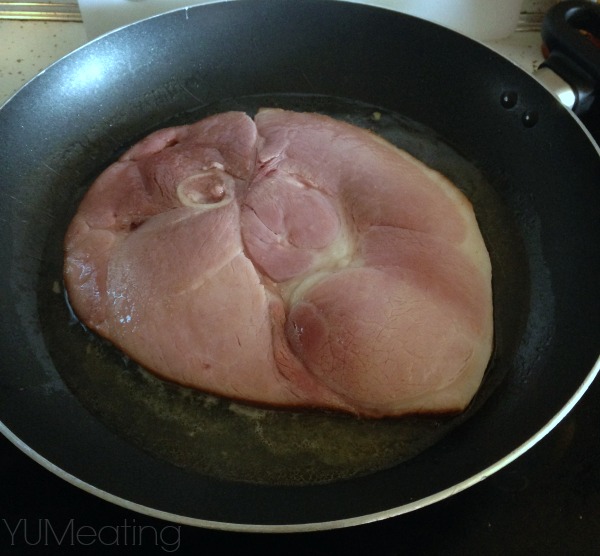 Saturday morning we made a ham steak. We had decided on ham for breakfast because we were not going to be together as a family for Easter. My mother had to work. Husband had to work. Kiddo was spending the day with her mother and siblings. You just have to eat ham on Easter weekend, right?
So, I made this ham steak for breakfast. When I was younger I would always beg for the bone so I could eat the marrow. As I got older I developed a texture issue and just can't stomach half that stuff. So, I gave it to kiddo and she thoroughly enjoyed her first ham bone.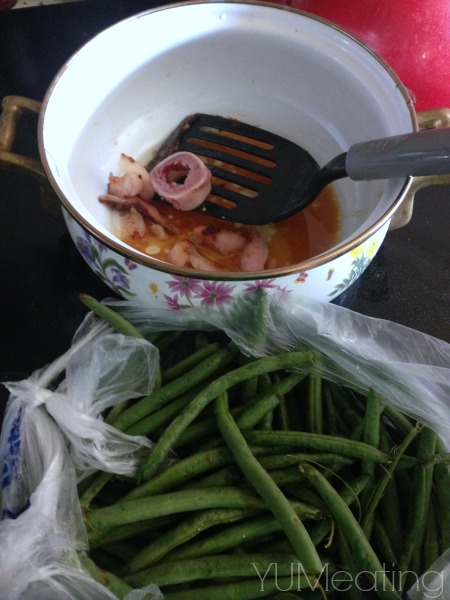 I trimmed the fat from the ham steak and put it in grandma's pot. When the ham steak was done I poured all the drippings and scraped all the goods off the pan and spatula. I put some warm water in grandma's pan and mixed up the drippings. When kiddo had taken all she wanted from the bone, I dropped that in there too. I boiled the mixture for a while and made a nice broth. While the broth was boiling I took some fresh green beans and snipped their ends. Then I turned off the burner and dropped in the green beans. I let the green beans soak in the mixture until we were ready to warm it all up for dinner. No butter. No salt.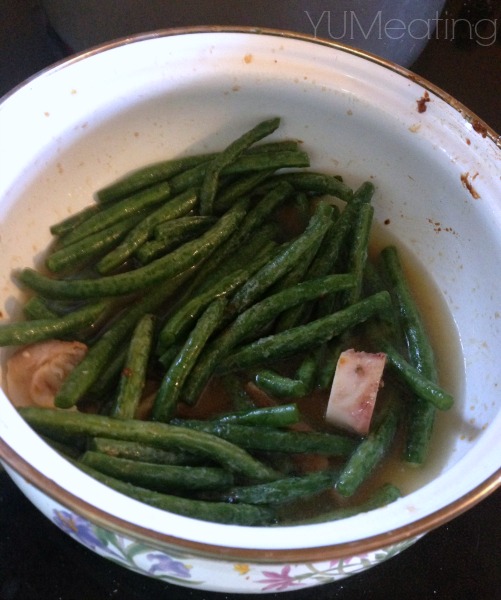 Kiddo thought they were the best green beans she had ever eaten!
We served these with pork chops and corn we had grilled outside.
It was a great end to our family time on Saturday.
How was your Easter dinner?
Fresh Green Beans with Ham
Ingredients
1

cup

ham stock

(bones and fat optional)

2

cups

fresh green beans
Instructions
Bring ham stock to a boil in a small dutch oven.

Snip ends of fresh green beans.

Turn off pot and toss in green beans.

Allow beans to soak for 45 min to an hour.

Warm when ready to serve.
Thanks for reading! Please take some time to check out some of these other wonderful Recipe Redux's!