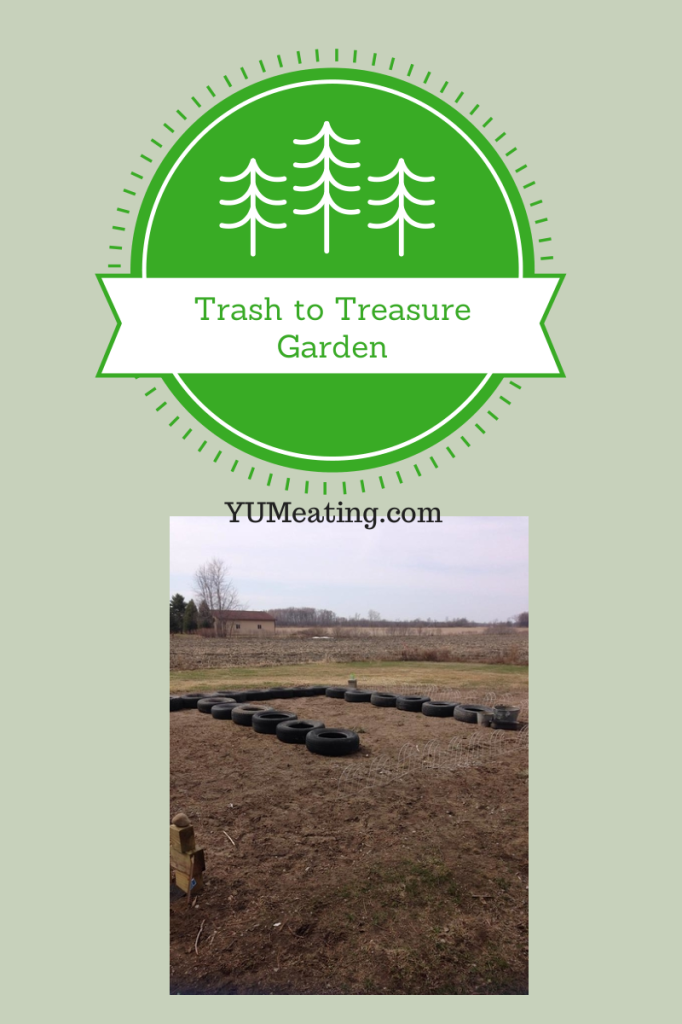 The weekend before Easter we had a wonderful Spring day. I was so excited so I took the opportunity to try to get some ideas together for the dirty space left behind from our barn drama last summer and fall.
For those who don't follow me on any social media channels and didn't know me prior to YUM, you really missed out.
Last May we were told by the city commissioner that we needed to knock down our big barn. The barn had been here since the house was built. We're talking 40s or 50s. Husband bought this house with kiddos mom about 10 years ago. Just in the last 5 years that I have lived here that barn has slanted dramatically. We're talking a building that looks like a trapezoid. So, the city told us we needed to take it down because it was deemed a 'dangerous structure.' They gave us 30 days to get it taken care of. First thing we had to do was get in touch with our home insurance company.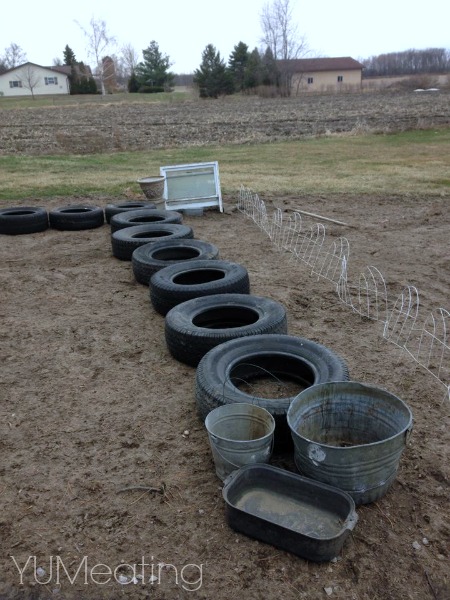 They sent an insurance adjuster out to assess the damage. Weeks went by, people came and went. Construction companies came to bid. Electricians, concrete, and other demo workers stopped by.  We didn't start the project until late June early July and it was a mess from the start. First our barn rebuild was denied by the same person who told us we had to take it down. Seems that the township laws changed and you can only have outbuildings up to 2.5% of your land. They counted our garage even though it is attached. We have just about 2 acres. In order to get grandfathered in we would have to pay $1000 or more for a lawyer and petition the township.
Nope.
In order for us to be able to build we had to knock down BOTH barns the large one and the smaller one. To give you a general idea, the large barn would hold boats, cars, RVs and you would still have room.  It was literally the size of our house. The small barn was a little bigger than a 2 car garage and it was also attached to our chicken coop.
It was a nightmare that dragged on until fall. Our insurance company had issues. The township had issues. The mortgage company got involved and tied EVERYTHING up.
We barely got the minimal landscaping (basically smoothing it out and repairing our driveway) done before the first snowfall.
Now that the snow has melted, I have this giant lot where the old barn was. We had dirt filled and the dozer guys smoothed it out for us.
So, kiddo and I decided that the tires we didn't have taken care of and some random pieces that got left behind are going to be the basis of our "Trash to Treasure Garden." Even though we want to move, we feel we should do something with that giant space. So, it's either a garden, or seed it for grass.
I think the garden will be much more fun. It will give me something to do as I plot and plan my move out of this house.
It's sad that husband had his man cave built inside the new barn knowing that we would be putting this place up for sale shortly after he graduates.
But, it is what it is. May as well make the best of it while we are here. Besides, maybe the new owners will appreciate my wonderful garden space!
I've been going through the new barn, garage and basement looking for items that we no longer use.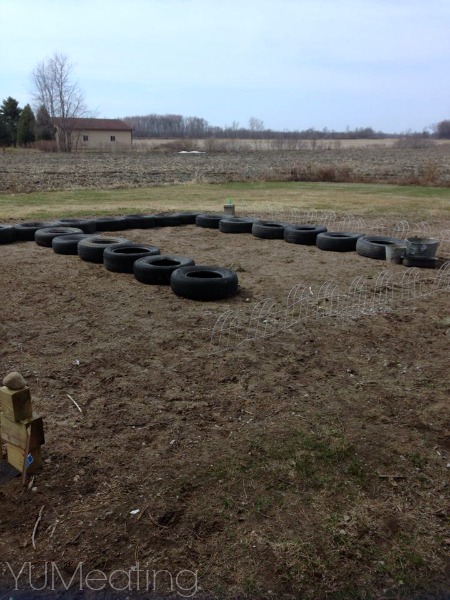 As you can see from the photos, the big project was moving all the tires. Those tires were inside the big barn, left behind by husbands ex father-in-law. It costs us money to dispose of them, so thanks to the power of Pinterest, I've gathered some inspiration on what to do with them.
Then I collected all the leftover flower pots and dishes that we can use outside to put flowers in.  A lot of them were broken down from previous garden use, so we just let them be tossed with the knocked down barns.
I was able to find a few pots and pans. Another thing I am pretty excited about is the use of an old window. About 4 years ago we redid the bathroom. We put a new window in. The old window has been sitting on the side of our house for way too long. I had husband dig a hole and I buried the window sill so it would stay put. I plan to plant a row of flowers in front of it.
During my digging I found the old white picket fence from the garden we made 2 years ago. Last year I was so busy finishing up grad school that we didn't do a in-ground garden, but instead tended to a few containers.
You'll see kiddo found a lot of sticks and scraps of wood leftover from the barn build. They were piled by our fire pit and somehow managed to survive winter.
On the other side of the garden we added some wood from the tree that had fallen on our house. That was right around the time our barn was deemed a disaster. Oh, and our well went out too! So, last summer was a pure nightmare. I still don't think I am recovered.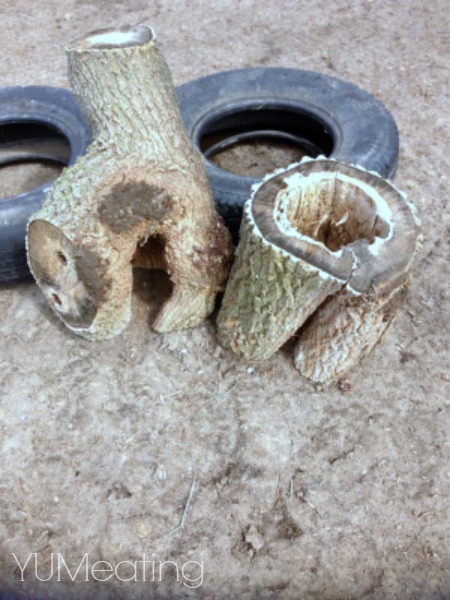 I took those pieces of wood and found that they  made some pretty awesome fairy houses. We made a little corner just for the fairies. There were some leftover concrete blocks scattered all over the yard, so I gathered them and made a little bench to sit on in front of the fairy garden. Kiddo added some of her own touches. Casey even had to come and check it out.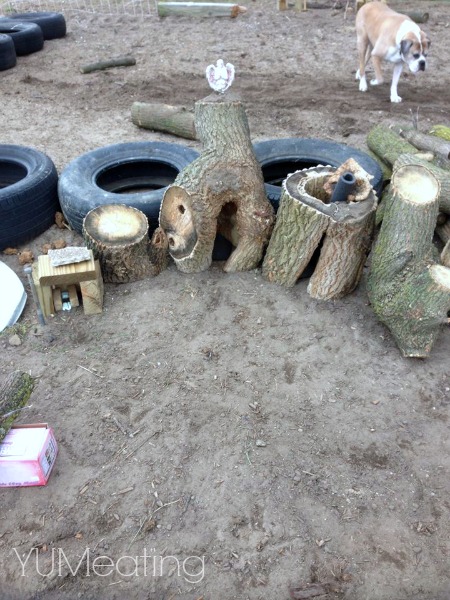 I know it looks like a hodge podge mess right now. We completed our outline late Saturday only for it to downpour and thunderstorm Saturday night into Sunday. By Monday and Tuesday we were seeing snow. Hopefully that's over now.
We're pretty excited about how we can make it look. Even husband, who wasn't too thrilled in the beginning, started to see my vision and is really excited about it.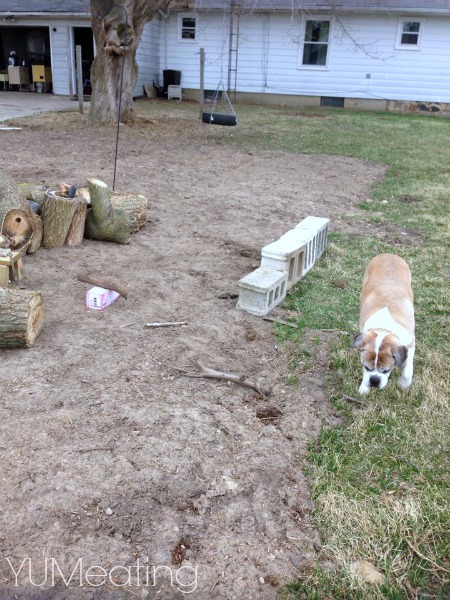 We'll be doing a mixture of flowers and easy to grow vegetables.
If anything it will get me outside and out of this office. Kiddo and I will have fun creating some fun garden adventures!
Are you planning a garden this year? Tell me all about it.