Sugar-Free Fresh Peach Iced Tea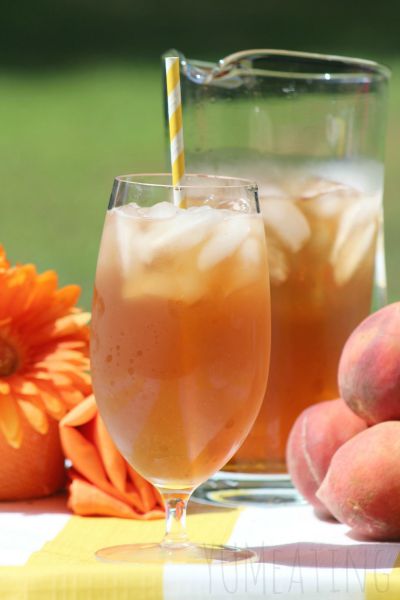 Summer is in full swing here in the Great Lakes state. It's been a rainy one and a few weeks ago we had a tornado touch down right by my house. I spent majority of my life in Oklahoma, right in the middle of Tornado Alley. So, when I don't hear sirens, I don't tend to duck for cover. Instead, you can find me outside staring at the sky or at the window watching the trees. All I could think about was that I didn't want any more trees falling on my house.  Apparently as I was watching the news to see where the tornado was, a small one was making its way down my road. I heard some fire truck sirens and then later police cars. I found out the next morning that those sirens were cars who were blocking the street because the road had been closed due to the damage caused by the tornado. I guess it touched the RV park up the road from me. 
Yesterday we took kiddo to her doctor's appointment and we saw the path of destruction. Quite a few trees down. Many houses with missing parts of their roofs. I considered all of them blessed and lucky. No matter how long I am out of Oklahoma, I will never be able to shake the sight of having entire towns demolished by some of the largest and deadliest tornadoes in the United States.
I've never been to the town we had to take kiddo to for her appointment. Afterwards we stopped at this cute little diner across the street. I am a sucker for diner food. Not healthy, but darn it, just like mom makes. My mom worked in a diner when she was in high school and going to college until I was born. Probably where the chef in me comes from. She's also where the writer part of me comes from. We had a wonderful lunch and took the nice drive home. Found a few farms selling lots of wonderful things that we will have to go back to check out. Who knew such wonderful things were available a mere 5 miles from home down the opposite direction of a road I travel down all the time – just not that way!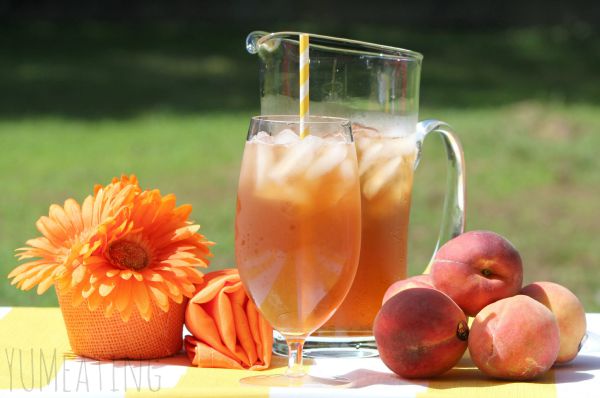 When we got home, I was in dire need of something cold and wet.
What says summer better than iced tea? I love peaches and kiddo does too. We find them best paired with cottage cheese for our own peaches and cream. We also like to make crisps and cobblers out of them. Peaches remind me of summertime in the south. Hubs hates peaches so we just ignore him 😉
I thought combining my favorite summer flavor with a wonderful summer drink would be the perfect addition to our wonderful day. We have a lot to be thankful for right now.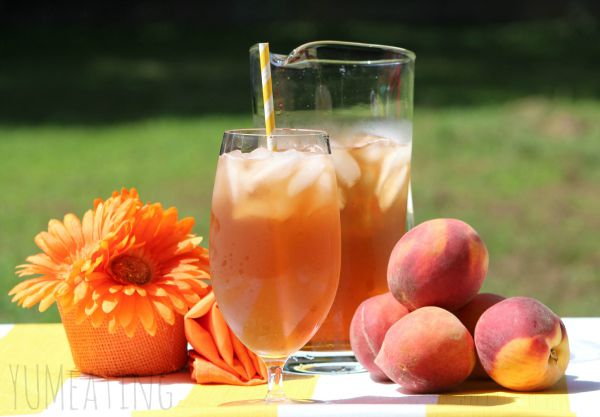 Sugar-Free Fresh Peach Iced Tea
Ingredients
3

cups

of water in a tea pot

2

family size tea bags

or 4 regular size - herbal peach flavor

1/2

c

to 1 c Stevia

depending on your level of sweetness)

7

cups

of water in a pitcher

2-3

peaches

sliced

ice cubes

Optional - if the peach flavor of the tea is not enough for you

create a homemade juice by blending 1 peach and a little bit of water in a blender or food processor. Strain, unless you like your tea with pulp 😉 Use this juice in your tea to enhance the peach flavor.
Instructions
Bring the 3 cups of water to a boil in the tea pot.

Add the 2 family size tea bags.

All the water with 2 tea bags to a simmer for 20 minutes.

Remove tea bags.

While tea is still hot add the Stevia.

Stir to mix the Stevia into the hot tea mixture (Start with 1/2 cup at a time. If you are using liquid Stevia, start with a few drops at a time.)

Grab your pitcher with the 7 cups of water pour your tea into to mix the tea and Stevia mixture.

Blend the mixture well.

Pour in the Peach Nectar.

Stir. Taste for desired sweetness.

If needed add more Stevia.

Stir to ensure all ingredients are mixed well.

Alternate with ice and peach slices.
Whats your favorite way to enjoy iced tea?