Chicken & Biscuit Pot Pie Soup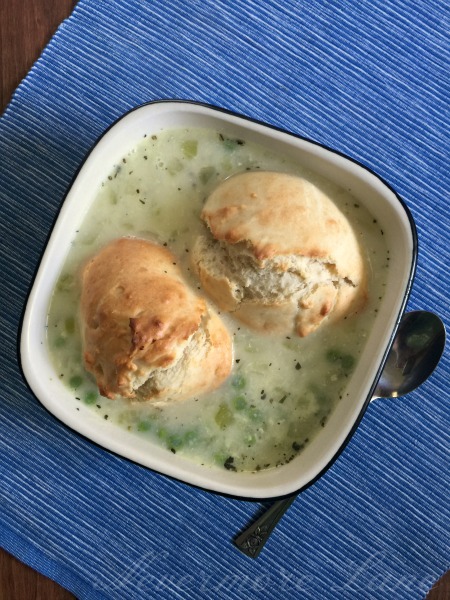 Let me tell you about my addiction to chicken pot pie…mmmmm…
When I was a kid, my mother was the bread-winner in the family.  My dad was battle a drug addiction problem so he wasn't exactly present despite being right in front of us. My mother worked long hours and even though she did cook a lot from scratch, she had her moments when oven was best. One of my favorite things was the frozen pot pies. I didn't really know then how not-so-good those little doozies were. But, they were comfort food. 
When mom had a chance to make from scratch chicken pot pie, I was in heaven!
Now that I am older and a bit more mindful about what I eat, I seek that same comfort feeling without the high calories.
Some time ago I made a Skinny Chicken Pot Pie soup and it quickly became a household favorite. Before the Mr. and I separated I decide to change the recipe up a little bit because he felt that the skinny version still needed a "bit something more" as he put it. I wanted to give him and kiddo more of a 'crust' feel with still keeping with the soup. So, I took a page from my chicken and dumplings and revamped that into this creation.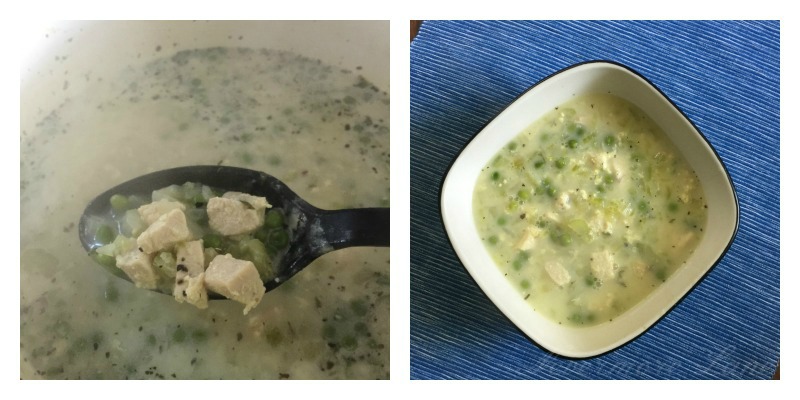 To start make a batch of my no eggs, no milk, homemade biscuits.  These will create the topping for your soup.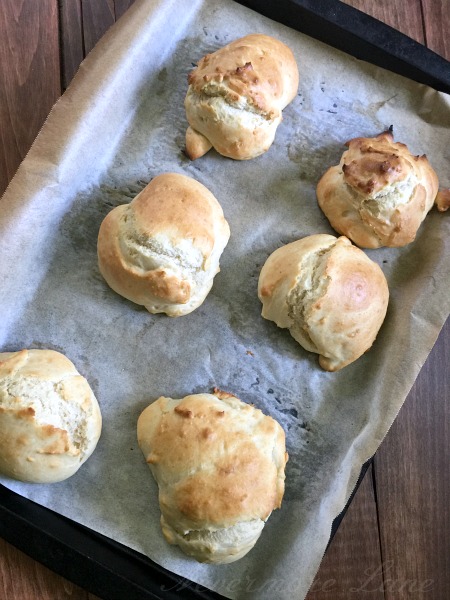 You can also make these awesome olive oil biscuits as they work just as good. I found the recipe on Pinterest from Mommy Musings.
Chicken Pot Pie Biscuit Soup
Ingredients
1/4

c

flour

1/2

c

water

3

chicken breasts

diced

1/2

pack

8oz frozen peas

6

stalks celery

diced

1

small onion

diced

1 1/2

cup

chicken stock

4

cups

water

4

cups

milk

I've used skim and almond in this recipe and both work great.

salt

pepper

garlic powder

basil

oregano

parsley
Instructions
In skillet, cook your chicken breasts.

In a small pan, add some water and your diced potatoes.

Bring the pan to a boil and continue cooking until potatoes are tender.

Set aside.

While the chicken is cooking,in a small bowl mix 1/2c flour with 1/2 cup water.

Whisk well and set aside.

Chop celery, onion add to a bowl.

In the same bowl add the peas

In a dutch oven, bring 1 1/2 cups chicken stock, 4 cups water and 4 cups milk to a boil.

Add the bowl of vegetables.

Continue to bring to a boil and add the garlic power, salt, and pepper to taste.

Reduce heat. Cover.

Cook for 20 minutes or until the vegetables are soft.

Remove lid.

Add the chicken to the dutch oven.

Drain the potatoes and add to the dutch oven.

Whisk in the slurry.

Cook an additional 5 minutes. Sauce will thicken gradually.

Garnish with oregano and parsley.
What I love about these types of recipes is that you can totally play around with ingredients and make them your own.
Let's talk about your favorite comfort food meal growing up. I'd love to hear about it.