Skinny Stuffed Portobello Mushrooms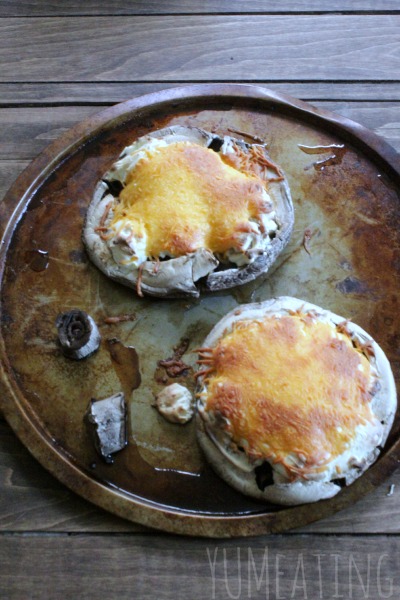 I love mushrooms. I love my moms stuffed mushrooms with all their full fat cream cheese and cheddar cheese glory. I love portobello mushrooms because you can cram so much more in there! I also like them grilled to replace a hamburger. They are actually quite yummy saute and put on a whole grain bun with some seasoning. But, I'm getting ahead of myself. We have a little while before it gets to be grill season here in Michigan. Bummer.
The other day I was scoping out the clearance section at my local market. I love these little nooks because I always find something on super sale that I can try without paying full price. On this particular day I spotted some Greek yogurt whipped spread. I'm not really following Weight Watchers, but I tend to go back to my roots and weight my options based on points. This was only 1 points plus value. Not too bad for one serving. It was also low in carbs and sugars which thrilled me even more.
I had also picked up these portobello mushrooms on clearance for a buck. I knew what I was going to have for lunch!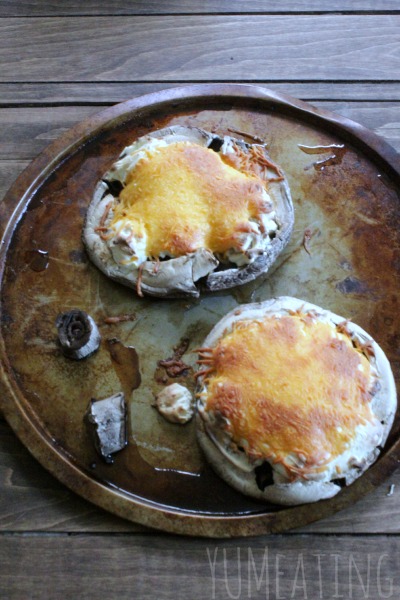 This was really easy to make. I washed the mushrooms and pulled out the stems. I went ahead and placed them on the pan. No sense in wasting it! I took some of the Greek whipped spread and sprinkled in a little garlic powder with parsley. Mixed it up and spread it on the underside of the mushrooms (where you took the stem out.) Then, I topped it with 2% low-fat cheddar cheese.
Baked and ate.
Skinny Stuffed Portobello Mushrooms
Ingredients
2

portobello mushrooms

4

tbsp

Greek yogurt whipped spread

1/4

C

2% shredded cheddar

garlic powder

parsley
Instructions
Preheat oven to 350.

Pull out the mushroom stems and place them on a baking sheet. Place the mushrooms so that they would be stem side up.

In a small dish combine your Greek whipped yogurt spread with the garlic (to your taste) and parsley (to your liking.)

Mix well.

Spread over the mushrooms.

Top each mushroom with 1/8 c shredded cheddar cheese.

Bake for 7-10min or until mushroom is soft and cheese is warm and melted.
Tell me about your favorite mushroom recipes.