Vegetarian Quinoa Enchillada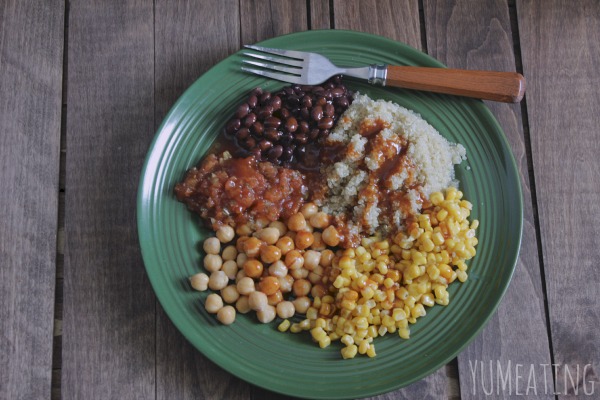 There comes a time in my eating world where I have to step out of my comfort zone and think outside the box. Since leaving my Oklahoma life behind and moving to Michigan, I've become so much more of meat eater and I personally don't like it. The first year after my divorce I lived with my mom. My grandparents had both just passed with a year of each other. My mother had left everything in OK to move to MI to take care of them as they battled their cancer. When they passed and I divorced, mom saw no point in coming back to OK since I felt it would be best for me to come to MI instead. 
Times were really tough. Because she had spent her time caring for my grandparents, she didn't have a job. I had just moved here and was living off of savings, what little I had in my 401k, and the amount I was able to sell my wedding rings for. Since money was tight, so was food. We scraped by with my odd jobs and garage sales. My family, who gets their cows from local farmers, would share the haul with us. It was during this time I pretty much had to eat whatever was available. I also think it put me on the path I am on right now with my food issues. But, we'll talk about that in another post.
I took a few accounting temp jobs through an agency, but none of them turned into full-time. That is what initially led me on the path of freelance and writing about business and taxes while I worked on my BA and MBA. I thought that someday after I was done with school and had my head cleared I would eventually  move back to Oklahoma. I started dating and met someone I dated for about a year. When things fell apart, I had just started school and wasn't in a place where I could move back to OK. Then, a few months later I met Mr. Yum, and here we are many years later.
Mr. Yum and kiddo are meat eaters. He's never lived in a home where he had to think twice about where his food was going to come from. When we moved in together I cooked the things he wanted or I ate what he cooked until we fell into a routine. After all this time I'm ready to put on my breaks and step away from all the red meat. Probably quite a lot of meat to be honest. It is hard when we are on a food budget and there isn't really a lot of wiggle room to have separate meals. But, I am determined to find a way to make it work for me. My health and wellness depend on me getting my act together.
So, my long-winded story brings me to this recipe. Last year when I was involved in the Yuck Stops Here link party I was introduced to a whole bunch of yummy bloggers. One of them was The Scent of Oranges. Let me tell you, Aubri makes some pretty amazing and simple eats. I'm sad that she has stepped away from her blog, but for good reason – she had a baby girl!
One day she got this cool avocado cutter and she shared that with us along with her recipe for Enchilada Quinoa Salad. That was back in August. A few days later I purchased my first bag of organic quinoa. Shortly after that I picked up the ingredients for my version.
True story – that stuff sat in my cabinet all through the holidays. Time got the best of me. Good thing all that stuff in non perishable. I am so terrible sometimes. I was afraid I wasn't going to like the quinoa. Then I worried it was more of a spring/summer dish. I got to thinking about it late in January. I figured – what the heck. Maybe if readers weren't in to it, they could just pin it for when they were.
So, I made it. And you know what? It was wonderful and I ate it for 2 days. In winter.
So here we go. Here's my recipe for Vegetarian Quinoa Enchilada inspired by The Scent of Oranges.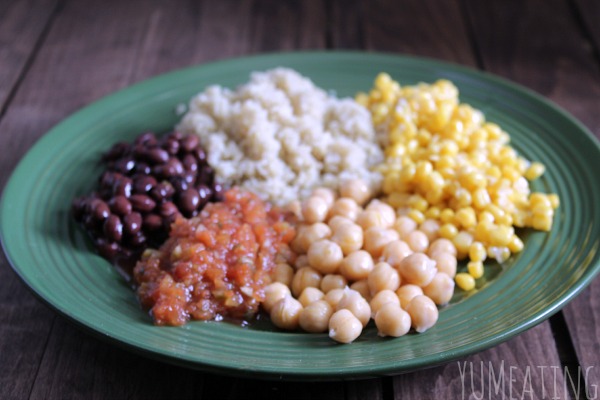 This is super easy to make. I followed the directions on the package for cooking the quinoa. I made 2 servings so that I could have leftovers. While that was cooking I warmed up the black beans, corn, chickpeas and enchilada sauce. While those were warming I grabbed some salsa. I cheated and used canned enchilada sauce. My vegetables were canned too as I can't deal with frozen vegetables and I didn't see any dried black beans or chickpeas (do those even come dry?) in the market. The only vegetable I like frozen are peas. Everything else is either fresh/raw or out of a can. Sorry. I do rinse them 😉 I know some folks have issues with canned items, but the way I see it – at least I am eating vegetables. So, there's that.
Once everything is done I just arranged it on the plate. With the 2 servings of quinoa and the vegetables, this actually made 4 servings.
Then covered it with some sauce.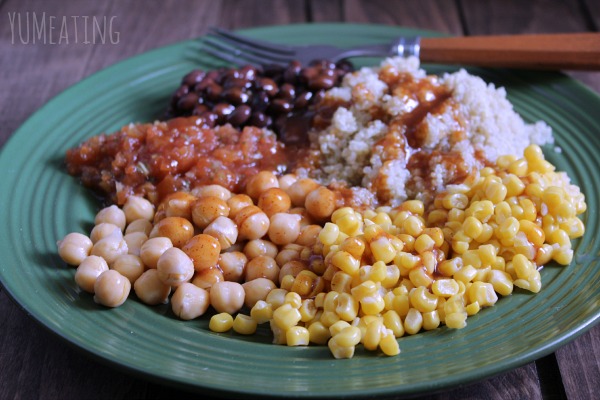 Then I mixed it all up before I ate it.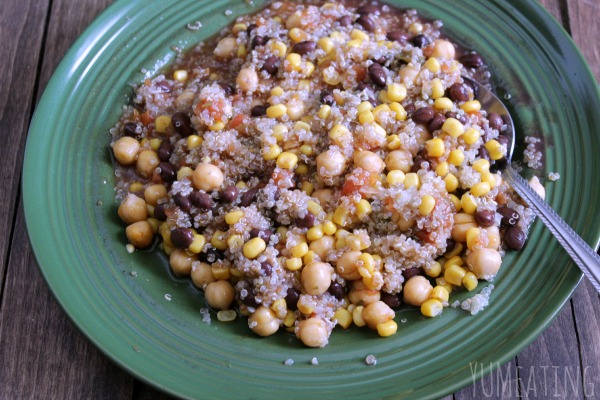 Didn't miss the shells. Didn't miss the meat. Didn't miss the cheese.
Ok, maybe I missed the cheese a little bit, but this didn't really strike me as a recipe to eat cheese with. Plus, trying to cut down on my cheese consumption. It's dangerous. 🙂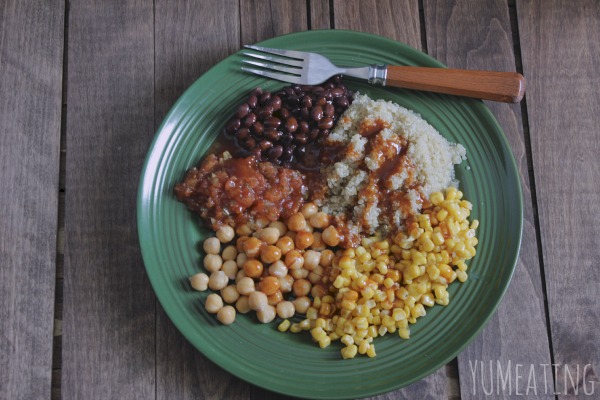 Vegetarian Quinoa Enchillada
Ingredients
2

cups

water

1

cup

quinoa

1

cup

salsa

1

can corn

1

can black beans

1

can chickpea

10

oz

can enchilada sauce
Instructions
Cook quinoa according to package directions.

While the quinoa is cooking, warm all of the vegetables (except for the salsa) separately (or together if you wish.)

In a small saucepan warm the enchilada sauce.

Once the quinoa is done and all the vegetables are warmed, divide it on to 4 plates.

Add a side of salsa.

Top with the enchilada sauce.
Quinoa – take it or leave it? If you take it, whats your favorite dish?