Recipe Review: My First Shakshuka
Recipe Review: My First Shakshuka
Original recipe we are reviewing: Shakshuka from Tori Avey
Need something different for breakfast (or even brunch) because you're tired of the same old same old? I get it. I was there, too. When you're trying to maintain a weight loss and keep track of macros, the last thing you want to do is blow all of your calorie intake on one meal, right? 
This year I have really been focusing on high-volume, low-calorie foods. I've also been experimenting a lot more with Middle Eastern foods, as those are flavors we really enjoy.
Fun fact → Shakshuka is actually a North African dish that became wildly popular throughout the Middle East. 
If you're looking for a hearty yet healthy meal to help you lose weight, look no further than shakshuka. This dish is traditionally made with eggs poached in a tomato and pepper sauce. However, there are many variations of shakshuka, so you can customize it to your liking. Plus, it's an easy meal to make ahead of time, so you can enjoy it all week long.
What is Shakshuka?
Shakshuka is a dish of eggs cooked in tomato and pepper sauce. It is typically served with bread or pita for dipping. Shakshuka is a popular breakfast food in Israel, but it has become popular in other parts of the world as well.
There are many different ways to make shakshuka, but the essential ingredients are always the same: tomatoes, peppers, onions, garlic, and eggs. The vegetables are cooked down into a thick sauce, and then the eggs are added and cooked until they are set.
Shakshuka can be made with any type of tomato, but fresh plum tomatoes are usually used. The peppers can also be varied – sweet bell peppers or spicy chili peppers can both be used. Shakshuka is typically served with feta cheese sprinkled on top.
My Introduction to Shakshuka 
I'll be honest, I have seen Shakshuka multiple times but never knew what it was called. A few weeks ago, I was watching an episode of Somebody Feed Phil on Netflix. I believe they were visiting PA, and this was a dish that had been placed on the table. 
It looked amazing. 
And then, there was a lightbulb moment. The chef in the episode looked oddly familiar, and right as I realized I had heard his name somewhere before my partner hands me a cookbook –  Michael Solomonov. Oh, I remember now. Some months ago, we were going through all of his cookbooks, trying to find some new recipes to try while figuring out which cookbooks to keep and which to get rid of. As someone who had never cooked a dish like this before, I thought it best I find something a little more for a beginner and not for someone who can chop their way through 10 ingredients in 15 minutes. 
Found this easier recipe for a first-timer – so here we are.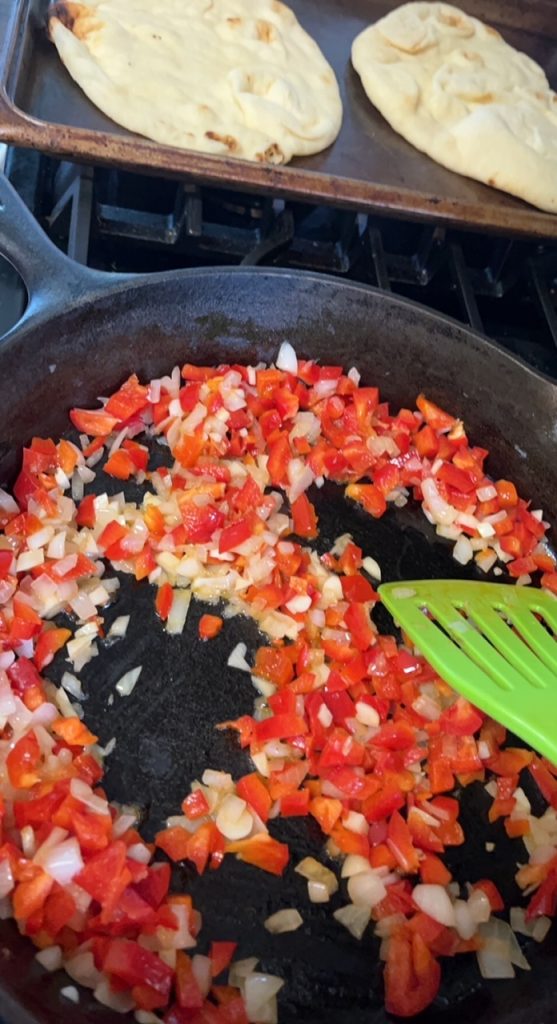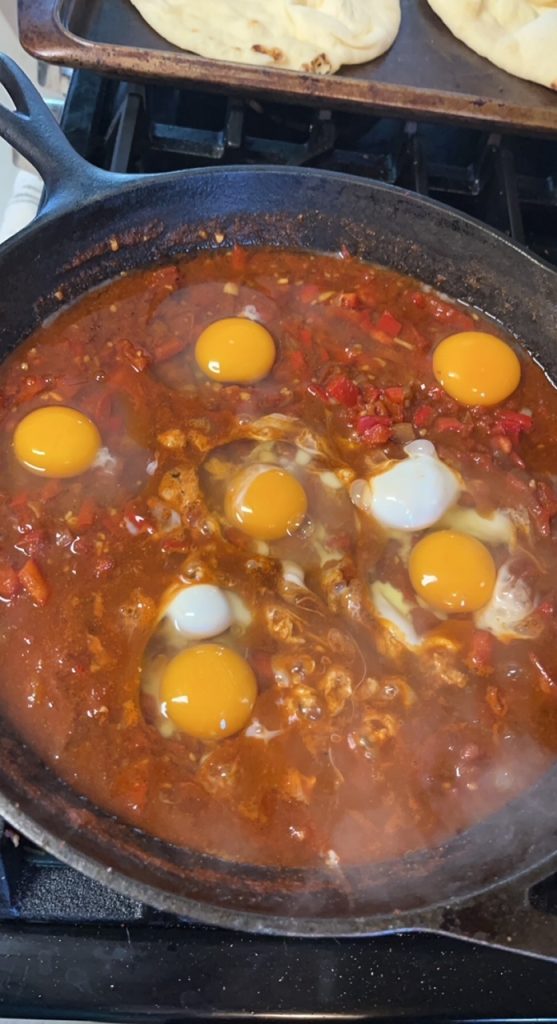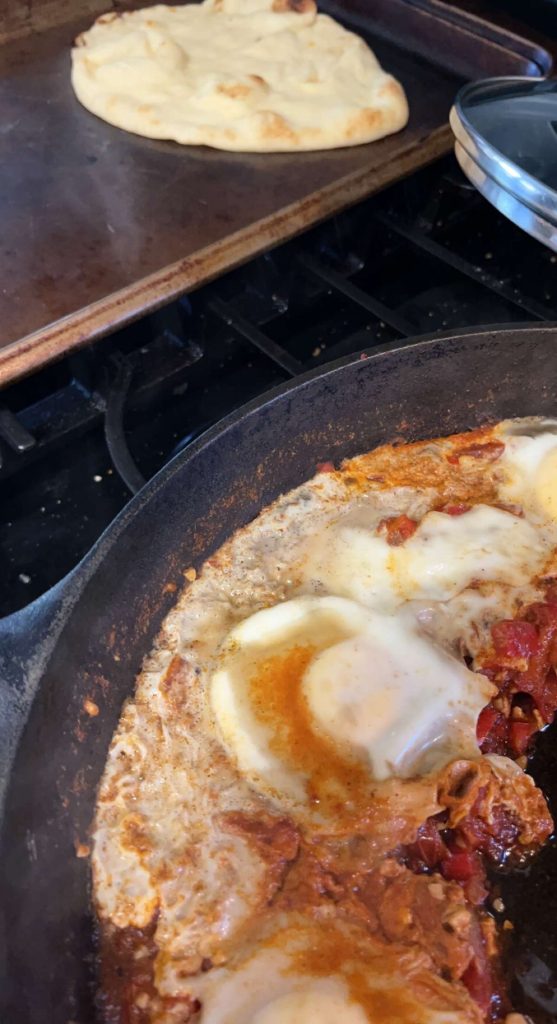 My First Attempt at Shakshuka
Recipe was amazing; however, I cooked the eggs just a tad too long as we had no yolk. Bummer. But, it was still good, and with it basically being nothing more than vegetables and eggs, the calories low, the protein high, and the volume high. Win-win. While we did pair it with naan bread, you can pick any bread – or none – you would like.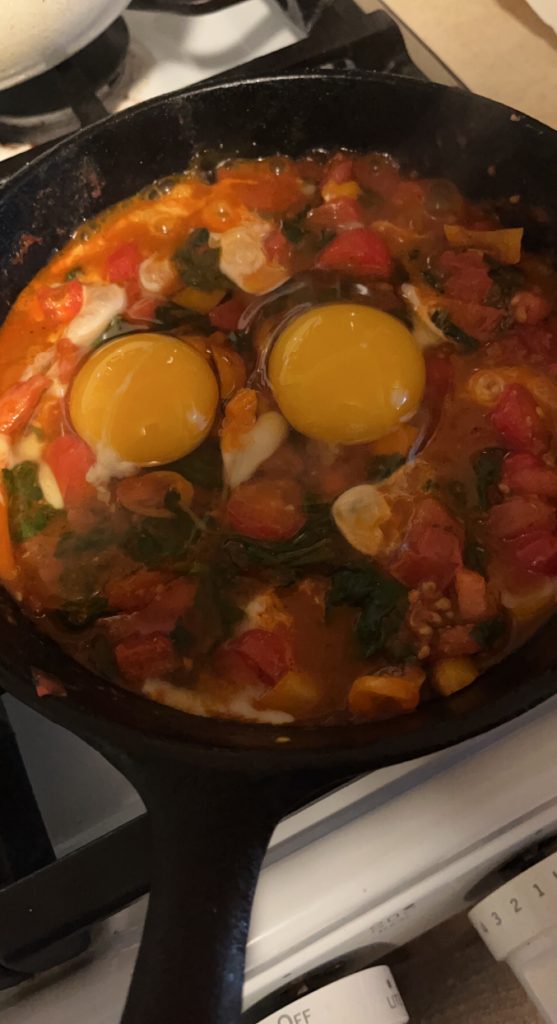 My Second Attempt at Shakshuka
Because my first attempt did not go so well with the egg yolks I decided to try again. I did not follow any recipe because I used what I had on hand at my house.  Fun fact → As you will start to notice in the pics, I have 2 kitchens. Well, they are not both mine, but I do divide my time between my house and my partners. 
My Thoughts On the Shakshuka Recipe 
I have nothing bad to say about this recipe – at all. And I am very thankful that I stumbled upon it. It was super easy to create, gave me such inspiration for future dishes, and it gave me some confidence to try some other shakshuka recipes that are a bit more involved.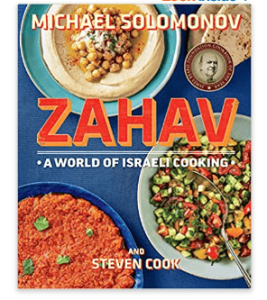 The cookbook mentioned can be found on Amazon, and that is the recipe I will be trying next when I am ready to make shakshuka again.