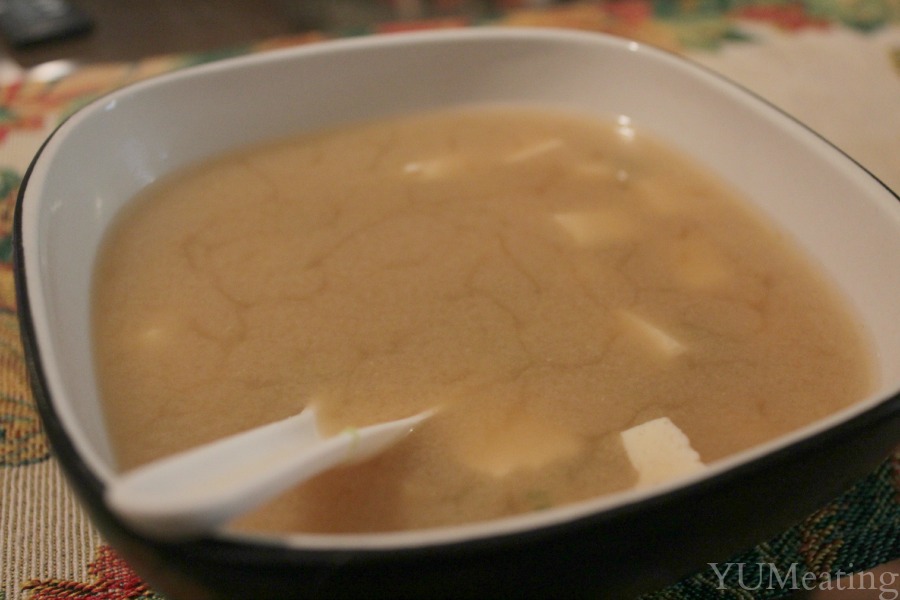 Sometimes I let the husband cook. It always brings me a bit of anxiety  because I never know what he is going to come up with.  His latest thing is to zero in on something I enjoyed at a restaurant and try to recreate it at home, especially if its Asian food.
There is this small sushi house we really enjoy and I adore their miso soup. Husband decided to find a recipe and make some for me. The recipe we tested has a small amount of tofu in it, so I purchased organic.
One thing husband didn't know was that he had to drain the tofu. So, I showed him how to do that by placing a towel on the plate, placing the blog of tofu on top of that, adding another towel, another plate and then I sat my cast iron skillet on top of the tofu plate sandwich. After a  little while we swapped out the towels. It doesn't take long.
I should have had him fry up the tofu before placing it in the soup. Note to self for next time. The tofu got a little squishy and that didn't settle too well with me. I have texture issues with food.
Also, I'll have him put less tofu in. For our pan he put 1/2 the block of tofu (cubed) in the pot and it ended up being just too much tofu for me.
It tasted pretty good. The soup I eat at the sushi house doesn't have tofu in it. Just broth and scallions.
I'm not complaining. I am excited to be able to try it again.
We did use Minute Miso by Hikari Miso. Sorry, just wasn't up for boiling fish heads today! 😉
Easy Tofu Miso Soup
You might want to add less tofu. You might want to brown your tofu in a frying pan before adding it to the soup. Add more miso mix, salt or pepper to your tastes.
Ingredients
1/2

package

7 oz of firm organic tofu

1

green onion

sliced

dash of salt

dash of pepper

2

TBSP

soy sauce

3

TBSP

Minute Miso

6

cups

water
Instructions
Bring water to a boil.

Squeeze excess water out of tofu and dice.

Add Minute Miso to boiling water.

Add sliced green onion and diced tofu.

Heat for 3-5 minutes and serve.