Decemeber 2013 Income Report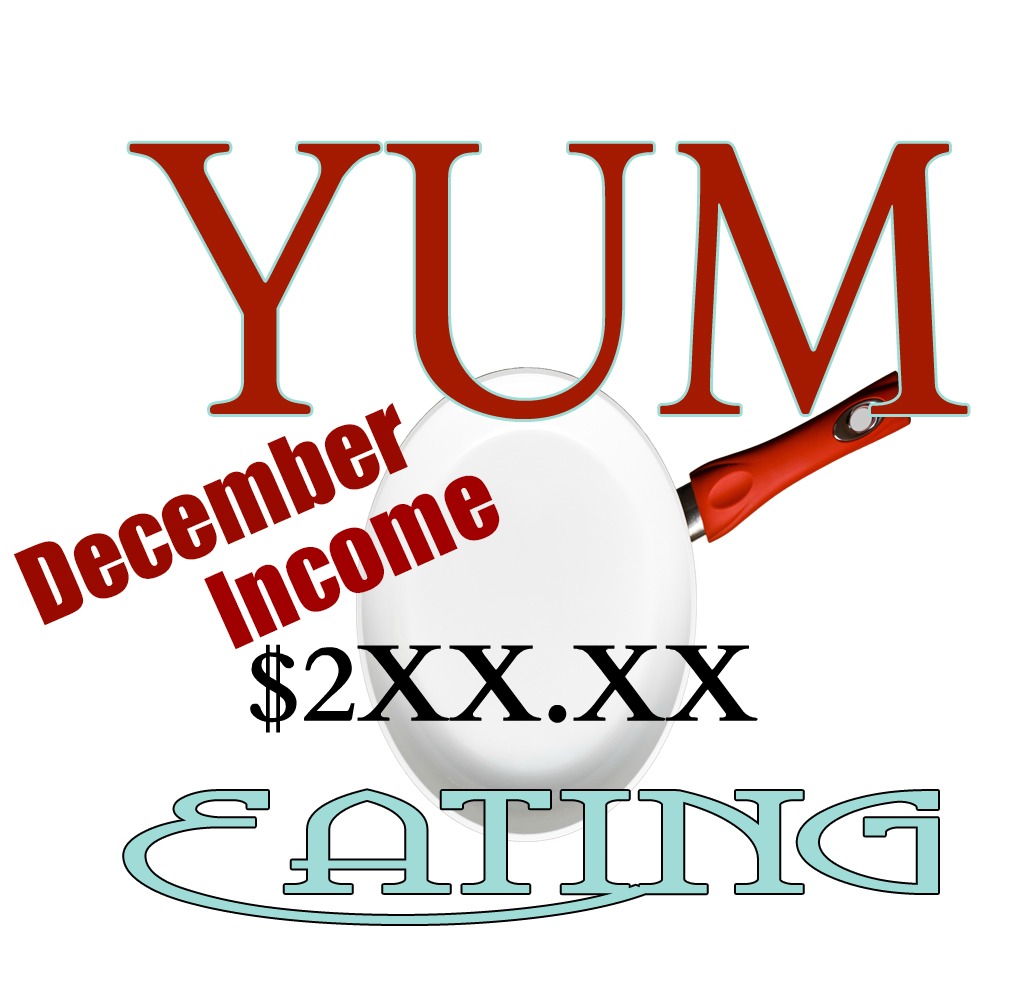 I'm so sorry for the delay in reporting Decembers income this month. So many things were due the same week reports came out that I had to give myself a few extra days to get this done.
Due to my contract with Glam Media I cannot share exact amounts for my revenue and sponsored post earnings. However, I still plan to give these reports because I want bloggers, more specifically food bloggers, to understand that they can make money blogging if that is a path they wish to take with their website.
December was a great month for me. I saw a huge increase in traffic as well as the monetary recognition that goes along with it.
There is no income with Lijit because as part of the Glam Media contract their ads had to be removed because they are a part of Federated Media; a direct competitor of Glam. So, I removed the Lijit ads and move Adsense in their place. I have 3 Glam ads on my site, all above the fold. I still have my Lijit account because I am using them on my other websites.
Viglink has proved to not work out well with this website. I've done ok with it in the past on other sites, but I just can't seem to get it to fit here like others can get it to work on their websites. I've been hanging on to this $18 in my account for months and months now. I'm debating on whether I will keep it on YUM since it doesn't seem to be doing me any good.
Amazon $0 is my fault. I did not really spend a lot of time promoting my Food Bloggers Tax Guide the way I should have. I am going to have to get on that because tax season is coming up very soon!
Adsense $10.49.
Swoop : $10.52 . Swoop was really good to me this month and I am actually quite shocked at the large increase. My first few month made no money, my next just under a dollar, October I saw just under two. November it double at just under four. Now, here we are a little over ten. TEN DOLLARS! That's pretty significant. For those who don't know, Swoop is those tiny little ads in my recipe box. I use Easy Recipe Pro, but it is to my understanding that it will work with ZipList, too. I'm really excited about my future earnings with Swoop and I am really glad I implemented then into my recipe box early on.
Infolinks $2.98. For December I made just under $3 with Infolinks. This is another that increased compared to last month. While the amount is minimal, it's still a few bucks to add to the pot.
Glam : $2XX.XX For discussion purposes I can't disclose my exact amount made with Glam Media and the Foodie vertical. However, for this blog purpose I'll give you a general idea of what it was. There was one contest, which I did not win. One sponsored post and one sponsored tweet. The rest was earned through advertising.
Freelance – I did make about $20 with Social Spark for the P.F. Chang Holiday post, however it took until this month to clear my account and in order for me to withdraw it without penalty I must have $50 in my account. So, I will most likely report that when it's actually in my bank account.
Total Income : $2XX.XX 
This December amount will cover a lot of the expense incurred in 2013 for setting up the website. Costs like the domain and hosting. Sadly, I won't see a lot of this money for 90 days per the Glam pay structure.
I've now reached 'pay a bill' stage of blogging and I am out of 'pocket change' or 'buy a pizza' stage!
The only monthly expense I had was for Amazon CloudFront and it was about $2.
I'm really looking forward to 2014! Check out some of the previous months income reports in the 'Income' section.
As always, check out the reason I write, because I'm thrilled I'll be able to keep up with my monthly donations!
Past Earnings
August – $0.94
September – $ 13.94
October – $ 9.82
November – $14.33
How is blogging going for you and what are your plans for 2014?