#beautyhaul Another Life Journey; Right to the Makeup Counter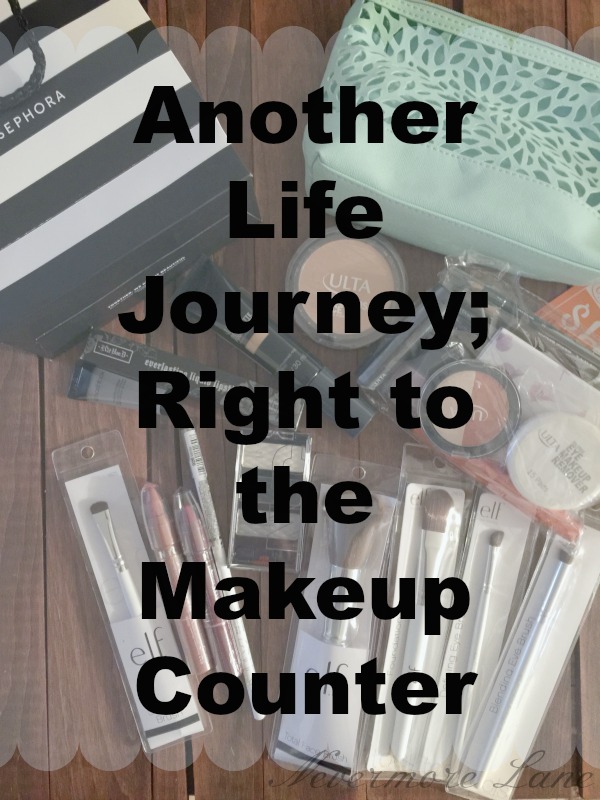 I've never really been a fan of makeup.  *shocking*
Wait, let me rephrase that. I've always been a fan of makeup, I just never really liked to take the time to put it on, even though it made me look better. I spent my life perfecting the simple 10-minute routine. As I got older, I wore a little less. As I started to work from home, I stopped putting it on unless I left the house.
What really makes me laugh is that even though I have tried various products and brand over the years, for the most part, my make up today at 40 is just about the same as it was at 20 (probably almost even at 16.)
With everything else going on in my life, I think it is time for a change.  I've been making all of these baby-step changes in life, so why not perk up my makeup routine?
It will help with my depression (hello mania! hello sadness…hello I'm Bipolar!)
It will boost my self-esteem
It is better than using food to feed my emotions
It's just time for something different
My Michigan bestie had some time without her kids and her husband (gasp!) and instead of having some "me" time she decided to spend some time with me. Yah! Honestly though, I <3 this girl so much because without her here, this journey would be so much harder than it has been.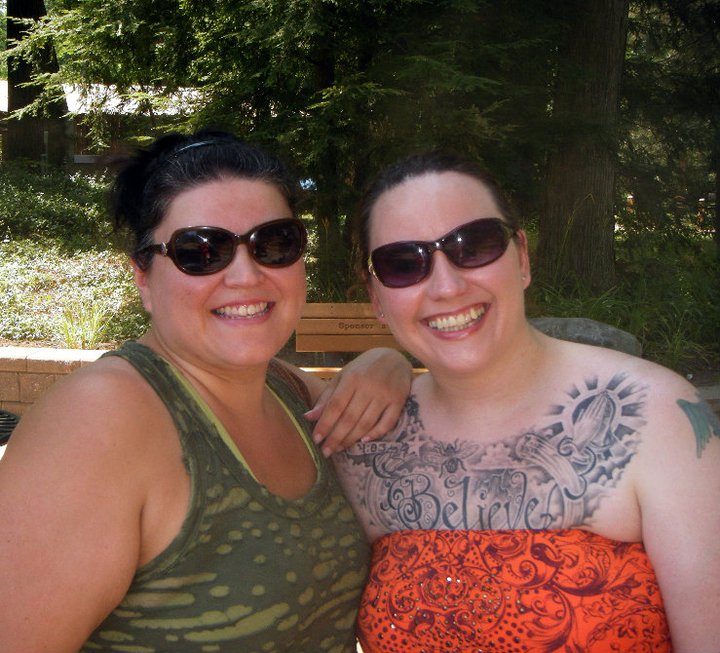 Now, here is the good part.
I drove. I took a 30ish minute road trip from my house to her house.
By myself.
Without the ex. Without kiddo.
Just me.
Now, for some of you this you are probably going 'big fracking deal' because you drive all over alone all the time.
Well, I used to.
But the last few years I have been dealing with some serious breakdowns in my mental health and driving/leaving my house was one of them. We'll get in to more of this as we discuss more of my journey, but just know, I am in therapy and have been for a few weeks now and once again, I will battle my mental health. But for now, I don't want to make this post about that stuff. I told my therapist on Tuesday about my weekend trip and let's say, she was thrilled! As was I.
Once I got to besites house we headed to Ulta, then we headed to the mall. After that, Mejer for a few odds n ends.
Haul
e.l.f 
Picked this stuff up at Meijer:
Foundation Brush
Total Face Brush
Smudge Brush
Defying Eye Brush
Blending Eye Brush
NYC
Picked this stuff up at Meijer where it was buy one get one 50%
White Eyeliner Pencil
City Proof Twistable Intense Lipcolor  011 Brooklyn Brown
City Proof Twistable Intense Lipcolor  031 Grammercy Park Plum
HD Color Eyeshadow Pallet 786 Skyrise Steele
Demi-Matte Foundation
Fabulous Face Pressed Powder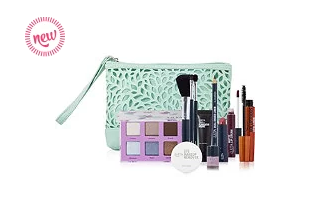 the free kit contained: ( free with $19.50 purchase and the offer has been extended until March 12)
1 makeup bag (you could pick from green or pink)
1 tube Ulta Voluptuous Volume mascara in Jet Black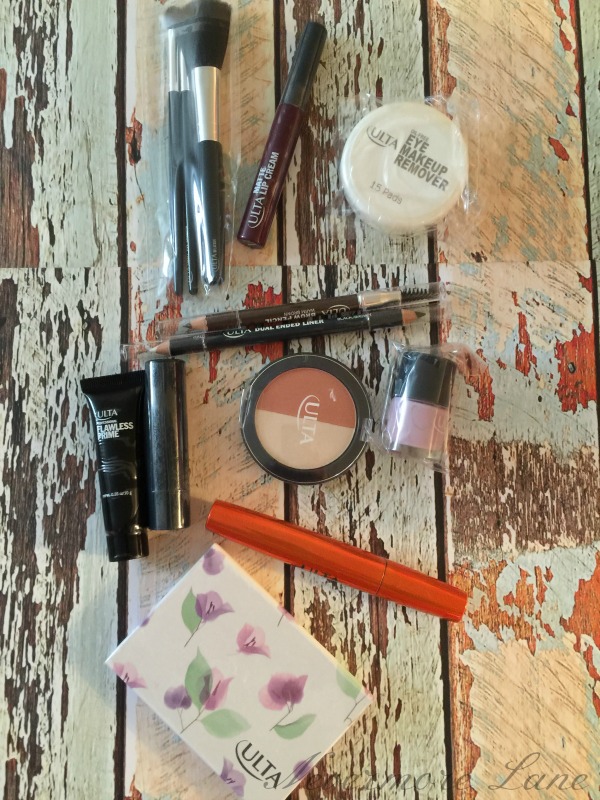 3 pcs set of Ulta brushes: blush, small eye shadow and large eye shadow
1 Ulta Brow Pencil in Warm Brown
1 Ulta Dual Unded Liner in Black/Brown and Halo (white)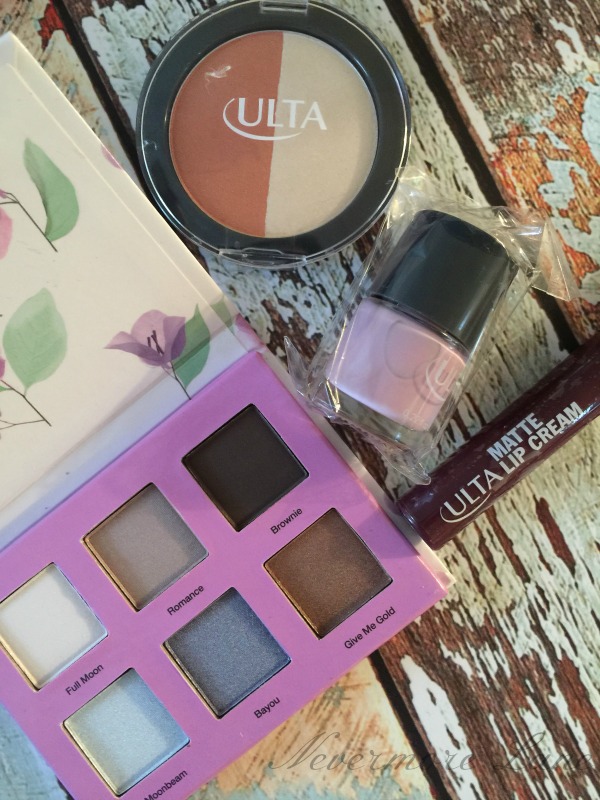 1 Ulta Matte Lip Cream in  #475 Allusive 
1 Ulta lipstick in Mauve Me
1 Ulta face highlighter in Apricot Blush / Yellow Diamond
1 Ulta eye makeup remover pads
1 Ulta Flawless Prime 
1 Ulta Spring Time eye shadow pallet in 6 colors.
1 Ulta nail polish in Lilac-ing You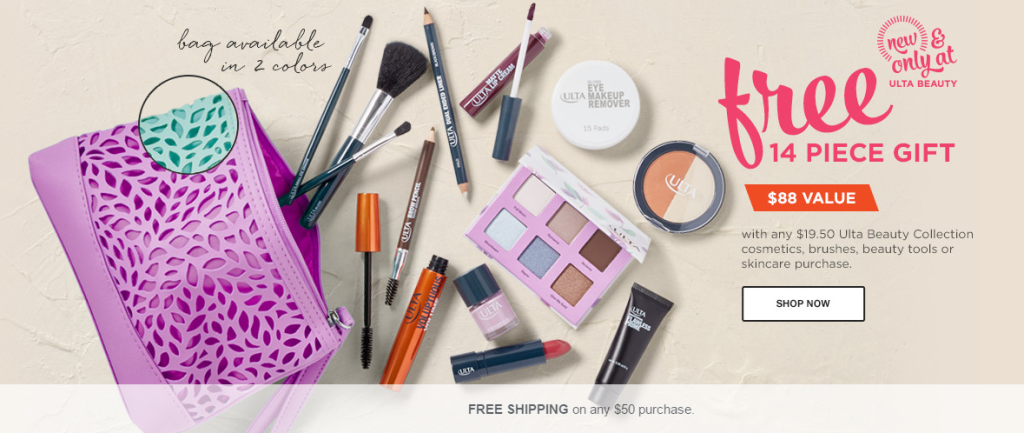 Kat Von D Everlasting Liquid Lipstick in Exorcism
free gift Smashbox Photo Finish Foundation Primer
So, I know you are dying so see some of this fabulous makeup. 
I can take a selfie with the best of them, but trying to do your makeup…well that is a whole new ballgame. So, I am going to have to unpack (yeah, its stillllll packed) the dslr and set up shop.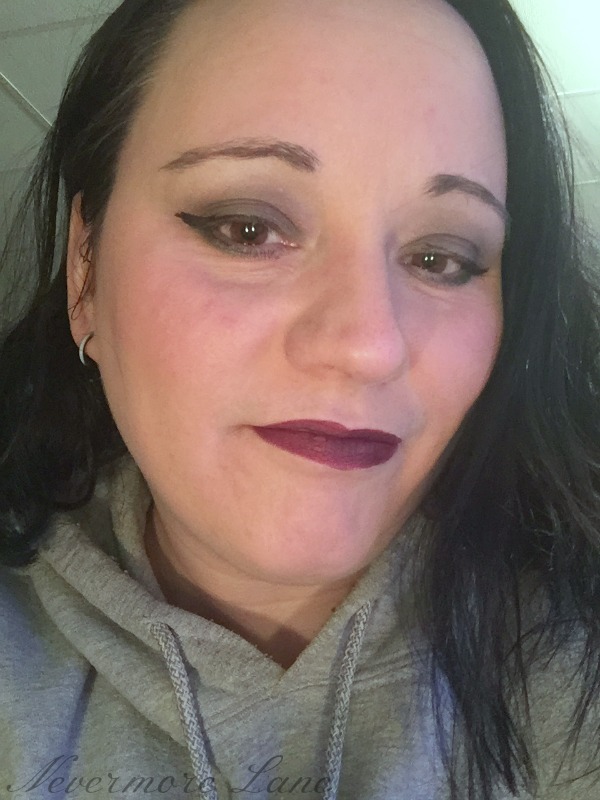 For now, here is a pick of me with the new Ulta makeup, the Kat Von D everlasting lipstick and I tested out some green and plumb eye shadows already on hand. It was dark, so the natural light was gone which makes my face look red and dark.
What I really want to show you is my very first attempt at a wing. I've never used liquid eyeliner and have never tried to draw a wing / cat eye. It looks horrible, but I am just proud of the fact I am stepping out of my comfort zone.
And, never mind the grey hairs 😉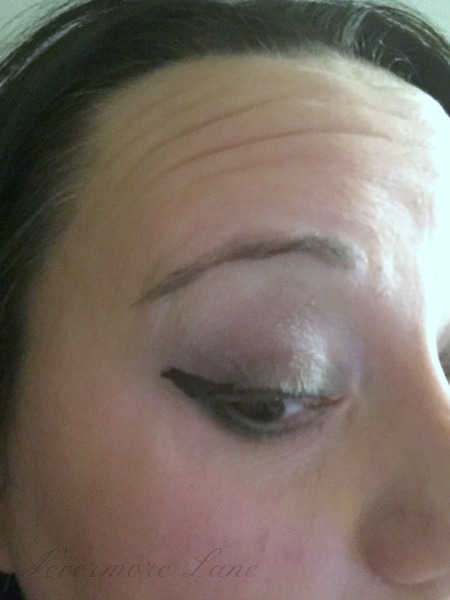 This picture is from the next day. I am using a new blush I already had on hand. It's a peachy color paired with the NYC lip crayon in Brooklyn Brown.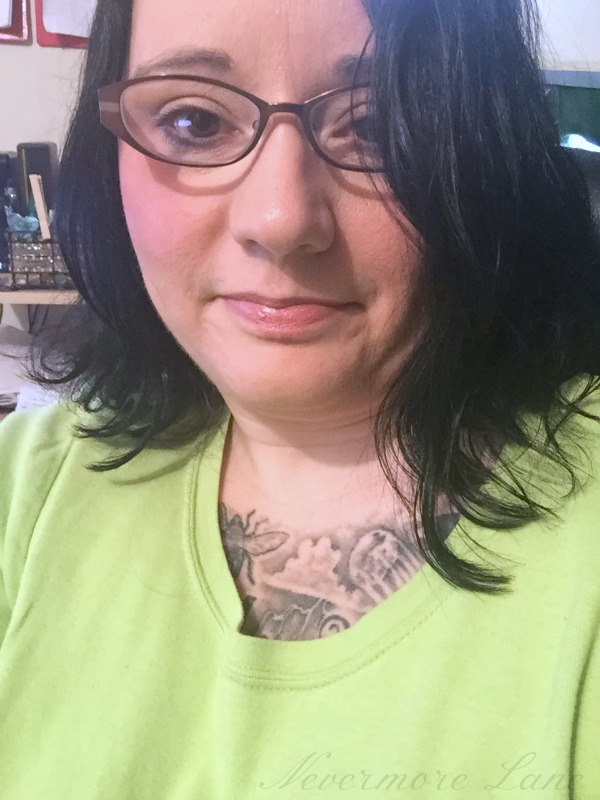 I have to say, this was a fun experience for me and has boosted my self-confidence – not just in the makeup – but knowing that even though I still have a long road ahead; I'm getting better and better with time.
My next stop is to deal with my unruly eyebrows! YouTube tutorials, here I come!
What is something you've recently changed in life that had you stepping out of your comfort zone?