Chewy Arrives with Grain-Free Lamb Treats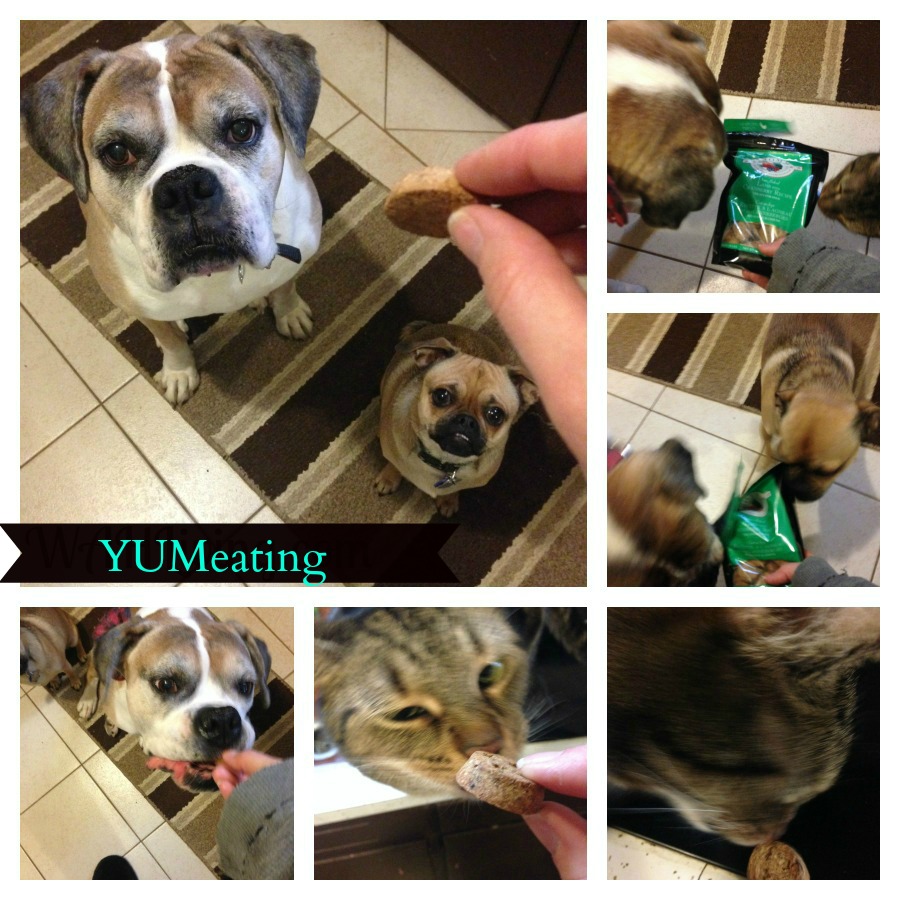 Chewy has struck again! It's been wonderful to be a part of their blogger program. Casey, Tink and even Ziggy get to try something new every month and I get to share our ups and downs with them. Thankfully, we haven't had any downs, other than me not being able to follow package directions.
This  month we opted to try Fromm brand Four-Star Nutritional's Grain-Free Lamb with Cranberry Recipe Dog Treats. I'm always on the lookout for treats that will satisfy both big dog Casey and little Tink. Usually it ends up with me giving Casey a few more than Tink, but I also have to make sure pieces are small enough for Tink to carry in her mouth.
What I liked about these treats is that they are grain-free. This is a big deal for Casey because like many Boxers she has a very sensitive stomach. She has eating the same dog food pretty much her whole life. Sometimes we have issue with treats which cause her some stomach problems and we are up half the night while she's outside eating grass and going potty to make herself feel better. Yuck. So, I try to keep track of ingredients in things that cause her tummy problems. Tink, so far, hasn't had any problems with what we have given her.
As you can see from the photos, both Tink and Casey were pretty excited for the monthly sample. I couldn't get the bag open fast enough. I tell you for an old girl, Casey sure has a super sniffer.
Ziggy wanted to know what all the fuss was about. He came to let his presence be known. I tried to give him a treat. He sniffed. He licked. Then he wanted nothing to do with it. Funny though, he kept coming back to try again.
Silly cat, these treats are for dogs.
I think if I broke it up for him to have a smaller piece I bet he would've eaten it!
The girls really enjoyed eating these and I felt really good about feeding it to them. I mean, what's not to love?? They are made from human-grade ingredients, no grains, no fillers. Just oven roasted lamb, cranberries, apples, vegetables, and parsley. These little snacks are like a tiny packaged Thanksgiving dinner.  They are hard and crunchy which helps to clean teeth and are the perfect size for both girls.
Fromm has a variety of flavors to choose from, and even have a snack for overweight poochies.
Add that to the list of our Chewy 2-paws up reviews!
Disclosure of Material Connection: I received this product from Chewy as part of a review program. I was not required to write a positive review. The opinions I have expressed are my own. I am disclosing this in accordance with the Federal Trade Commission's 16 CFR, Part 255: "Guides Concerning the Use of Endorsements and Testimonials in Advertising."