#atozchallenge A is for Attitude Adjustment
https://www.instagram.com/p/BDV5PVLLtIO/?taken-by=chrysmahan
Welcome to the first day of the 30 day blog challenge which I am sure to drop the ball on. 😉 But I am going to try my best not to.
I know, guys. I am so sorry. I just haven't been in much of a blogging mood. I mean, I have so many great and wonderful things to share, but I am taking some much needed time to work on myself. And part of that involved getting back to my authentic writing self. I have done a few of these #AtoZChallenges in the past on my old writing website. I am using this challenge to document the journey I am on right now and you can read a little more about that on the Theme Reveal post.
If you've been following along for some time you know that I have the website YUMeating and when the Mr and I decided it was best we dissolved our marriage, I decided it was in my best interest to dissolve that website as well. So I merged it here on to Nevermore Lane.  Those first few months I talked about the divorce, mostly through the book reviews of Conscious Uncoupling. Then, we hit a wall with our divorce and friendship. So, I hit a wall with the next step in the book.
I had to really take some time to look at myself. I put myself back in therapy to deal with my mental health problems. I started to really make the commitment to work out and not just walk on the treadmill here and there.
So, while I haven't been blogging much here, I have been killing it on my Instagram!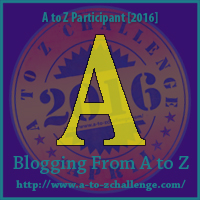 Once I started to chance my attitude and look for something positive in every day, no matter how hard it was, I realized getting back to the old me wasn't all that hard. I just had many years and layers of hurt, anger and pain I needed to work through, not to mention get my physical and mental health under control.
While life is not perfect, I am feeling a lot better today than I was a few years ago. Every day I smile more and feel stronger.
All I needed was a bit of an attitude adjustment!