loved + blessed the Perfect Little Pick-Me-Up #LoveAndBlessed #FlyBy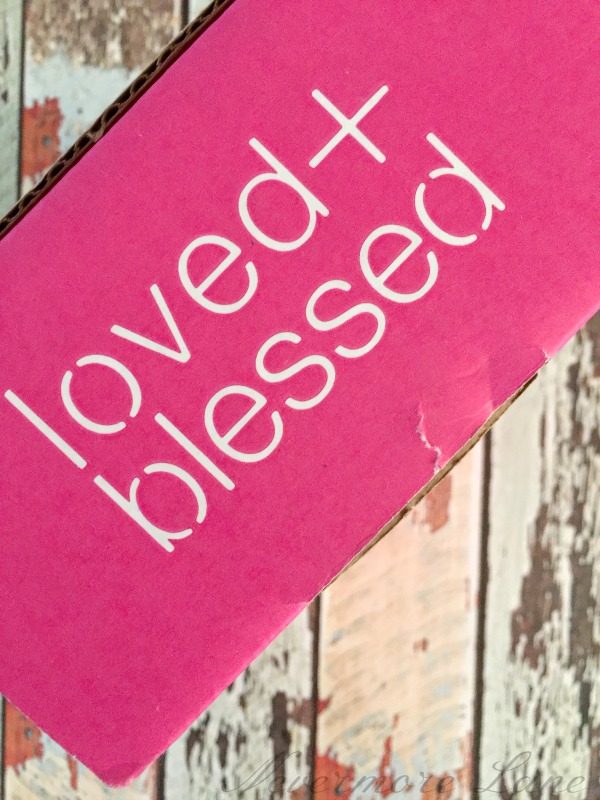 In keeping up with my journey and my positive blog theme (April 1 ! The A-Z challenge is right around the corner!) I felt this loved+blessed® subscription box was just what I was looking for. While I love my Ipsy and Graze boxes, I really wanted to try something that was not make-up or food!
So, when Fly By Promotions said, "Hey check this out!" I listened! 
I have to tell you guys, this is the cutest little box. And it arrived on a day just when I was needing a bit of encouragement. For those of you who are on my personal Facebook (my Instagram has a small glimpse) that I have been going through a bit of a metamorphosis these last few weeks.  Divorce has a way of changing people. Some for the worst and I was determined to not let that happen to me. I'm still on my journey of self-care and healing, but I'm getting stronger by leaps and bounds lately.
I just loved the little treasures in this box! Everything was so beautiful and you just felt the message loud and clear.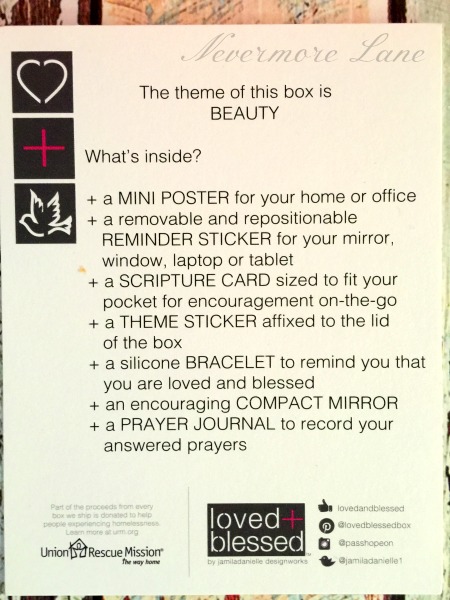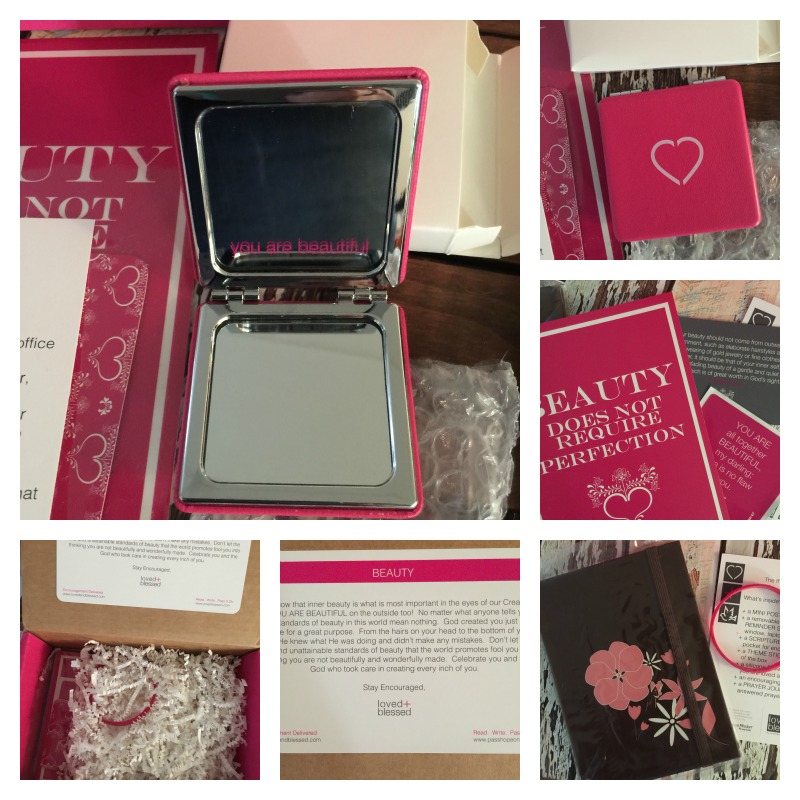 I LOVE this square mirror with the heart on it. Inside it says "you are beautiful" ! It's so cute. The bracelet is a wonderful reminder and I will be giving that to kiddo because she loves these types of bracelets and she will greatly appreciate it. The journal will be used for sure and the mini poster will be hanging on a clipboard above my desk so I can see it everyday.
Opening this box and reading all of the goodies really made me feel so much better about the day I was having, and just feeling better about myself in general.
Life is a journey for me right now, and I am not giving up.
So what is loved + blessed:
Each month the box of encouragement™ includes:
a MINI POSTER for your home or office
a repositionable REMINDER STICKER perfect for your mirror, laptop or tablet
a SCRIPTURE CARD sized to fit in your pocket or purse
a removable KEEPSAKE THEME CARD
a special GIFT OF ENCOURAGEMENT
Our boxes are full of little gifts of surprise and delight that help remind you to walk in faith throughout your day.  Our theme and gift of encouragement changes each month.  You'll receive gifts of jewelry, prayer accessories, stationary, journals, home decor and more!
We're not your typical "subscription" box.  This little pink box isn't about products.  loved+blessed® is about spreading hope and joy.  As we encourage you through the challenges of life, we hope you'll pass encouragement along to someone else.  Part of the proceeds for every box we ship is donated to help people experiencing homelessness.
How would you like to win A Year of Encouragement (12 FREE Boxes) loved+blessed website to enter.
Follow loved + blessed and check out all of their past and present boxes! Website, Instagram, Pinterest, Twitter, and Facebook.
Disclosure: I received this subscription box for free in exchange for my honest review. I am not being compensation for this post. Regardless, I only share products which I truly believe in. All opinions and photographs are 100% my own.