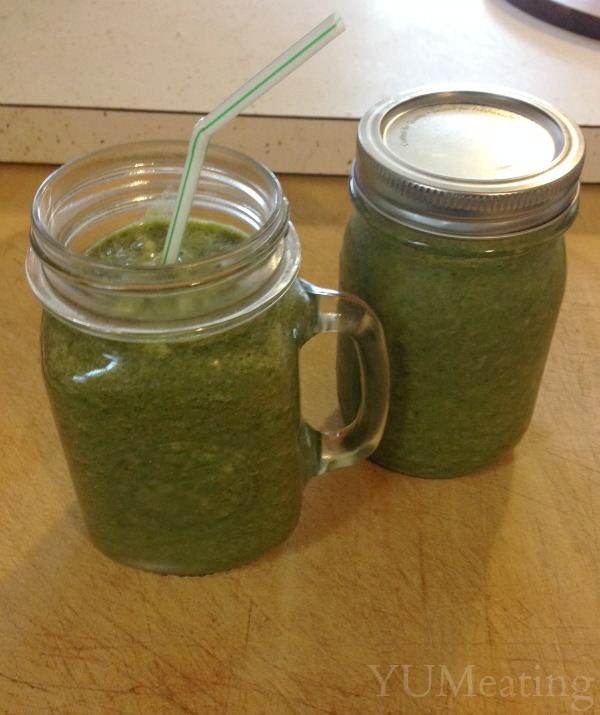 In case you missed it, I joined a 30-Day Green Smoothie Challenge which challenges us to replace one meal with a green smoothie. Today is day two but I wanted to post yesterday's recipe before things got to crazy and the next thing I know I have a stockpile of recipes and the challenge is over.
Most of these are going to be done in iPhone quality because lets face it, first thing in the morning I am not quite awake and I need a little while for my brain to process 'work time.'
Day 1 went well. I did not get a chance to go to the store and stock up on produce so I just used what I had on hand. The website gives a lot of recipes and ideas. I noticed a lot of people on Facebook and Instagram that were getting upset at people who were sharing recipes that were different from the recipes being emailed. Not sure why. The whole point is to just have a green smoothie.
So, I did.
I did some snacking and according to My Fitness Pal I was over my calories. Bummer. But, I did get back on the treadmill. Bonus.
I tend to repeat a lot of the same smoothie recipes, but this one might be a little different. I'll do my best to post my progress as I continue through the month.
Super Green Smoothie
Ingredients
1

cup

spinach

4

cups

mix of green leaf lettuce and romaine

2

cups

water

2

frozen bananas

1

scoop vanilla protein powder

1

tsp

matcha green tea powder
Instructions
Blend the spinach and lettuce with the water until a liquid forms.

Add the frozen bananas, protein powder and matcha green tea powder.

Blend again until smooth.

Makes about 16oz.