Orange Kiss Sunrise Green Smoothie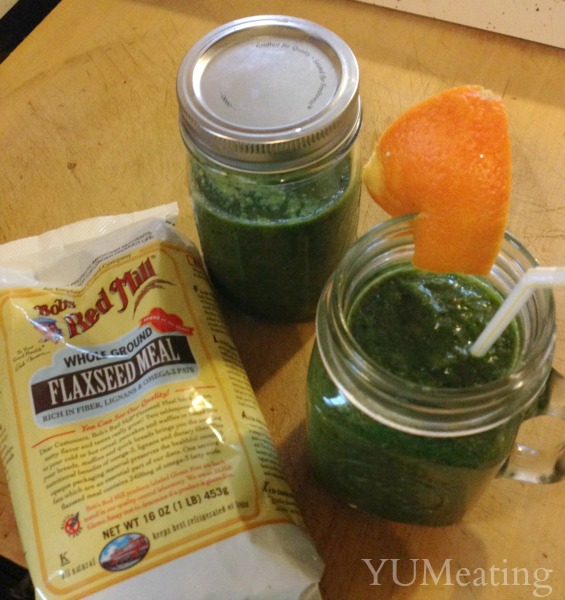 Day 2 of the 30-Day Smoothie Challenge is here!
Check out Day 1- Super Green Smoothie
I don't feel any different, but then again, today is only day 2. Yesterday I was thankful for my second portion of the drink. But I started to get hungry, even after I ate lunch. In order for me to get away from that I am going to have to do some tweaking to my recipes.
Today I scrambled to make a green smoothie. My refrigerator is empty when it comes to the produce department and I just haven't had a chance to get to the store. I thought I would try adding some flax because there are a lot of health benefits to the flax.
If flax isn't your thing this recipe works without it. After I was done I realized maybe I should have put some protein powder in it. I felt like I was starving all day today. Tomorrow I have a new plan for my green smoothie. Hopefully it will keep me full a little longer.  Or, maybe I need to address what I am eating for lunch. *shrugs*
Orange Kiss Sunrise Green Smoothie
Ingredients
3

cups

romaine and leaf lettuce

1

cup

spinach

1

cup

water

1

orange

peel and quarter

1

banana

2

TBSP

flax
Instructions
Add the romaine, leafy lettuce and spinach to your blender.

Pour in 1 cup water and blend.

Mixture will be a little thick. If it's too thick for you add a bit more water.

Add the orange, banana and flax.

Blend again until smooth.