Low Carb Lower Calorie Pizza Salad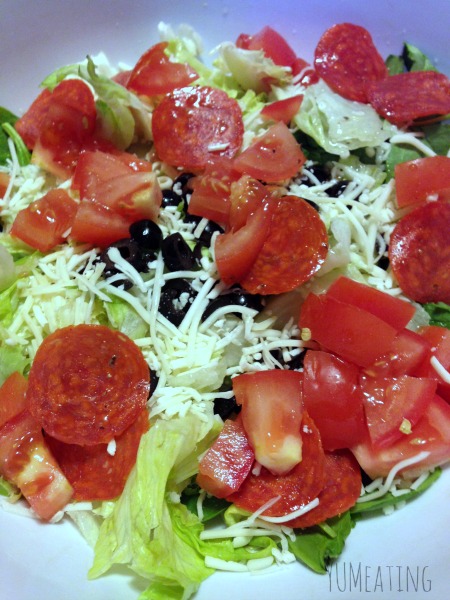 The new year is almost here. A time when many folk start losing for weight loss inspiration and recipes. I'm trying to kick thing in to gear before the new year. It's been a rough year for me so I am trying really hard to get back on the healthy eating bandwagon. When I went low carb one of the things I missed the most was pizza. It took a while for me to figure out how to make various pizza crusts that were lower in carbs and satisfied my pizza cravings. Sometimes I just don't want to even mess with the crust. 
With a low carb pizza salad I can just toss everything in a bowl and be on my way…..right to the living room sofa. I'll kick my feet up and enjoy my Netflix; thank you very much.
A pizza salad is really simple and really filling.
For me I add a mixture of lettuce; which includes whatever was on sale that week and some spinach.
I'll add some black and green olives. I generally have both on hand as I love olives.
Of course there is peperonni but latelty I have been swapping for turkey pepperoni. A lot fewer calories and tastes just as good.
Tomatoes and mozzarella cheese top it off.
The great thing about salads like this is that the vegetable options are endless.
I've been using this new 3 Cheese Italian dressing I found at Aldi's. Makes the perfect topping to these salads.
Give a pinch of Asiago cheese. Your tastes buds with thank you for it.
Low Carb Pizza Salad
Ingredients
1/4

head iceberg lettuce

2

cups

spinach

1

small roma tomato

1/4

c

sliced olives

12

slices

turkey pepperoni

Italian dressing

Mozzarella cheese

Asiago cheese
Instructions
Shred the lettuce.

Add to a small bowl or plate.

Rip up the spinach to smaller pieces.

Dice the tomato and place on top of the lettuce.

Add your olives.

Add your pepperoni slices

Top with cheese and dressing.