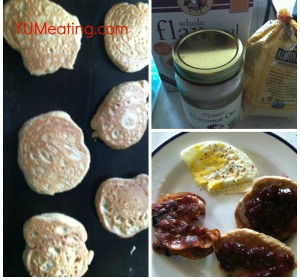 As a family, we started to miss our weekend breakfast treat of pancakes. I finally had purchased some almond flour to add to my flax meal. Decided to try my hand with some pancake making.
Most of the recipes I was finding had a cream cheese base. Somehow I felt that might work for me and kiddo, but not for the hubs since he's not a fan of cream cheese. Then, I ran into most of the recipes being paleo/primal style and they used honey. I wanted something that I could use both flax and almond because of the nutritional benefits of the flax. This recipe is based on at least five different recipes I found. Feel free to play with the almond and flax ratios to find a flavor that works better for you.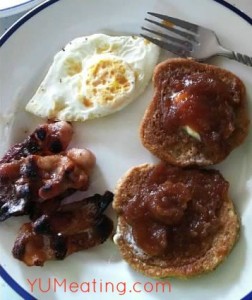 Ok, let's get started!
I used a hot griddle (400 degree) and it was oiled with a pat of coconut oil. (I use Spectrum organic brand.)
I warmed the griddle while I combined my ingredients.
Recipe:
1/2 cup almond meal. (I use Bob's Red Mill)
1/2  cup whole flax meal. (I used a box variety found at Meijer, but you can use any brand.)
2 eggs
1/4 cup water
dash of salt
1/2 tsp baking soda – this is what makes them fluffy like regular pancakes.
1 packet of Splenda (I didn't have Stevia)
For a variation you could add things like apple pie spice, pumpkin pie spice, nutmeg, cinnamon.  Just watch and count your carbs. Not every spice is carb free and with some of the flavor ones they sneak sugar in!
Let the mixture rest for a moment. I took this time to start working on the bacon.
Measure about 1/4 of cup of batter per pancake. Flip them when brown. Place them on a plate with a pat of unsalted butter.
On my plate I used some sugar free syrup. Very little. I only had a little left in the bottle and hate to throw stuff away. I packed up three boxes of food and gave to my friend. I didn't want to giver her a bottle with a few bits of syrup left. My next purchase will be Walden Farms. I have heard awesome reviews about it and since we don't eat pancakes every weekend; it should last a while.
On kiddo's plate her pancakes had apple butter (thats her plate in the 2nd photo). My husbands plate had sugar free blackberry jam(that's his plate in the top photo).
With my recipe they came out to be 3 net carb per pancake.
They were so YUMmy!
Hope you enjoy!
Low Carb Almond Flax Pancakes
Ingredients
1/2

cup

almond meal

1/2

cup

whole flax meal

2

eggs

1/4

cup

water

dash of salt

1/2

tsp

baking soda - this is what makes them fluffy like regular pancakes.

1

packet of Splenda
Instructions
Heat griddle to 400 degrees.

Spread with coconut oil.

While you are waiting for the griddle to heat up and coconut oil to melt, mix all ingredients in a bowl and mix with a whisk.

Measure about 1/4 c mix per pancake and pour on griddle. Will get fluffy as they cook.

Flip when golden brown.

Serve warm.