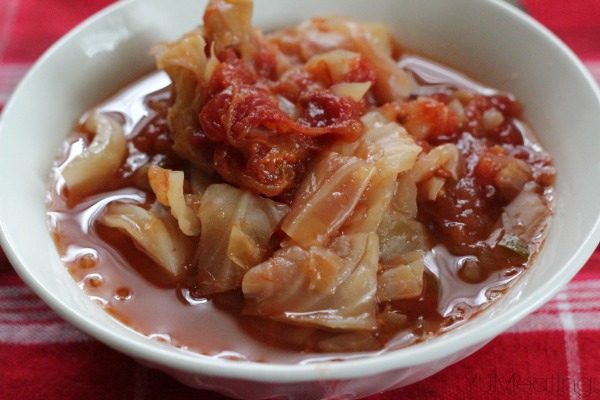 Oh hai.
Hello, my name is Chrystal and I'm a cabbage junkie.
If you've been reading YUM for any amount of time you'll gather that I'm Irish and that I like cabbage in my soup. You may also recall that I made Vegetable Cabbage Soup already this month. Another thing you might notice about me is that I am known for never making things the same way twice. My corned beef and boiled dinners tend to differ. Sometimes carrots, sometimes celery, and one time there was no cabbage. *gasp* There will be times I use beef stock, others where I use vegetable or chicken. It's my dinner, I'll play with it if I want to.
The same goes for my cabbage soup. There are times it mostly resembles the 'toss everything in but the kitchen sink' when it comes to the vegetables. Other times it's just me warming up some of my homemade canned tomato and calling it soup.
Then, there are times like this one when I make some vegetable soup, toss in some cabbage and onions just so I can call it 'Mostly' Cabbage Soup.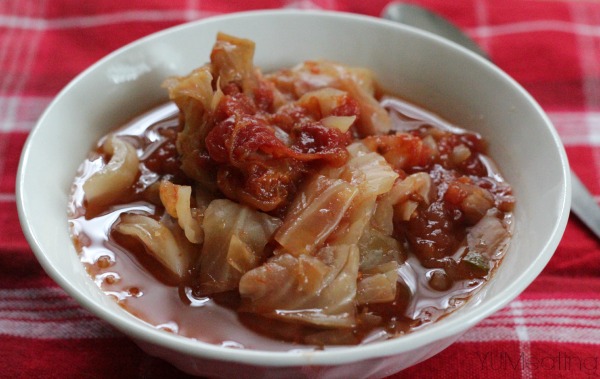 That's how I roll.
In all seriousness I wanted to show you how easy it was to switch some ingredients in a simple recipe for a different flavor.
Do you have a simple soup or recipe that you change according to the ingredients in your kitchen? Tell me about it in the comments below.
Mostly Cabbage Soup
Ingredients
1/4

purple onion

diced

1/2

a head of cabbage

chopped into small pieces

2

jars homemade canned tomatoes

8-10

oz

vegetable stock

homemade preferred

salt

pepper

garlic powder

onion powder

NOTE: If you don't have homemade canned tomatoes you can use 4 cans of diced canned tomato with 1 small white onion

diced and 1 green pepper, diced.
Instructions
Combine all of the ingredients in a large stock pot.

Let simmer over low heat for 45 minutes to an hour or until the vegetables are tender.

Add seasoning per your own taste.