Celebrating Julia Child with 12 Recipes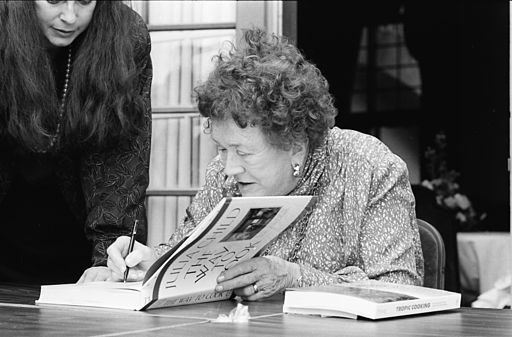 I just love this lady.
As a youngster I remember vividly my mother watching Julia. We would sit down and watch her together every chance we go. That did not stop as I got older. I always looked forward to watching cooking shows with my mother. I was always captivated but Julia Child. I never in a million years thought I could cook all her fancy smancy French food. I still don't. I think over the years I can count on one hand how many times I have actually tried to create a Julia recipe. It's. Just. Not. Going. To. Happen. 
Not because I don't like her food, but… I have no real explanation. French food isn't at the top of my list.  I do still watch her cooking shows. I seriously keep my Amazon Prime account because their streaming service has a million Julia episodes. I watch them. Some of them I have seen and it's funny on my big screen how it only takes up so little space on my screen and its in black and white. There are newer episodes, but I am making my way through the older ones first. It's funny, as I go through them I see recipes from my grandmother that my mother passed on to me. Was she a fan, too? 😉
Watching this old episodes often inspire me to create something new. I also like to think I have perfected making homemade mayo (although it rarely happens) and meringue. Yum! You always need a good meringue with all these berry crisps and compotes, right?
So, in honor of Julia Child's birthday on August 15, my sponsor, Foodie and myself would like to share 12 Julia Child inspired recipes with you. You'll need to turn your ad blockers off in order to see the photos widget below.  Interesting fact, did you know she passed away just short of her birthday on August 13? I can't believe it's been almost 10 years.
Check out Celebrating Julia Child

by Chrystal M. at Foodie.com
Don't they all look yummy?
In no particular order:
1.  Coq Au Vin –  A classic French chicken dish. It's also one of the easiest. You're welcome. 😉
2. Homemade Bread – I make homemade bread. It's not inspired by Julia. Well, it could be. You'd have to ask my mom and grandma.
3. Cherry Clafoutis – I picked this because Traverse City, MI is know for its Cherry Festival. Which means there needs to be cherry recipes out there. And I am kind hoping someone will make this for me 😉 I mean LOOK at it!
4. Provencal Chicken – Julia worked with a lot of chicken in her life. Julia's Provencal Chicken comes out nice and moist – every time. She's the inspiration behind all my roasted chicken recipes.
5. Chocolate Mousse – I love chocolate. You should too. I have actually made chocolate mousse and it was perfectly wonderful. I thank Julia for the inspiration.
6. Pissaladiere – This savory treat is a Provencal onion tart layered with anchovies, olives and herbs. I am not a fan of little fish on my pizza but this combination actually works.
7. Reine De Saba – Two words. Chocolate. Cake.
8. Steamed Mussels – I love seafood and have watched Julia make mussels multiple times. This is a personal fave.
9. Roast Duck with Orange Sauce – This duck dish is one of the most popular Julie Child duck recipes. Looking at the ingredients, it is easy to see why. If you are a duck fan, I encourage you to try this one.
10. Lamb Stew – Lamb Stew is not only a French tradition, its also an Irish one. 
11. Ratatouille – Ratatouille is a fancy name given to a vegetable dish that contains eggplant, squash, tomatoes and bell peppers. It"s basically a vegetable stew.  This one looks amazing.
12. Salade Nicoise – Picked Salade Nicoise to showcase in my recipe collection because you always need to have a good salad recipe. This is very similar to a cobb salad. Only, not. 😉
I do hope there is something here that will inspire you to get your inner Julia on!
Are you a Julia Child Fan? Tell me about it! 
Disclaimer: This is a Foodie.com sponsored post. I was compensated for my words but my opinions and picks are my own. There are also some affiliate links, so if you shop the Amazon link I might make a few cents.