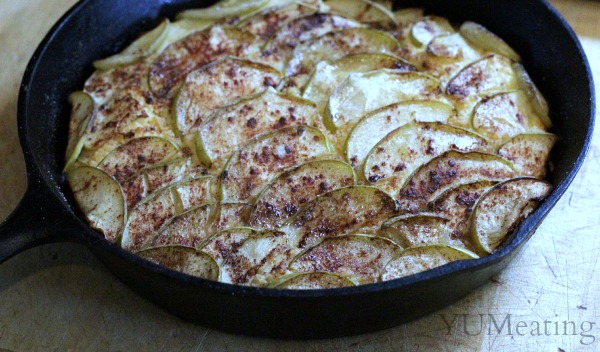 Ahhhhh…
Michigan apple season. It is almost my favorite but I have to put it out there – I LOVE fall and pumpkin season even more!  But that is not for a while longer, so for now I'll just eat my scrumptious Michigan apples. Last year I was given a giant crate of apples thanks to my mother-in-law and her family.  I made crisps, cakes, pies, cobblers, canned my own apple sauce, cooked apples with ribs and sat around munching on then with some peanut butter!
When this seasons apples started making their way into my home I knew I was going to be making a lot of the same recipes. And, that is ok because I plan on updating some of the photos! But for right now I wanted to try this Dutch Apple Skillet Cake. This recipe was inspired by the traditional Apple Brown Betty published by Saveur magazine which I found through Pinterest.
This wasn't my best recipe, hence the lack of photos. I am super picky I guess. Husband and kiddo gobbled it up with some vanilla ice cream.
I'm going to add this to my list of Pinterest fails, right next to the Cotton Candy Cake. I post these recipes and less than stellar photos because I want everyone to know that sometimes we fail in creating our own recipes. Sometimes we just use our iPhones and don't care much about our photos. Sometimes the lighting and placement is bad because our timing wasn't right during the day, so our dslr camera photos look like boo boo.
[Tweet "We are human. We create, we learn, we experience and we move on. "]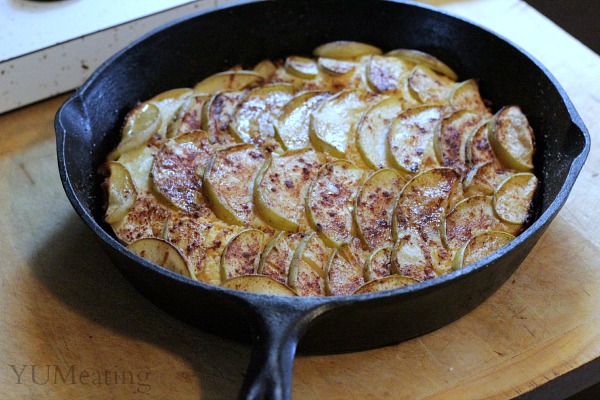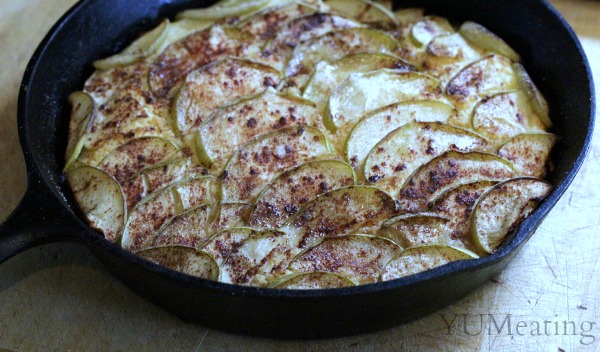 Dutch Apple Skillet Cake
Ingredients
1/2

c

flour

3

tsp

baking powder

1/2

tsp

salt

3

TBS

stevia

2 1/2

TBS

butter

2

eggs

3

TBS

skim milk

2-3

large granny smith apples

thinly sliced

3/4

c

stevia

1/2

c

brown sugar substitute

xylitol

2

tsp

cinnamon
Instructions
Preheat oven to 425.

Sift all dry ingredients. Lightly whisk.

Work butter into the flour with the whisk.

Add the milk.

Combine to form a dough.

Spread dough into the bottom of a well greased cast iron skillet.

Spread apple slices over crust.

Mix the stevia, brown sugar substitute and cinnamon.

Sprinkle on top of apples.

Dot with butter.

Bake for 25 minutes.