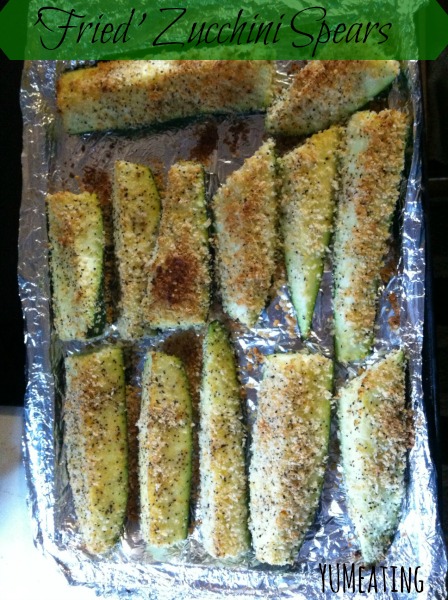 I know I told you last week that my Trash to Treasure garden was destroyed by some nasty storms.  I am still pretty bummed about it. If you follow me on Instagram you know I was still able to salvage some items from the garden. I have a few really nice zucchini come in so I decided to make some fried zucchini spears.
I love fried pickles. I mean, loveeeeee them. But, with all the deep-frying I just have to stay away from them. Once in a blue moon I will eat them but I have yet to find anyone who makes them as good as my favorite place back in Oklahoma, Goldies. I've experimented with some faux fried (oven baked) pickle spears over the years and even though I have found some doozers, I have yet to find anything like the original that I so adore. 
Last year we canned almost 100 jars of pickles. I am a little sick of pickles to be honest. I need a little bit of a break before next pickle season and that is where the zucchini comes in. The crunch of a fried pickle without the extra greasy calories or , the fact it is not a pickle. 😉 Win for me.
So, this zucchini recipe is top-notch. It's actually one of my faves and I found it on cooks.com
I didn't change it too much other than some minor tweaks.
'Fried' Zucchini Spears
Ingredients
3

tbs

brown rice 'bread' crumbs

1

tbs

Parmesan cheese

1

tsp

garlic powder

1/2

tsp

pepper

1/2

tsp

paprika

1/2

packet dry ranch dressing mix

2

medium or 1 very large zucchini

4

tsp

olive oil

2

tbs

water
Instructions
Combine brown rice crumbs with all spices in small, shallow dish.

Cut each zucchini lengthwise into 4 pieces.

Then, cut each piece in half crosswise.

This will give it a pickle spear look.

Place zucchini in a zip-top plastic bag.

Add water and 1 tsp olive oil.

Shake.

Roll zucchini in rice crumb mixture.

Place on greased baking sheet.

Bake at 475 degrees for about 10 minutes or until brown and tender.
I love these and now that I've pulled a few from the garden, I have a feeling I will be making a double batch! They make a nice snack, appetizer or side dish.
What are some of your favorite zucchini recipes?