Chickpea Stew with White Beans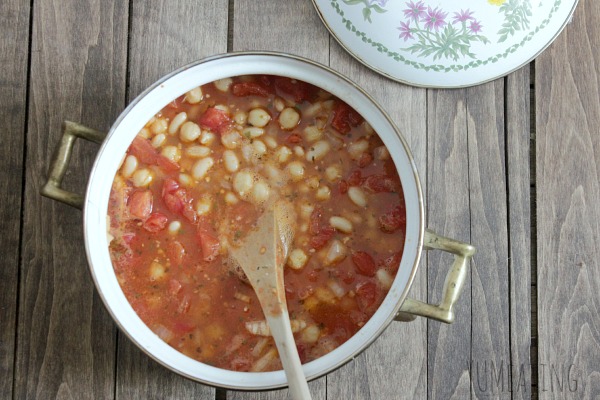 This soup is so many wonderfuls. Well, it's not really a soup. It's a bit 'meatier' so I am going to call it stew. It's vegan, sugar-free, clean and just all around good for you. The best part is that it is super quick to make. This chickpea stew with white beans is another recipe that happened quite by accident. I tend to have a lot of those since I don't really follow recipes, mostly just use them for inspiration. But, even with that, my recipes are somewhat similar to the recipe so the names end up close.
With this concoction it started out as a way for me to reduce the meat in my diet. I started looking around FoodGawker and Pinterest for ideas on how I could use chickpeas in other dishes besides roasting them, making hummus (which I loooooove) or smashing them on sandwiches.
That led me to thinking about the canned tomatoes I had. What is tomato a base for? Goulash. No thanks. Chili? No thanks. I wasn't in the mood for pasta. Tomato soup? Hmmm maybe. If I can figure out something to eat with it. Smashed chickpea sandwich? No thanks. And so I just kept going through my jars and cans trying to come up with something. I had settled on chickpea to be my protein and went back to Pinterest. I got lost in chickpea stew land for a while. So many varieties and different spice combinations meant I could travel the world without leaving my home.
Story of my life. I couldn't complete the recipes because I was missing something (or more than one somethings) from every recipe I had pulled up.
I pulled out the stewed tomatoes, tomato paste, chickpeas and the only beans I had on hand – white – out of the cabinet. I then pulled out my small dutch oven that used to be my grandmas and set out to work.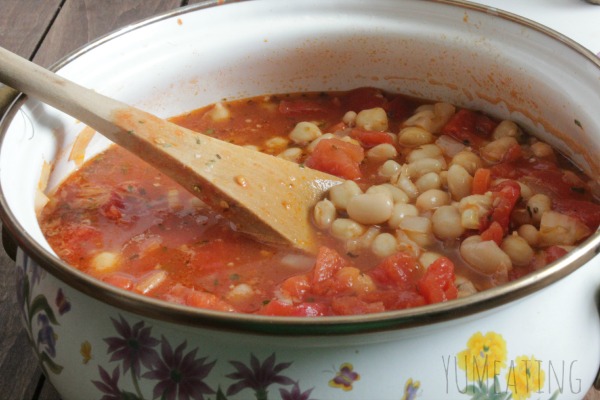 It had an Italian / Tuscany type feel to it when I start to pour the ingredients in the pan. So that led me to the garlic powder , oregano and multiple other flavors.
My thought? What's the worst that could happen? I wouldn't like it and have to dump it out. Yeah, that does suck and I hate to waste money, but how else did Julia Child or Emeril know if an idea worked for them or not?
I have to say, I'm glad I took the chance. When it was all done I put half in the freezer. The other half gave me 4 lunches that I could rotate for the week.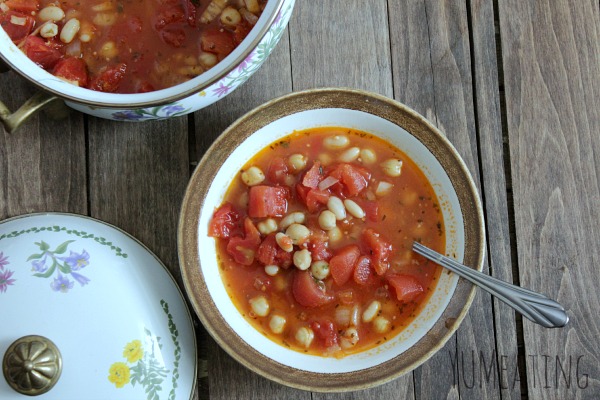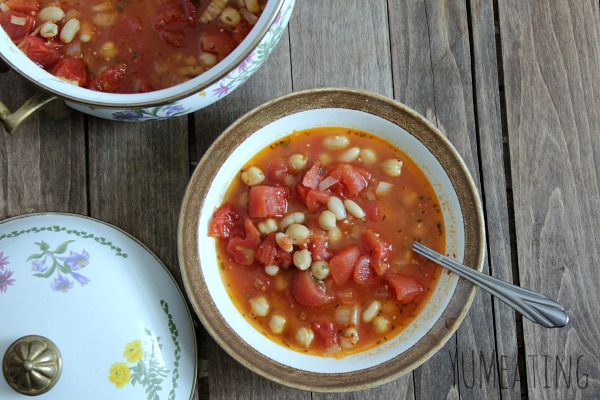 Chickpea Stew with White Beans
Ingredients
1

can organic chickpeas

rinsed

1

can organic northern

white beans, rinsed

1

can garlic & oregano stewed tomatoes

2

tbsp

olive oil

3

tbsp

diced onion

1

tsp

minced garlic

1

tsp

shredded fresh ginger

1

tsp

ground cumin

1

tsp

coriander

1/2

c

vegetable stock
Instructions
Place the olive oil on the bottom of your dutch oven.

Keep heat on low and add the garlic, ginger and diced onion.

Cook for 5 minutes, stirring frequently.

Add the vegetable stock, chickpeas, tomato and beans.

Stir well.

Put the lid on and allow to cook for 1-2 minutes or until all ingredients are warm.

Add all of the remaining ingredients (spices) and continue cooking on low for 5-7 minutes to allow the flavor to infuse.
What sort of creations have you made lately?