100 Foods to Eat Bucket List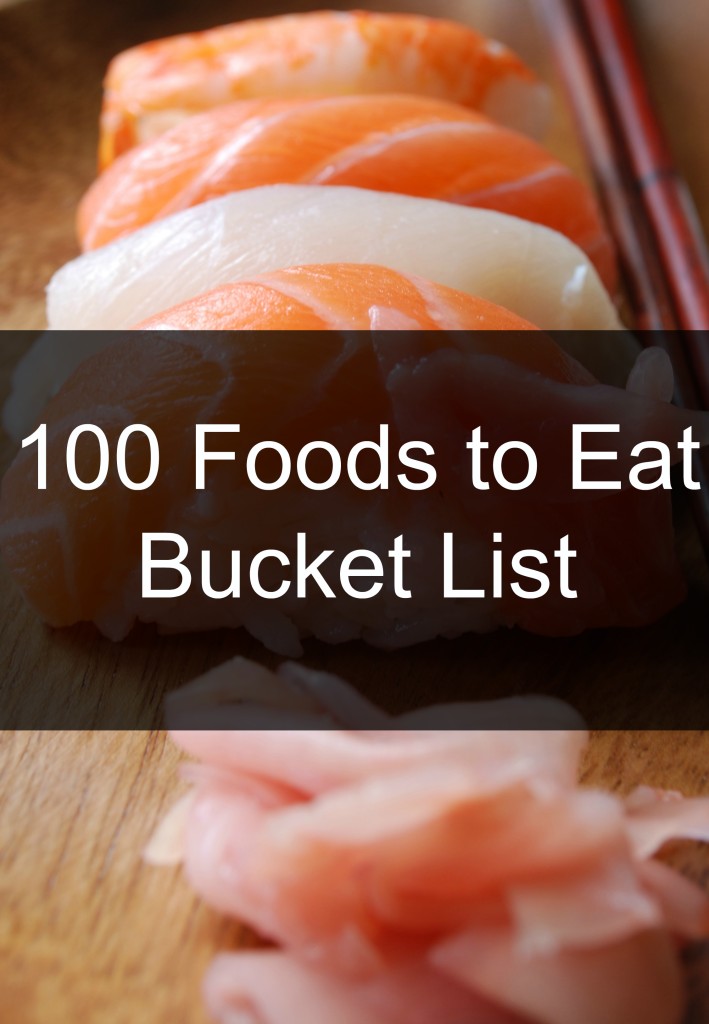 I'd like to thank Heather over at Kiss My Broccoli. I've been a fan of hers for a while now and this food list has intrigued me. It's a post I have been wanting to do for a while and as I approach 40 (gasp) in a few months I feel like now would be a great time to get this post done!

100 Foods to Try Before You Die: (aka the 100 Foods Bucket List)
Abalone
Absinthe
Alligator <- I had my first bit of gator when I was in my early 20s. I didn't write about it then, but I had it again not too long ago. It tastes like chicken! LOL
Baba Ghanoush
Bagel and lox  <- I opt for the everything bagel. It's also super yummy with smoked salmon.
Baklava <- My good friend in High School had a grandma right from Germany. Her's was the best I have ever had.
Barbecue ribs  <- I prefer hot over sweet and I really enjoy them slow cooked in the smoker or crock pot.
Bellini
Bird's Nest Soup
Biscuits and gravy <- I am from the south y'all. 😉

Black Pudding  <— this one could be happening very soon
Black Truffle
Borscht
Calamari <- Another favorite. Be careful though, if people don't cook it right it gets too chewy.
Carp

Caviar 

Cheese fondue

Chicken and waffles  <— well I am from the South. Although, I really don't understand the appeal.
Chicken Tikka Masala  <— soooo good.
Chile Relleno  < — more than my fair share
Chitterlings/Chitlins <— tried them once. My ex-husband's family made them every holiday. They weren't awful but it's not something I can bring myself to eat.
Churros  <– Where I lived in OK we had a large Spanish population and I had some good friends who were Filipino. Their mom made some great ones. They were easy to find in town, too.
Clam Chowder <– I prefer it homemade.
Cognac
Crabcake <— I prefer it homemade.
Crickets <- Pretty sure chocolate covered counts here.
Currywurst
Dandelion wine — I am hoping to make some this year. I have made my own dandelion tea.
Dulce de leche  <– Hasn't everyone 😉
Durian
Eel <— mmmmm sushami / sushi. 
Eggs benedict <-I am not a fan of  hollandaise sauce. But I did try this once when I was younger. I don't feel like I am missing out.
Fish Tacos   <— I would totally eat these again and again.
Foie Gras
Fresh Spring Rolls  <– can't wait to make my own. So good.
Fried Catfish <— this is another thing that is big in OK. I tried it a few times and never liked it.
Fried Green Tomatoes <— my mom used to make these all the time! 

Fried Plaintain

Frito Pie <- …served in the bag!  My mom also made this awesome chicken frito pie. 
Frog's Legs <- Small chicken leg. For reals.
Fugu (pufferfish)
Funnel Cake <- Fried fair food, right? 😉
Gazpacho <— actually really tasty! 
Goat  <- I dont think I could EVER eat a goat.
Goat's milk  <– fresh is best. And made into cheese.
Goulash <– My mother made this almost every week growing up.
Gumbo <-Can't live without my gumbo! 
Haggis  <— Mr Yum is Scottish/ Irish. He gets that from his father. His father's wife is Irish through and through like me. So, yes, we've had this when it's in season. I like to pretend I don't know what it is. If you find someone who knows how to make it right, you can't tell what the 'meat' is. I ignore the fact it's cooked in a stomach. I really is good. One time though we had one not make well and it had a really bad Iron taste and you feel the bits and pieces. Not cool. Not cool. And we just had some over Easter weekend! 
Head Cheese  <- please just note, I could never. The smell is atrocious. 
Heirloom Tomatoes  <– right from my garden! 
Honeycomb  <– when I was much younger
Hostess Fruit Pie <- Ate these all the time when I was younger. Loved the lemon and apple. Even enjoyed the chocolate filled.
Huevos Rancheros<- YUM! I love Mexican foods.
Jerk Chicken
Kangaroo <- Pretty sure I can't eat it, knowing what it is.
Key Lime Pie  <— Not my favorite pie, but do enjoy it from time to time.
Kobe Beef <– Its leaner, healthier, and best when its grass-fed. 
Lassi <—– Seriously? No, I will never eat dog. (April Fools ! I mean, c'mon, Lassie? I don't want to talk about the countries where they do eat dog. No. Just no.)
Lobster <– I think lobster is overrated. It's not as good as they make it out to be. But, it's still good.
Mimosa <- Breakfast of champions, right? Or college students. Or *cough* cough* high school bad girls. 
Moon Pie  <– yes and I hate them. Ew.
Morel Mushrooms
Nettle Tea
Octopus  <— mmmmm sushami / sushi. 
Oxtail Soup
Paella
Paneer cheese
Pastrami on Rye <- mmmmm love a good meat on rye bread
Pavlova
Phaal
Philly Cheesesteak <- My step mother-in-law is from Philly. Does that count as authentic?

Pho

Pineapple and cottage cheese <- How I love my cottage cheese.
Pistachio Ice Cream <-My all time favorite ice cream.
Po' boy
Pocky

Polenta

Prickly Pear
Rabbit Stew  <— another one of those things where I know what it is, I wont eat it.
Raw Oysters <- I don't care what anyone says, oysters are awesome.
Root Beer Float  <— these were my favorite when I was a kid.
S'mores <- oooey gooey fun.
Sauerkraut <– with sausage, on ruebens. Nonnom.
Sea Urchin
Shark  <– at this at the same time I had my first gator.
Snails <- had them once when I was younger, same time I had shark and gator. Sadly, I don't remember anything about them. I should try them again.
Snake
Soft Shell Crab  <– the same as regular crab, but different. LOL
Som Tam
Spaetzle <— not healthy at all, but really good noodle.
Spam <- Practically grew up on the stuff. Cant even stand to think about it now.
Squirrel  <– another one of those ..not eating. 
Steak Tartare
Sweet Potato Fries <– I am so glad I can find these all over. Homemade is best though.
Sweetbreads <— thats normal, right?
Tom Yum
Umeboshi
Venison  <– burgers, steaks and jerky. It's a big think up here in MI.
Wasabi Peas <– best. snack. ever. 

Zucchini Flowers <— I had no idea you could eat them until I did my Trash to Treasure garden. Edible flowers are pretty good. And pretty.
Are you an adventurous foodie?
What items would you try and which ones are deal breakers?