The Cajun Gator in Port Huron, MI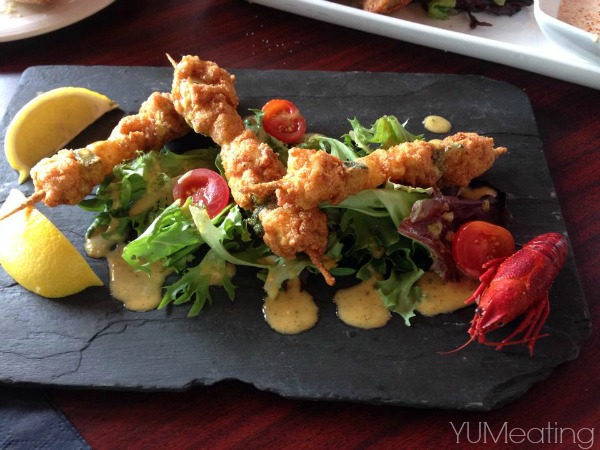 Alright. I am behind on this post. It's been a couple of weeks  month or so since husband, kiddo and I went on an improv road trip.  Ok. It was in March. Before St. Patrick's Day. I had pre-spring fever.
Once the snow melted and we had a warm day we decided to start venturing to some cities we were hopeful of finding work and moving to. We picked Port Huron because there are two hospitals there, it's located on the water, and the bridge to Canada is right now the road.
Literally.
You can look out of the window of the Cajun Gator and see the bridge.
I'll admit, while Michigan is growing on me, it's ideally not where I wanted to spend the rest of my life. When I moved here in 2007 I thought it was a temporary solution to get my new life started. I wanted to go back to school, gather a career for myself and then be on my merry way. I wasn't really planning on staying around here. The first year I was here I went on a lot of first dates and then their was one I dated for about a year. Life took us in different directions. During that rough spot, I met my husband. He knew I had dreams and desires to move out of this small town and I had to compromise on the moving out-of-state due to the fact he had kiddo.
Now that I have had time to tour the state of Michigan and test out some of what it has to offer, I'm willing to stay here if I can get some water property!
My obsession with Port Huron happened due in part to my trip to Niagara Falls and our little stops in Canada on the way there.  So, we decided at the last-minute one Sunday (it was that first ray of sunshine after all the snow!) we decided to take the drive and see how far it was from kiddo's house to determine the weekly pick-up/drop-off drive.
45 minutes, give or take, if you are interested 😉
Another reason I wanted to take the drive down there was because I remember seeing an ad on Indeed many moons ago for chefs to work at this cajun style place that was opening up down there. I have yet to eat at a southern-style authentic Cajun restaurant here in Michigan so I was really looking forward to checking it out.
With a few keystrokes and my trusty Internet I was able to find the name of the place and the location.
Cajun Gator.
Sounded awesome.
So we pointed the car south and away we went. While we were in Port Huron we checked out some water views, some houses and businesses. We checked neighboring cities and even visited the hospitals. We thought perhaps this might be a town we could call home.
Maybe. Someday.
I was very impressed with Cajun Gator. They picked a prime location right in downtown with great view. Walking inside your transported into what feels like an old jazz club or a place you might see in the French Quarters. It had a very industrial, somewhat modern feel, but at the same time the exposed brick gave it some of that distressed flair, like the place was older than it was.
Our waitress was amazing and she was very nice with her conversation when answering all of husbands questions regarding the area. She even took us on a little tour of the place and in the back is small alligator named Wally.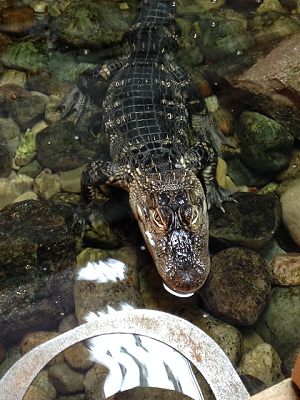 Yes, I said a gator. Wally is the mascot. Isn't he cute? This photo I snagged from their Facebook this morning because the photo I took while I was there didn't turn out. Stupid iPhone. Stupid glass. When we were getting ready to visit back in March, I had noticed Wally's photo on Facebook. While he had a lot of wonderful comments, there were quite a few ridiculing the owner for keeping an alligator in a habitat that was not his own.  I'll say, I'm not really a fan of captive animals. I don't go to the circus, I hate pet stores, loath backyard breeders, and cry over the zoo. I was a little worried about Wally, but he was adopted by the owner from a very loving family that no longer could care for him. He isn't a sideshow to the Cajun Gator, but very much a part of the family. I can tell you, having seen it first hand, his space is beautiful and very accommodating. He really seems to like it. The story goes on that the owner had a different space for him, which he outgrew. Since opening the eatery, it just seems natural that Wally spend as much time with his family who is following their restaurant dreams. Being at the Cajun Gator not only allows the owners to share Wally with their customers, but it also allows them to spend more time with him instead of being home alone. I can tell you, Wally is certainly not suffering!
Alright, let's get to the food, shall we? I know that is what you all came here for.
First, we started with some Gator Bites. That's the very first photo. They were delish. Kiddo isn't a fan of spicy food, so I had to clean off a bite so she could test out some gator. She said it was chewy. Other than that, she wasn't sure what to think since there was just too much spice for her. Husband and I really enjoyed them. I know gator is expensive, I just wish the serving was a bit more. I don't generally partake in crawfish, but I couldn't help but slurp the tail. The rest I can do without. I know some folks will eat the whole thing, but ummmm no thanks.
Husband had Po Boy.
I enjoyed the Crawfish/Shrimp/Crab Etouffee.
And by enjoyed, I mean devoured.
It was YUMtastic. I even had leftovers. Go me. Enjoy it twice!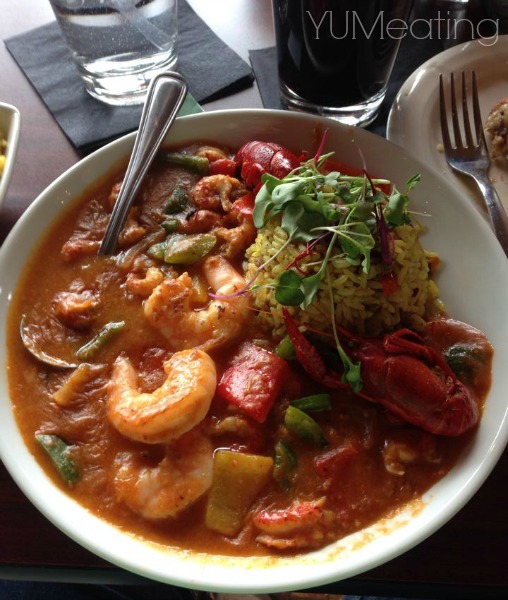 Kiddo had your standard kids meal – chicken fingers and fries. I guess I can't expect her to be an adventurous eater all the time!
We had a really good time and I am already counting down the days for my next visit! It really made me feel like I was back home in the south. I enjoyed every minute.
Check out the Cajun Gator website and their Facebook for more information.