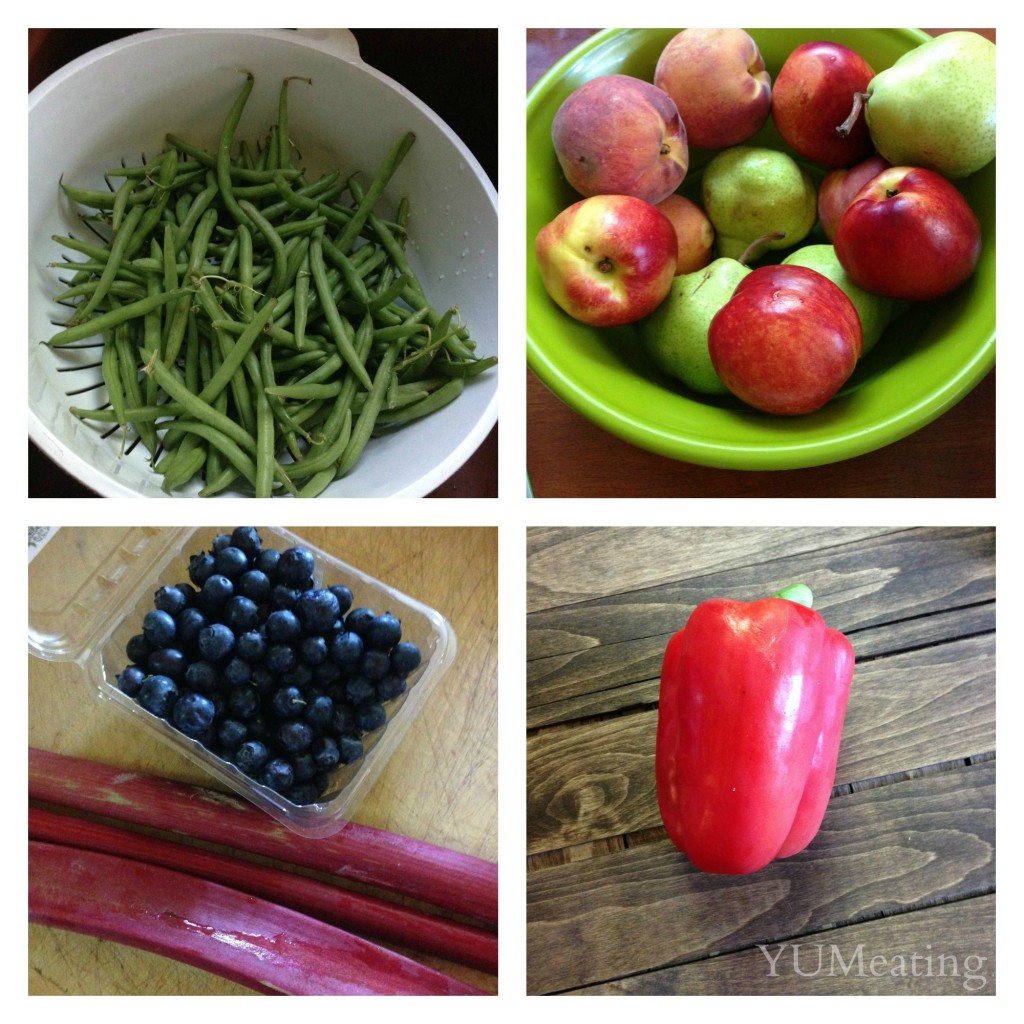 I'm not sure if I'll make this a regular series, but I would like to. It's my mission for the summer. However I have my 'Trash to Treasure Garden' to tend to, so we may not need a lot from the Farmer's Market.
Saturday Mr. Yum and Kiddo Yum 🙂 and myself loaded up the car and decided to head over to Flint Farmer's Market. It takes us about 20 minutes to get there if we use the expressway. I've only been there one other time and that time was pretty amazing. I was like the little kid in the candy shop with all the sights and smells. I was very much the "hey  look at that," "oooh look at this" person. I am pretty sure I drove my husband and friends nuts. It's been a year since that day. This particular Farmers Market is open year round. Tues, Thur and Sat. Quite a bit is indoors so that is good for those vendors. 
While the only Grown in Michigan products available were asparagus and rhubarb, we made sure to pick up what was available to us. This included pears, nectarines, peaches, blueberries, blackberries, rhubarb, green beans, 2 different types of kale, fresh bacon and 2 dozen farm fresh eggs. We even purchased a handy tote because I didn't even think about bringing my own bags.
Next time I go I'm using my handy printable to make sure I remember all the goods I should buy for recipe creations. My mother gave me this wonderful vegetarian cookbook that I'm going to be making my way through since so many yums are in season now.
One thing that made me do a little happy dance is that the Flint Farmers Market also offers a new program called the Double Up Food Bucks. I'm going to let you in on something a little personal. We are a food benefit family. While my husband was going to school he had to devote his working hours to clinical hours. Anyone who knows anything about internships and clinicals knows these are mandatory and they are unpaid. He was able to squeeze in a few hours of work, but 99% of his income paid for our insurance. I kid you not, his checks were like 63 cents. So, we had to get some help somewhere. Now that he is done and still need to take and pass his boards before he can apply for jobs, we are still getting assistance.
I'm not ashamed. But as a food blogger I know it can be looked at weirdly. I do not take any of my food as a tax deduction. There are so many rules surrounding this, and in my former work life I was an tax accountant for a very long time (and the MBA to go along with it,), I've made it my business to know what those rules are. So, I just don't bother with it. My family eats what I cook and most often I share that with my readers. There is also that stigma regarding people who seek assistance. It may seem like I make a lot of money as a freelancer, and there are months when I am comfortable, but more often than not, I'm not rolling in the dough. With my chronic pain problems, going back to work full-time outside the home would be pointless since I'm always calling in or needing to leave early. We do ok.
At any rate, the Double Up program is wonderful. You spend $20 on food from the Farmers Market and you get $20 on your Double Up card which can be used on Michigan grown produce only. So, we used it for the meat and eggs and then bought the rhubarb on the card since it was the only Michigan product. Double Up is limited to $20 a day, but its still a wonderful program and will really help stretch our food budget. We can accumulate as long as we want and the money doesn't expire.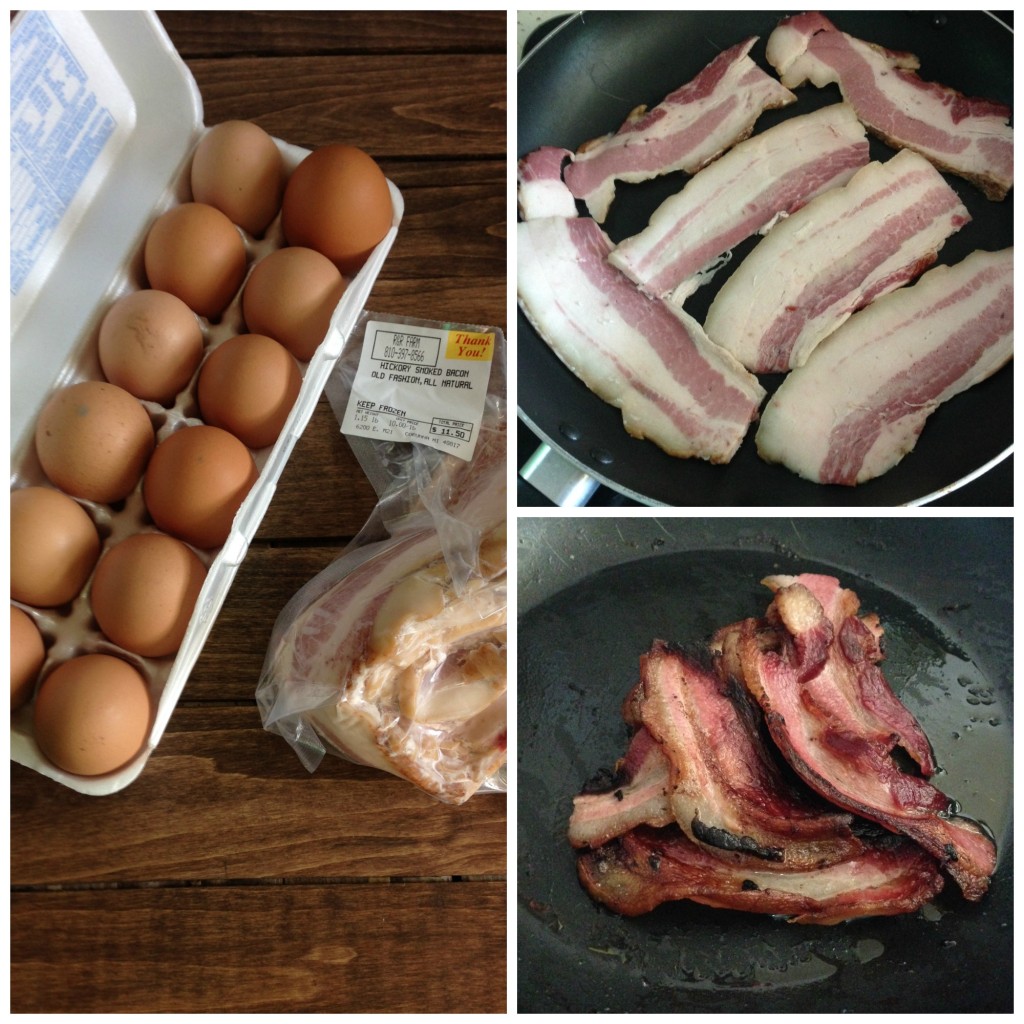 We made the fresh hickory smoke bacon for breakfast Sunday morning. I cut it in half and saved the other half for next weekend. We each had 2 big pieces and some of the farm fresh brown eggs. I love farm fresh brown eggs. They are my favorite thing. When I first met husband he had some chickens here. We had eggs all the time! Sadly, those chickens belonged to his ex-father-in-law who eventually sold them. I was sad to see them go. He should have at least let us keep a few, because husband had been taking care of them for a few years. But, what can ya do?
I'm hoping once husband takes his boards and passes (cause I know he will) we can get settled somewhere. I'd love to find a place closer to a bigger city, but still have a nice piece of property for me to have some chickens, continue my garden, and maybe even having a small milking goat or two. Or three. Maybe some rescue Boxer dogs. That would make me happy in life. I'd love to get my herb garden going. I am slowly building my YUM empire. Even if in my head. I have a lot of ideas I have been testing here and there. Food items and crafts. I'm hoping to have an Etsy shop opened by years end.
Farmers Market. I love it. There are a couple really close to me, but they are small towns so the markets themselves are rather small. There is another one, Saginaw, that is larger like Flint, but doesn't have its own building. It's all tents. So, the Flint Farmers Market gets pretty busy. It's location is pretty old and showing signs of age. On the 21st they are moving 3 miles away to a larger location. I am pretty excited about this because they are going to have a sushi place and the market will also host cooking classes and demos! FUN!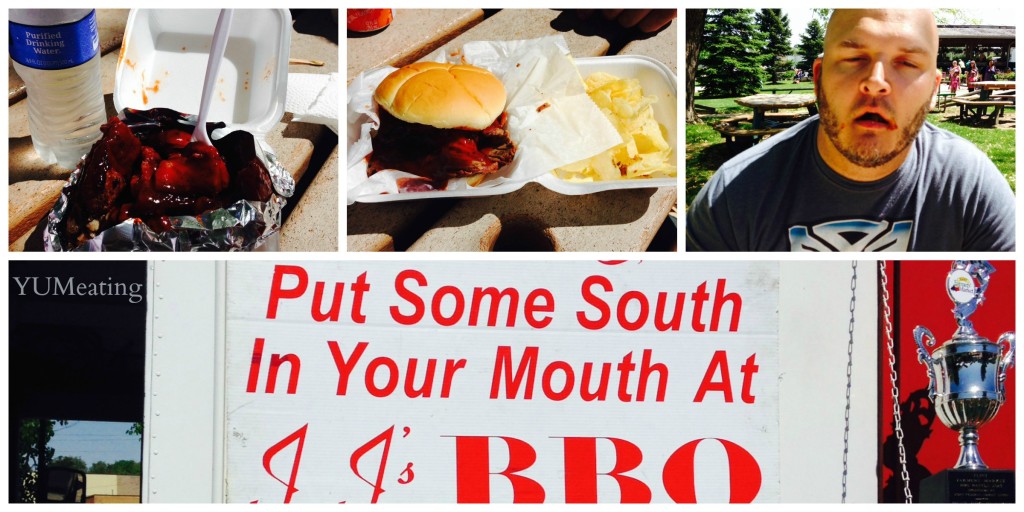 We pretty much spent our day at the market. It was fun for me. I smelled. I talked. I handed out business cards. We ate at a food truck called JJ's BBQ. I loved their slogan -"Put a little South in your Mouth." Of course, y'all know I had to bust out my inner Okie (that's Oklahoma for you guys who are not familiar) and sample the brisket I could smell a mile away. I stood there in amazement as I was him open and move around the slabs of brisket within the smoker. It brought me back to my ex's family who would spend weekends at a time creating the perfect brisket. Even though I am on a quest to eat healthier and regain my old self, I had to try the brisket.
It was a little piece of heaven. 
We are making plans to go back. Now that summer is in full swing, so will all the vendors and entertainment.
Yah!
Do you have a local Farmers Market? What's it like? I would love to hear all about your adventures.