Crepe de licious Niagara Falls, Ontario Canada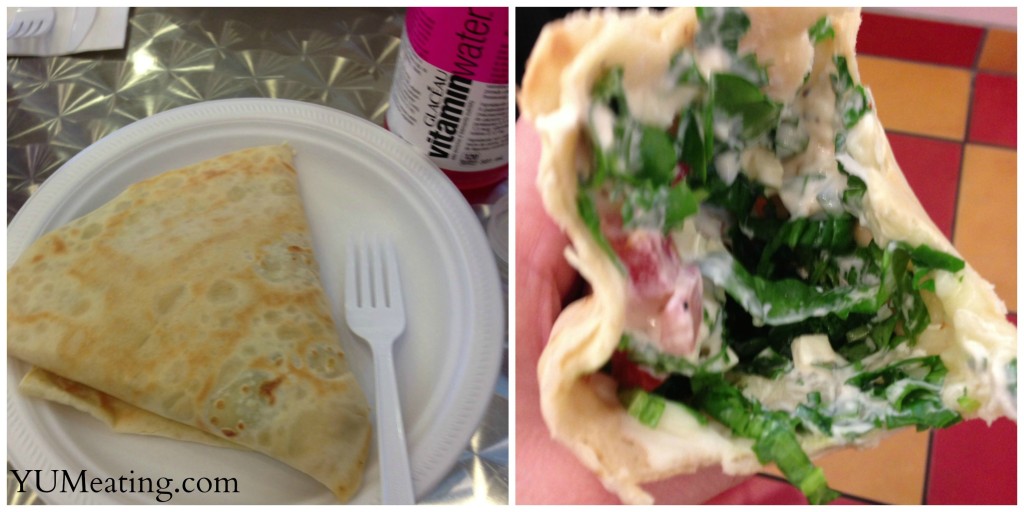 This was just too yummy not to share.  While on our quick little trip to Niagara Falls, Canada we stopped in this cute little crepe shop for a quick-lunch.
I have had quite a few crepes in my life – in America.
I find that they always have one thing in common – the crepe itself is bland, often doughy or too thin, and lacking flavor. I think a lot of places just use a thinned out pancake batter. Hello, one should not be using the Bisquik. No. No. No.
Crepe de licious is a "Proudly Canadian" franchise so I was a little hesitant about the "authenticity of its crepes. But when a little French man appeared behind the counter I was just tickled to death to watch him prepare my crepe that I was sold the minute he started asking me questions about how I prefered my crepes.
I ordered the "Popeye" which was a mixture of spinach, tomato, mozzarella, feta cheese, and feta dressing.  My husband ordered the same thing.
It. Was. Perfect.
Franchise or not, this overstuffed crepe was amazing. There was a nice blend of herbs paired well with the feta. It was nice and warm, melting against the spinach leaves. The crepe had nice flavor and did not taste like watered down pancake batter.
The owner served it to us on a plate, but the moment I picked it up to eat it, he rushed over with a little cone apologizing that he did not know I was going to eat it "the correct way." He seemed rather happy I was going to get my hands dirty.
This girl is all about getting her hands dirty when she eats!