It's Not Just Hair : American Cancer Society Donation 2015 #8or8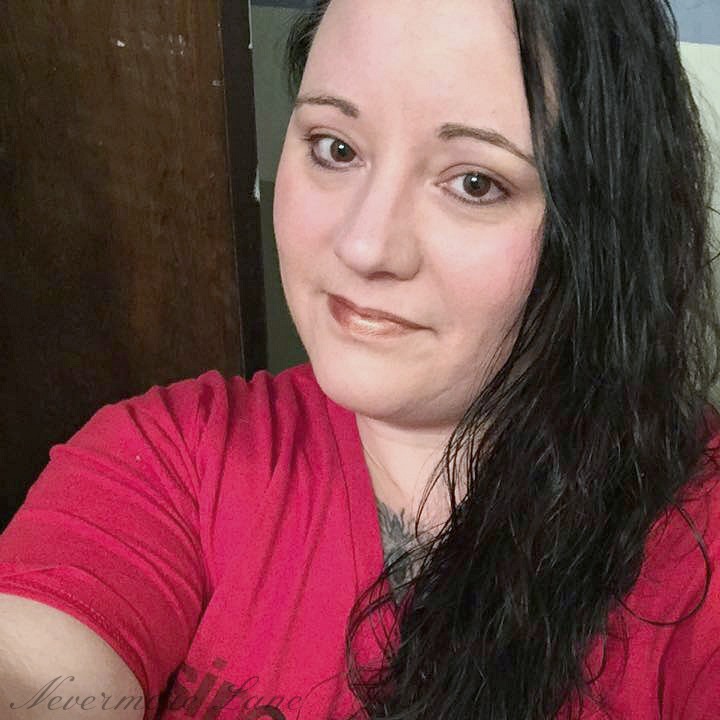 Another year, another batch of hair. This picture was taken in the McConnell bathroom, a few days before I packed up and moved out. This is my last selfie as Mrs. McConnell and the last photo I'll take in that house.
If you follow along on Instagram or we're friends on Facebook, then you've probably noticed a pretty drastic change beyond the divorce.  As I embark on a new journey in life, I decided it was time to go ahead and say goodbye to over 10 inches of my hair. 
This isn't the first time I've given up my long locks.
In March of 2008 I decided to donate my hair in honor of friends and family. Since my hair grows fairly quickly, I had enough to donate again in October 2009. In July 2010, my hair met the chopping block again. Sadly, I wasn't able to donate in 2011 or 2012. Not because I didn't want to, but because I had bleached my hair and colored it various shades of red; starting with super bright red and ending with a deep burgundy. While the bleaching and coloring isn't the problem, I had double bleached it – twice in one week. So, that pretty much damaged my hair and it took two years for me to grow it out and cut all the damaged parts off; inch by inch.
Finally, last year in February, kiddo and I were able to donate together; this time in honor of my (soon-to-be) ex-husbands aunt who had been battling cancer.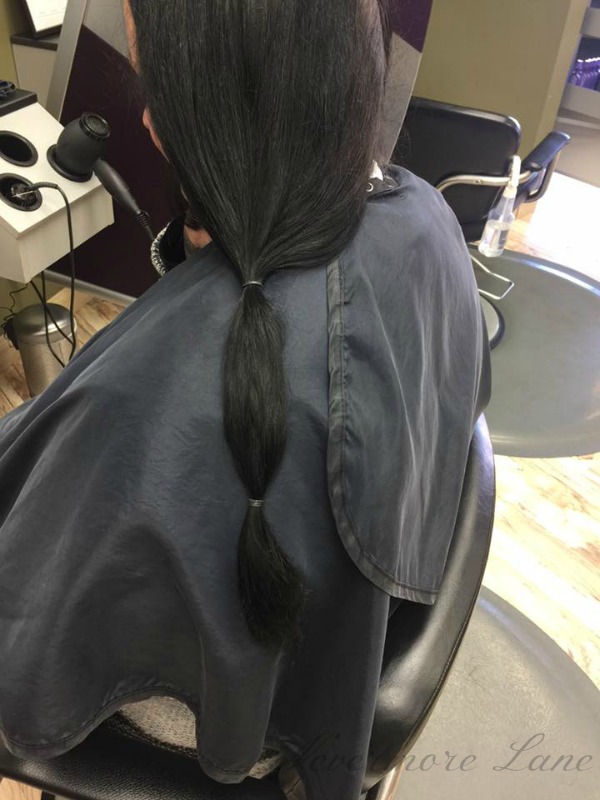 Now, here I am, 2015 with long locks and life changes. I had debated for a while on whether or not I wanted to donate my hair. As my self-esteem dropped significantly over the last few years due to life issues and my weight, my hair was something that gave me a sense of security. I had been talking about donating it for a few months now. I just wasn't sure if I was ready to let it go. It seemed like I was letting go of so much lately.
A week after moving up I decided I had enough. I colored it with the hopes of 'washing away the grey' to make myself feel a bit better. All that did was frustrate me and make me realize it's time to let the hair go. When it gets too long I just can't do anything with it. It's curly. It's heavy. It has a mind of its own.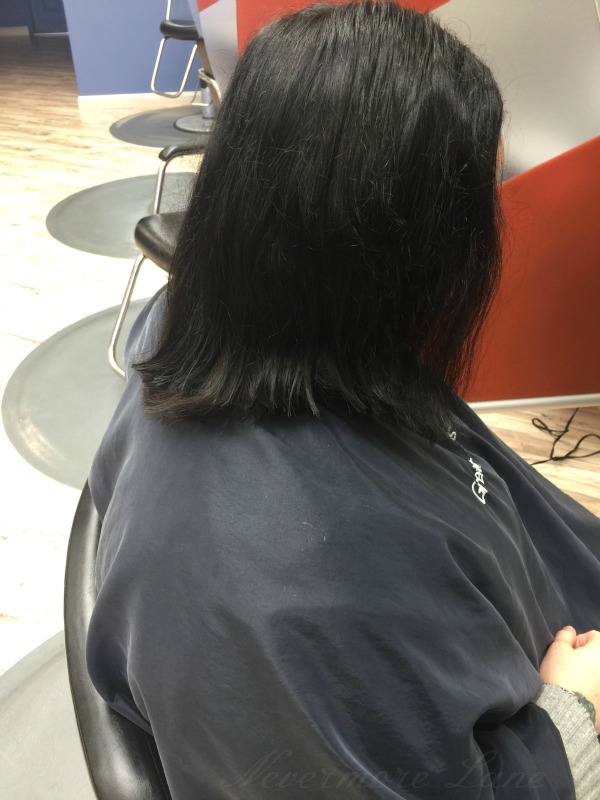 As she started to cut, it took everything I had to not have a breakdown in her chair. I think she sensed something was going on. We started to talk a bit about the divorce, how there is a step-daughter, how we donated together last year and how life has to continue moving forward.
She mentioned how it was good of me to let go. Letting go of my 'mom' hair meant I was ready to face the world with a fresh outlook. I gave up my security. Someone else out there needed it much more than I.
"It's only hair. It will grow back." I keep telling myself as tears and hair hit the floor.
But to me, and the person who will receive my locks, it means so much more than that. For that reason I have to push forward.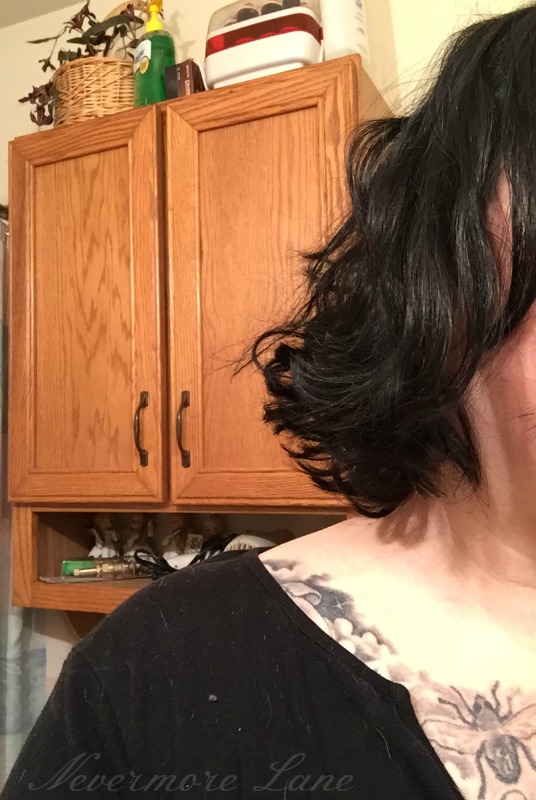 I'm glad I decided to let go. Not only do I have a new look, I have a new outlook on the days ahead.
Watching those locks fall was very therapeutic.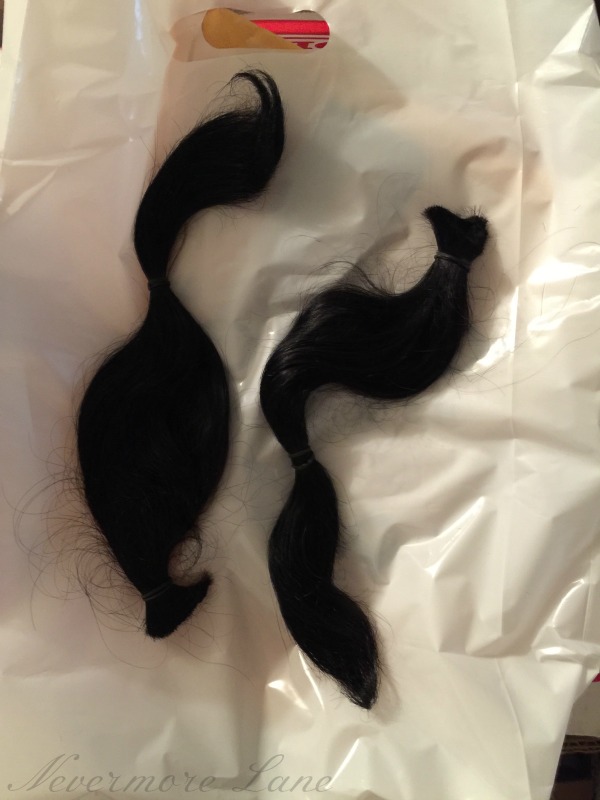 It's going to take some time to heal these wounds. But, if I can let go of things that hold me too tight, I know that I can continue forward on the path I'm walking and come out better on the other side.
Is it time for you to update your look? Are you feeling generous? You can help too by donating your 8 inches or more to Pantene and their Beautiful Lengths program which partners with the American Cancer Society to provide wigs to those who have lost their hair due to cancer.
Disclosure: This is not a sponsor post. This is just something I've been doing for quite a few years now and it's near and dear to my heart. 🙂