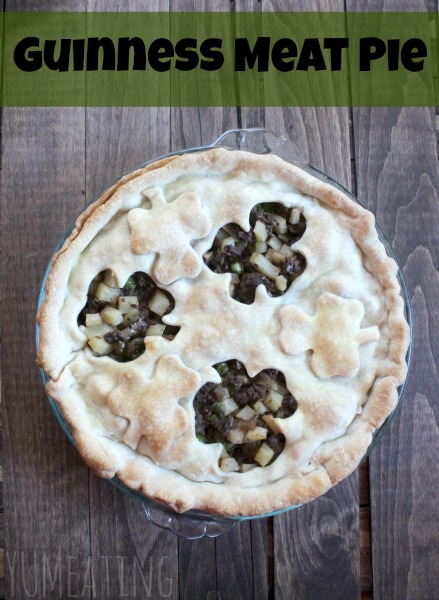 When I started thinking about some new recipes I wanted to create this March, I immediately started thinking about Scottish Pie. While not Irish, still very Celtic and often sold in many Ireland destinations – with  lamb. I have yet to find a true authentic Scott's pie recipe like the one we had at Up N Downs, but I haven't given up. Since we've already made Shepherd's Pie, I decide to try another pie – Guinness. 
I've noticed that a lot of people cook and bake with Guinness Stout and I wonder why that is. I personally prefer Draught. Especially when cooking with beef. For this Guinness meat pie recipe I tried to make it a little more weight conscious friendly. Instead of full fat ground beef / ground round I opted for extra lean instead of just lean because WalMart had a really good sale on it. My husband didn't even notice the switch. 🙂 Bonus.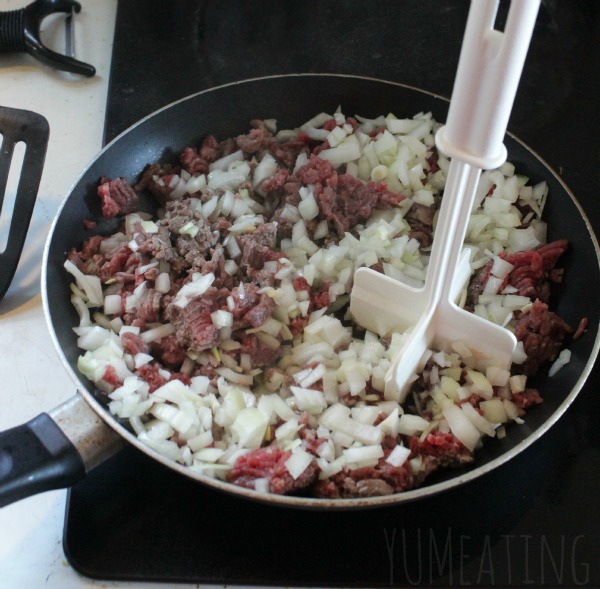 What I loved about this recipe is that it is SUPER quick and easy to make. I turned the oven on the moment I started dicing the onions and potatoes. Then started the beef. Combine. Cook. Add to pie pan (after adding pie crust of course) and off to the oven you go. Since the oven had been preheated for a while it didn't take long to cook.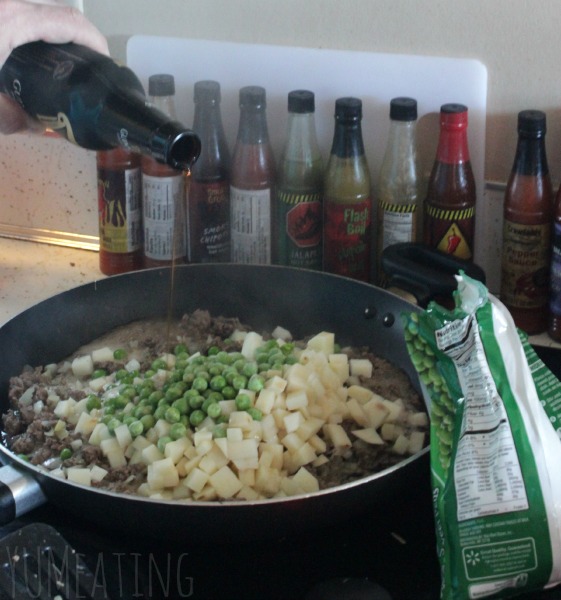 This Guinness meat pie recipe is pretty traditional. It's not super old school like some of my other recipes, but its a family favorite passed down by generations. The only difference here is I used a pre made pie shell. I got those from WalMart, too. Over by the cheese, eggs, butter and biscuits. I just unrolled the top and bottom and put them in my pan. I will admit, I 100% suck at making a pie crust. I've tried multiple times – from scratch. I even bombed a dry crust mix from Jiffy. So on those rare occasions I make pie, I buy these pastry shells or buy the frozen ones in the tin pan.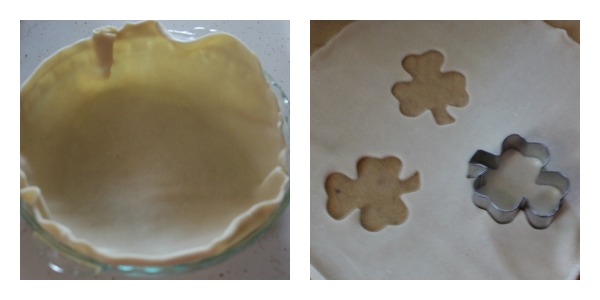 For a little Irish twist in honor of St. Patrick and Irish American Heritage Month I used a shamrock cookie cutter to cut out some shamrocks on the top of the Guinness Meat Pie. Then I placed those cut out pieces between the actual cut out. It turned out really cute.
It only had to cook for about 15 minutes.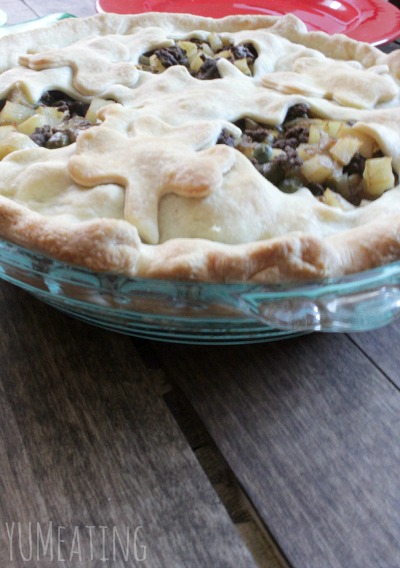 So, I was taking photos and letting it cool before we ate.
This happened.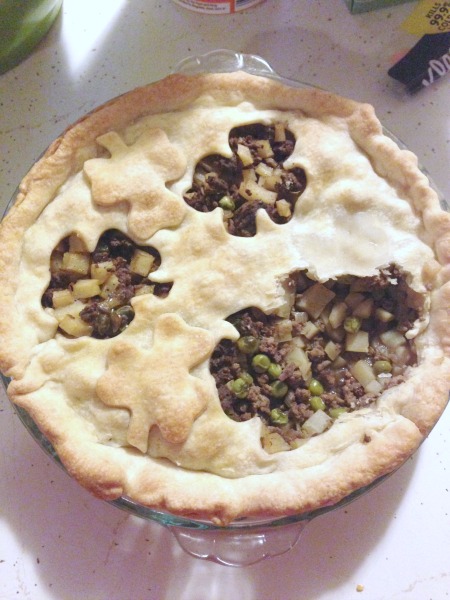 Oh, Tink. That little doggie used the chair by the window to climb up on to the table where the pie was cooling.
She tried to tell me she was sorry.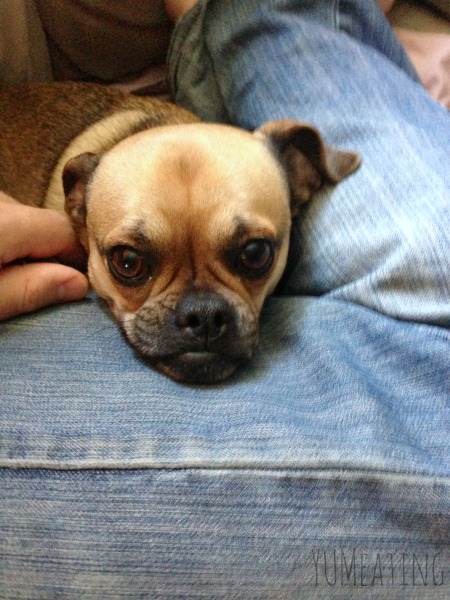 She must have heard me coming down the hallway cause she didn't get too far in to it. So, I used a spoon to scoop out where she ate. Sorry folks if that grosses you out but I'm not overly concerned about dog germs and a few bites missing from my meat pie. Plus, we just can't afford to waste food here.
I'm not dead yet 😉
For the record, the Guinness Meat Pie was amazing. I'm sure Tink would agree 😉
Guinness Meat Pie
Ingredients
1

lb

extra lean ground beef

1 9

" pie crust / pastry shells

top and bottom

3

small potatoes

pealed and diced

1

small onion

diced

1

cup

peas

1

tsp

thyme

2

tbsp

Worcestershire

1

bottle of Guinness

Salt

Pepper
Instructions
Preheat oven to 375.

Grease your pie pan.

Peal and dice your potato. Set aside.

Dice your onion. Set aside.

While you are pealing and dicing, place your ground beef in the pan.

Add salt, pepper, and thyme to the meat.

Use your spatula to break up the meat as you cook on medium heat.

Once you start breaking it up, add the onions.

Continue cooking until meat is browned on all sides and onions are very well mixed in.

Then add the potatoes, peas, Worcestershire and Guinness.

Add additional salt and pepper if needed.

Bring liquids to a boil.

Reduce heat and simmer for another 5-6 minutes; or until the vegetables are tender.

While you are waiting for the meat mixture to finish, roll out your pastry shell and place one in the bottom of your pie pan.

Unroll the top piece. If you are using cookie cutters, you can cut out your pieces now. Otherwise, set the pie top aside for now.

Turn off your burner and pour your meat mixture in to the pie pan.

Use a spatula to even it out.

Place the top on.

Pinch top and bottom of pie crust together.

Optional - melt a little butter and brush it on top of pie crust.

Bake in oven 15-20 minutes or until golden brown.
If you are interested in the Shepherd's Pie: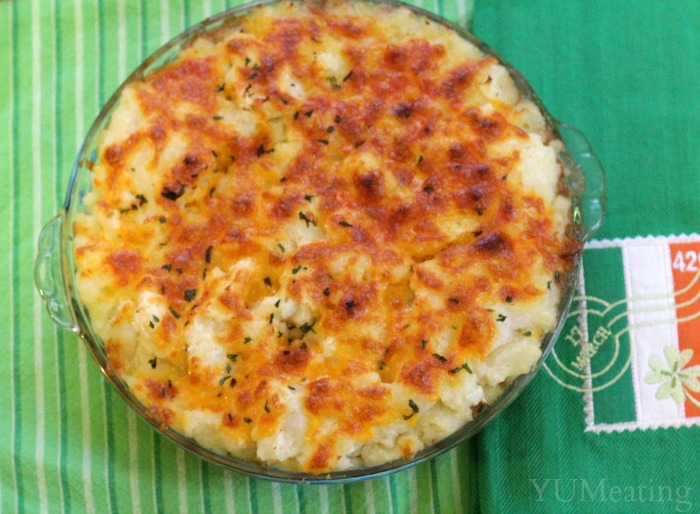 This still remains one of our family favorite.
How about some Guinness Stew with Scallion Mashed Potatoes?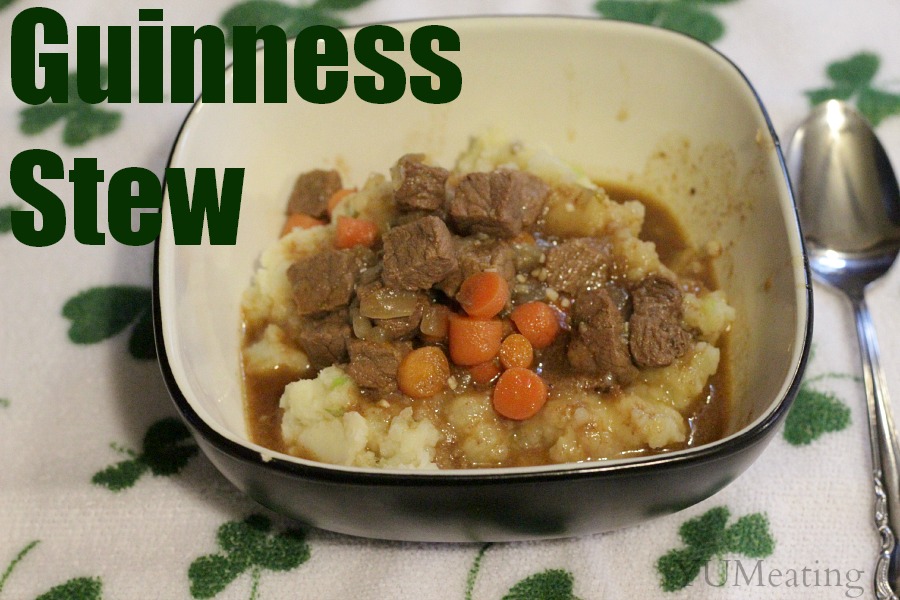 Do you have a meat pie that is a family favorite it your house?