Happy Birthday to Me from Anjolee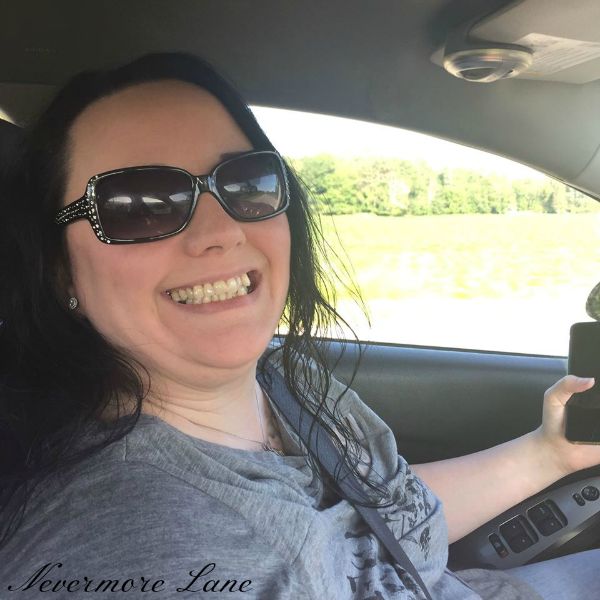 Well hi! Long time to write, right? Whew. Summer is running me ragged and I feel like my tank is on empty! I need to recharge my batteries ASAP! I'm still working on my actual birthday post over on YUM eating, but those of you who read my words there, you know that Wednesday I celebrated my 40th birthday. My husband took me to Detroit on Tuesday night to eat at one of my favorite chefs, Michael Symon, restaurant called Roast.
I received some gorgeous diamond surrounded by diamond designer stud earrings from Anjolee just in time. Sadly though my hair was covering my ears in every. single. picture. UGH! So, I can't show you guys how fabulous they looked with  my LBD (little black dress, only, not so little for me, more like PSBD, plus size black dress.)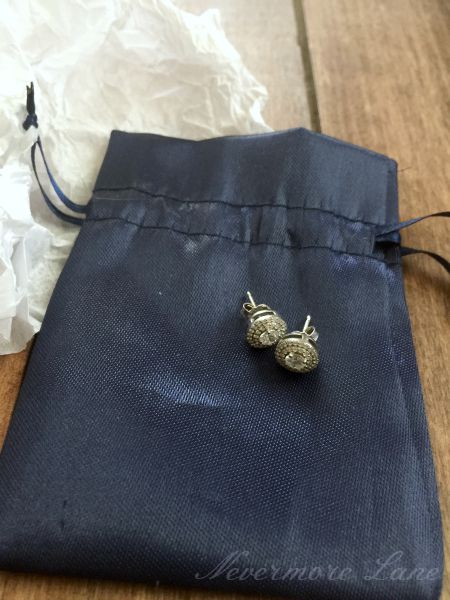 But, on my actual birthday I had to spend the day heading over to the Secretary of State in order to get my new drivers license and renew my tags. Oh – joy! So much fun. My husband decided to snap a photo on the way to the SOS and I was actually thrilled that you could see these gorgeous earrings! (Yes, that is my phone in my hand. No, I wasn't driving. We were sitting at the end of our driveway trying to get across the street! I'm rural, surrounded by cornfields, but yet, I can't cross the street. Go figure.
I should point out that the earrings I have are silver CZ replicas of the fine diamond jewelry Anjolee offers, but honestly, I couldn't tell the difference!
These beauties attracted the attention of the lady taking my new drivers license photo. I'm pretty sure I blinked right at that moment. When I lived in OK we received our license right then and there. Not in MI, you have to wait for it to be mailed to you. So, I'm fairly certain I will be thinking seriously about tossing the license in the shredder and seeking a replacement…. 😉
Normally, I don't change my earrings. I used to. Every day. When I worked outside the home I had jewelry pieces that went with every outfit. In 2007 a good friend of mine purchased a gold shamrock necklace for me and I wore it daily for years. I never took it off until the chain broke. I've since replaced that chain twice and have finally decided to just save my money for a good chain. I have a fairly decent collection of jewelry. I don't wear any of it. When I moved here in MI in 2007, my mother gave me some of my grandmothers jewelry (she had just passed) and I latched on to these gold hoop earrings ever since. I never remove them. Not even for the genuine Jade jewelry my mother-in-law purchased for me when she traveled to Thailand (I think that is where she was.) So, I felt a little out-of-place wearing these fancy earrings.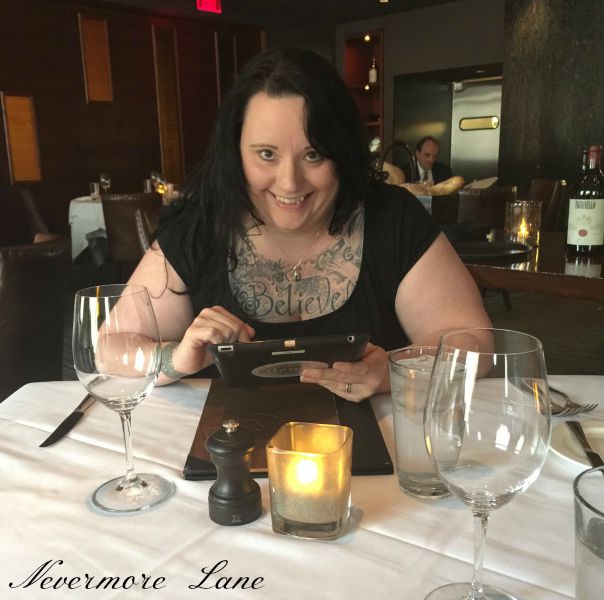 Once I got to the restaurant, I actually forgot I was wearing them. I liked them so much, I wore them the next day! I even wore a silver necklace, one I hadn't worn in quite a while. So, kudos to me for breaking out of my boring routine.
You really should head on over to Anjolee and check out their selection of earrings. They have sizes and styles for everyone. Plus, you can customize! So go head, pick your metal type, your diamond size and quality; you can thank me later.  Also, while you are there poking around, check out their beautiful selection of diamond bracelets.
Disclaimer: I was given these beautiful CZ earrings for free in order to facilitate my review. I was not required to write a positive review. All opinions are 100% my own and I only share items on Nevermore Lane that I personally believe in. I am not being compensated for this review.