Just a Taste with Crum Creek #crumcreek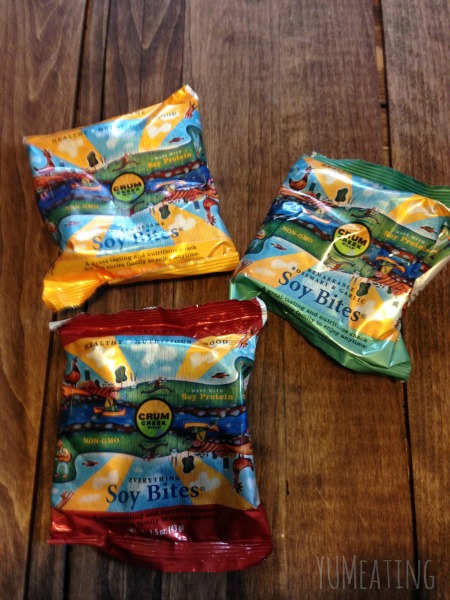 Snacks, snacks, everywhere snacks. When Crum Creek reached out and asked me to review their snack line I had no idea they were going to stuff a giant box and send me a months supply! I just assumed that in exchange for my honest review I would get a sample pack of each flavor. Wow. That right there is top-notch. How they treat their brand ambassadors says a lot in how they treat their customers. Sadly, they did spell my first name. While I am used to it, I hope they play closer attention to paying customers because that could mean the difference between a returning customer and one who won't come back. 
I was a little worried at first about eating these soy bites because they (obviously) are made with soy. As someone who suffers from PCOS, I don't want to deal with the consequences of hormones and eating too much soy. The data is mixed and so are opinions. But, I figured it was such a minimal amount that it shouldn't cause any issue. If you want to read some information regarding the issues with soy, feel free to read my page all about PCOS.

So these little snack packs are small and portable. The soy bites are made with non-gmo soy protein. These tasty treats are higher in protein and lower in carbs that most snacks available. I received samples of sesame, everything, and Rosemary & Garlic.
I tried the Rosemary & Garlic first. I am not sure when I was expecting. They were a bit dry (a little more so than normal breadsticks and pretzels)  and I wasn't really tasting any garlic flavor. I read on a fellow bloggers website that she dipped them. I might have to try dipping them in hummus. Might have a bit better flavor.
Next I tried the sesame. I hate to hurt anyone's feelings, but these were so dry and had no real flavor. I think I am going to smash these up and add some seasoning into a bag. Then, I will use them as 'bread'crumbs for some faux frying. These might be tasty dipped in some natural peanut butter.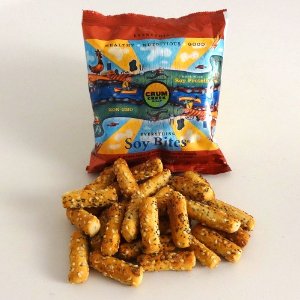 Lastly, I tried the everything. Winner! These little soy bites tasted a lot like an everything bagel. mmmm…… I even dipped on into a small bit of Greek yogurt (instead of sour cream) and it was pretty amazing.
All-in-all I really enjoyed the everything variety soy bites from Crum Creek. But you know what they say, "different strokes for different folks" and I encourage everyone to try everything at least once to form their own opinion on tastes and textures.