Foodie Penpal Haul for September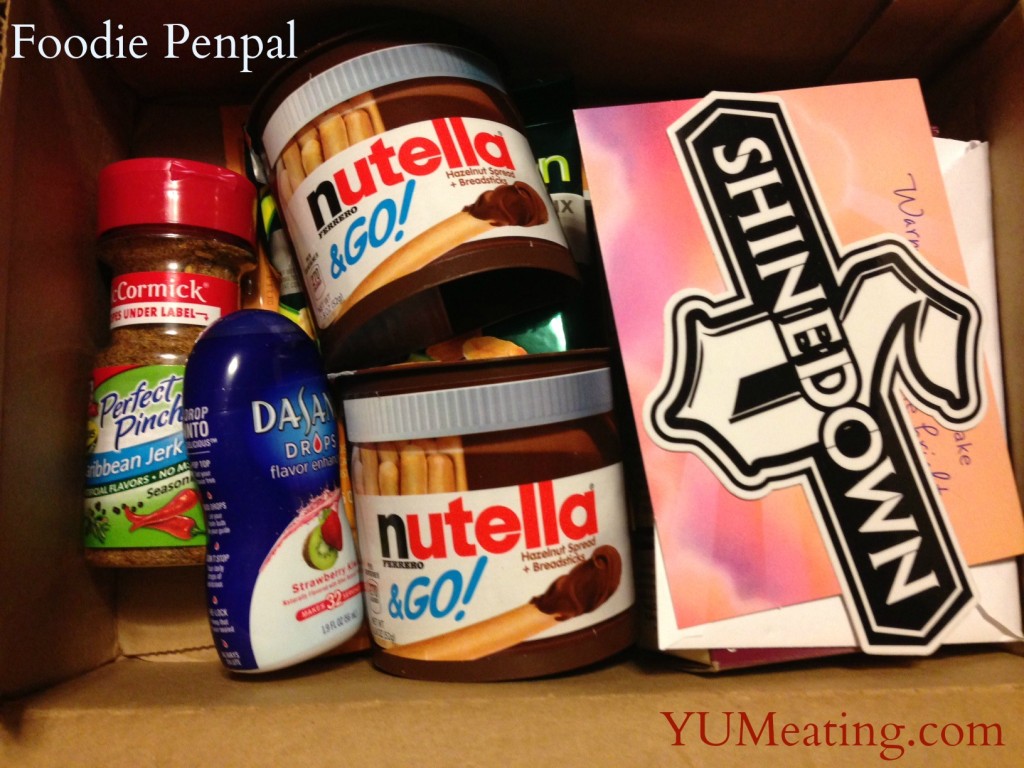 This was my first month participating in the Foodie Penpal program. I was really excited to have a penpal again. It was very nostalgic as it had been years since an official penpal had been a part of my life. During my trip to Canada a picked out a few things for my penpal hoping they would like them. When I got home I was giving the exchange list along with the name, address and website of my match.
I found my penpals Twitter and went to visit so I could learn a few things about them. The first thing I noticed was that she was a Shinedown addict. I don't talk about Shinedown much here on YUM – for one because the site is so new, and for two – it just hasn't come up. Shinedown in a sense – saved my life. For those who don't follow me on Twitter and have never seen a personal photo come through, you are missing out.   That is, if you like tattoos.
You can read my thanks to Shinedown and how they became the story of my life to which I dedicated my entire chest to use as a mural for a tattoo to honor the voice and the music of Brent Smith.
It was like Christmas morning when my Foodie Penpal box arrived. I was so excited when I opened it to find a Shinedown sticker waiting for me right on top!
Audrey blogs over at Exposed: On My Way to a Better Me.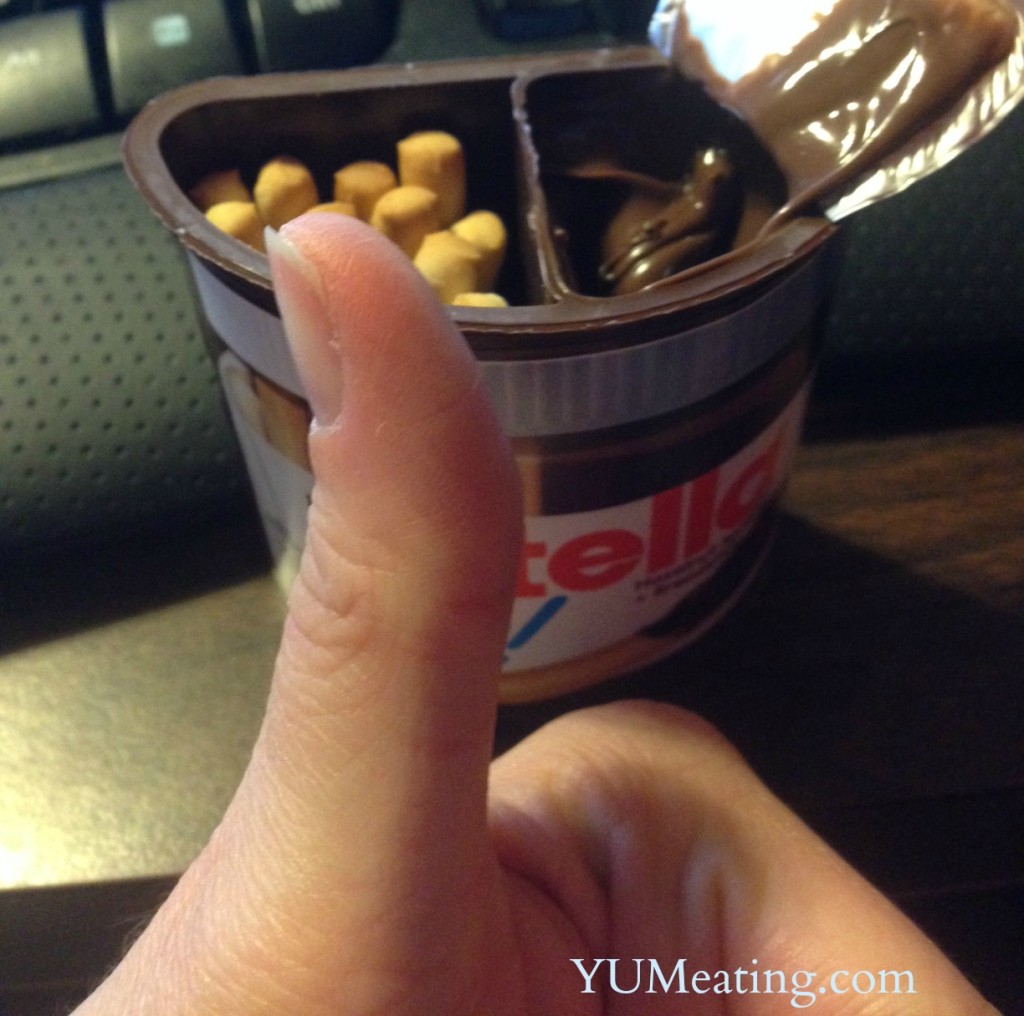 Audrey sent 2 Nutella To Go! snack pack, which I couldn't wait to get into.
The box also included a packet of Planters Nut-trition sustaining energy honey nut protein snack (these were pretty yummy, but overall a little too sweet for me.), some McCormick Perfect Pinch Caribbean Jerk seasoning (I can't wait to try this, I have a feeling it's going to pair really nice with some chicken I'm going to try to roast soon), a container of Dasani Drops Strawberry Kiwi (my favorite water flavor) drops, a box of Hodgson Mill Cornbread and Muffin Mix.  This is whole grain cornmeal and whole wheat flour. I'm really excited to try some whole grain cornbread. I see some cornbread baking very soon. If you have followed this new blog for the short time we have been here, you know – cornbread is very well-loved here. I make it many different ways and so far I think I have perfected the sugar-free skillet cornbread variety.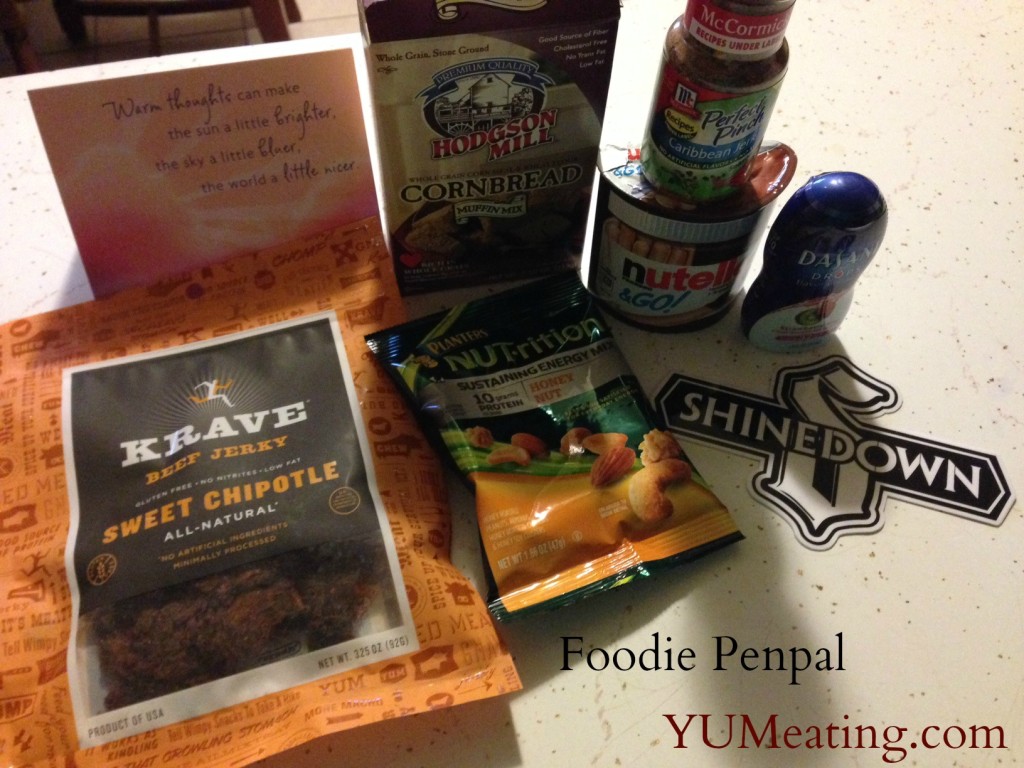 Audrey also sent a bag of Krave brand beef jerky in Sweet Chipotle flavor. I love jerky. I have never tried Krave brand and don't really eat a whole lot of chipotle flavor items. It was ok. I liked the fact that the processing was minimal for Krave brand. It was all-natural, no artificial ingredients. That is a two-thumbs up in my book. The packaging totally rocks. It wasn't awful, but I just didn't love the flavor. It was nice and moist and not super dry. The texture was pretty amazing.  It was just the seasoning I was not thrilled by. I'm pretty sure the husband isn't going to let this go to waste though. 😉
I'm so excited to have met another Shinedown Nation friend – tried some wonderful treats – and even met someone who even though she wants to be better by 30 – and mine is best by 40 – we still share many of the same struggles in life. The Foodie Penpal program is a lot of fun and I can't recommend it enough!!
If you are interested in joining the Foodie Pen Pal program head on over to The Lean Green Bean for US and Canada  members or contact Carol Anne This is Rock Salt  rocksalt@thisisrocksalt.com for UK members to get signed up.