GNC Total Lean Vanilla Bean Shake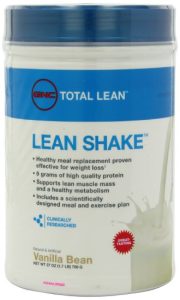 I have done my time with Slim Fast. I have been using the product off and on since I was in High School. Mind you, I am now 35 years old, so that tells you how long SF has been in the picture. The only thing I still like from them is the ready-to-drink Cappuccino Delight shake in a can. I put them in the freezer for a few minutes and have one for breakfast. I also like one of the snack bars because it reminds me of a Butterfinger, but the name escapes me at the moment. I can't follow the actual Slim-Fast plan. I always feel like I am starving. Even when they came out with the Optima formula. Not only that, everything is SO sweet I can't even stand to eat the bars.

I am however in need of a simple plan to shed some weight. What I am not though is someone who can drink their calories. I need that psychological aspect of eating. Putting the food in my mouth and chew. Because of this, I have never really been able to stick to the liquid diet of replacing two meals a day with two shakes a day.
With all of these new formulas out nowadays, they have less sugar, more protein, and more fiber giving you that full feeling and keeping you full much longer.
Maybe, just maybe I can try that.
Years ago when the GNC line first came out, I gave it a try. The chocolate shake was thin and tasted like watered-down chocolate milk. I was hungry within the hour. I never bought another canister. The other day I was in our local GNC getting some herbal supplements to help with my illnesses and noticed they had single-serve packets on sale for 99cents. When I asked the girl if she had something to control my appetite while working on my weight loss, she suggested the shakes. They have no stimulants which are good because I am very sensitive to medications and supplements. She stated she had a shake every morning for breakfast. It was easy and she will still losing weight, was not hungry, still had a lot of energy. We talked for a bit and found we had a lot in common with our weight, love of food, depression, and anxiety. Talking to her was a godsend. She was so helpful.
I decided to try the
Swiss Chocolate
and
Vanilla Bean.
I had the Vanilla Bean yesterday for lunch, about 1:30p and I did not get hungry until 6ish. I was too lazy to use a blender. I used skim milk instead of water. As soon as I tore the package open I could tell it was going to at least taste good by the smell. It smelled just like
cake batter. They have Snickerdoodle now!
I put 8oz skim milk in a cup and stirred the powder into it with a fork. Then I continued to stir with the fork until the powder was dissolved. It dissolved very well and I did not have any clumps. It was nice and thick. To trick my brain I used a spoon to "drink" it like soup and took my time. It was yummy and I plan to buy more. The girl at GNC said she purchased some of the sugar-free flavored coffee syrups to add some flavors to the shakes for variety. I know the shakes themselves come in 3 or 4 flavors. She purchased orange to add to the vanilla to make an orange cream. Sounded yummy!
Today or tomorrow I plan to try the Swiss Chocolate.
Disclosure: This is not a sponsor post. I am not being compensated for this post. Most links are affiliate links through MagicLink.
Disclosure: Not a sponsored post. This one is all me. I'm not being compensated by any of the companies listed here.
Links are affiliate links through MagicLink. They are hands down my new favorite linking option now. Saves me so much time and energy from hunting down store and product affiliates, not to mention signing up for affiliates and pays so much more than Amazon. Plus, all of the products you find on the net are located on MagicLinks. If you are not familiar with this type of program to earn money from your own website, I highly suggest you check them out!