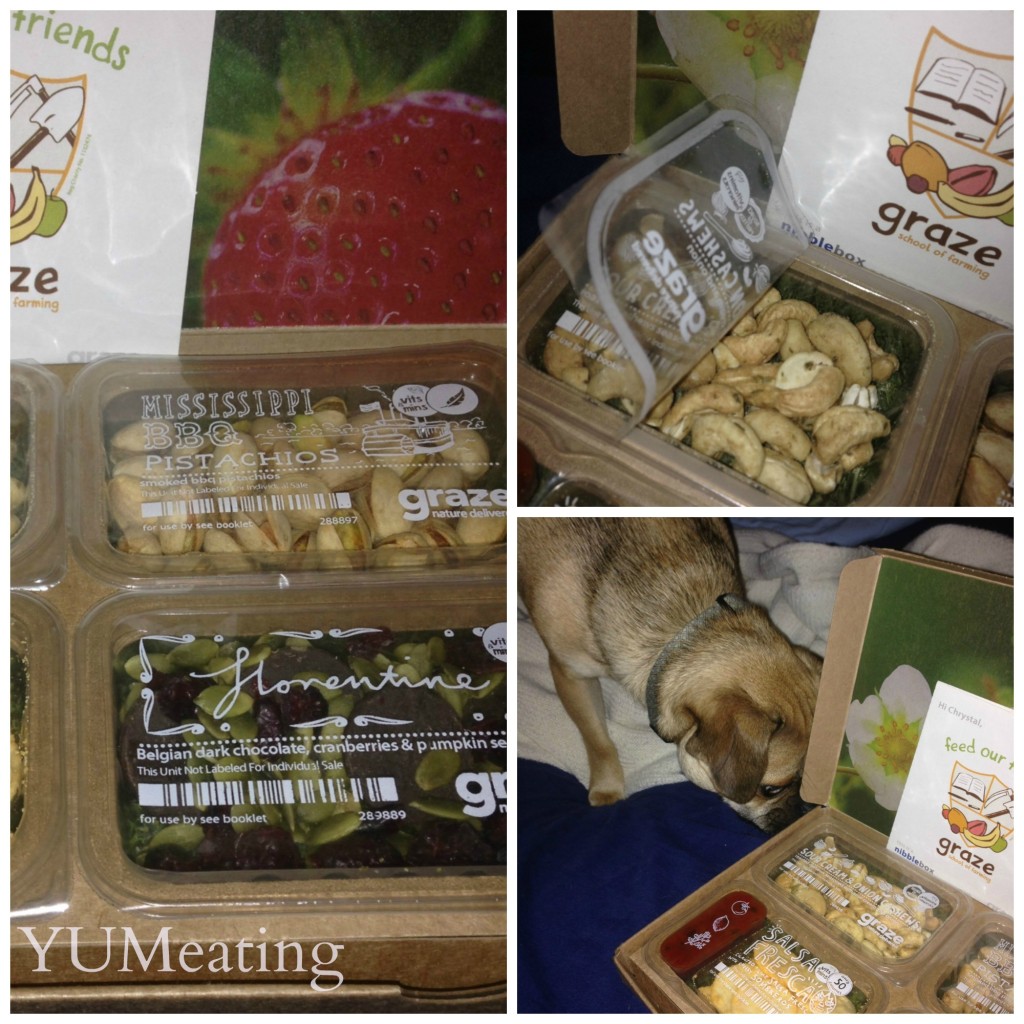 November's Graze box has arrived. If you remember back in October I had my very first Graze box and I was happy to nom nom all day long. Only, the nomage didn't last all day. This month I was given four new delectable delights to ravish my taste buds. Shortly after the husband brought the mail in I took my secret box of treasures and scurried off to the bedroom with a book. I couldn't wait to bust open my treat box and test out this months supply.
Sadly, but the time I actually got settled in to bed the only thing I was able to try was the Sour Cream & Onion Cashews. When I was younger I think I had an addiction to sour cream and onion Pringle's. It's not something I am proud of. But, there it is.  I LOVE cashews. I purposely don't buy them though because it would be so easy for me to just sit here and eat handful after handful. Before I know it, the container is empty. That's one thing I don't have to worry about the Graze box, each box has perfectly portioned treats just for me.
The Sour Cream and Onion Cashews were great. I only had a few before falling asleep so I enjoyed the rest of them today as an afternoon snack. These were perfect. The sour cream and onion had just enough flavor to give the cashews a bit of sparkle, but it was not overly sparkly so that they tasted like a giant mountain of salt. Win! I think Tink was interested in the smell of something in my box, but she seemed more concerned with the actual box itself. Weird.
The next thing I tried was the Salsa Fresco which was cilantro lime salsa fresco with cheesy sombrero (ummm thats a super-duper cute name for these round crackers!) Well, I wanted to love this. I do enjoy some fancy chips and salsa. I grew up in the south where Mexican food is ALL over. So, can you blame me? Only, I didn't. Love it, that is. The salsa had too much of a sweet taste to me and I just can't add it to my favorites. The crackers had a nice crisp to them, and I did like them. They could stand to have a bit  more cheese taste though. I wouldn't mind seeing these paired with something else in the future.
Onward.
Next in line is the Florentine which consisted of Belgian dark chocolate, dried cranberries and pumpkin seeds. We all know my affinity for pumpkin around here, but I prefer to have the whole seed. Not shelled. So this was a bit off for me. I'm over dried cranberries. I picked around them. I did eat each and every bit of the Belgian dark chocolate which was about 5 pieces, each a bit smaller than a quarter. I am a huge fan of dark chocolate so this was a welcomed treat. I should have saved these for my after dinner treat with some wine. Delish!
I saved the best for last. I didn't know they were going to be the best. I love pistachios. They are my favorite nut hands down. This Graze box contained Mississippi BBQ Pistachios. I was a little worried about the BBQ flavor as I tend to shy away from anything BBQ flavored. Don't get me wrong, I'll eat some good old southern style BBQ, but its the flavored stuff that sort of grosses me out. This had a nice smoked flavor at not at all sweet like you would expect a BBQ flavor product to be. It was actually quite nice and I told Graze I wanted more!
All-in-all 2-for-2 isn't bad. You have to try things to know what you are going to like.
If you remember my friend Holly at Midwest Punk Rock Homesteaders also gets a Graze box. Last month we shared the same goodies. This month they got some different treats. Check it out as Sprog (her kiddo) gives a play-by-play of the treats and enjoy another cute overload photo of him and The Frog.
Graze box is a personal favorite of mine for so many reasons. First, its affordable. Second, its all hand crafted and third, they give back.  As a bonus – it's healthy.
You can join by invite only. So you'll need my friend code to get in : CHRYST6FP and I only have THREE  left. So hurry because once they are gone I can't offer anymore. 🙁 Boo!
You will get your FIRST and FIFTH box free. My boxes are $6. I mean, how can you go wrong with that?