The Girl From the Train By Irma Joubert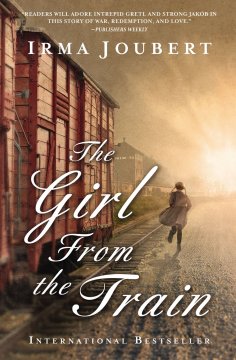 The Girl From the Train By Irma Joubert was a delight to read and I am not normally one who picks to read historical fiction. What lured me in was the fact that I am obsessed with reading anything which has to do with the Holocaust; both in fiction form and non. While this book doesn't really dive into the Holocaust itself; it is a tale about two people who connected because of the war. This story follows the life of little Gretl Schmidt from the age of six until the age of twenty-one. 
The book is labeled as Christian Fiction, but is more of a coming-of-age story than it is a biblical work. I believe it helps that the author was a history teacher for 35-years because you can tell when reading that she pays very close attention to detail. The book is very well written and edited.
Despite reading the description prior to obtaining the book, I wasn't sure how this story was going to pan out for me. Because I wasn't really a big history buff and don't read a lot of historical fiction, I was worried I wouldn't finish the book. I was pleasantly surprised that this work of fiction kept me reading until the very end.
While I won't give away spoilers, let's just say the author disguised the climax of the story and the ending might just surprise you.
This book really made me stop and think about the world today. How things used to be, how things have changed and wondering how things will be in the future. It's a book that will make you appreciate the simple things in life.
Book Description
A sweeping international love story that celebrates the triumph of the human spirit over the inhumanities of war and prejudice.
Six-year-old Gretl and her sister jump from a train bound for Auschwitz, her mother and grandmother unable to squeeze between the bars covering the windows. The daughter of a German soldier, Gretl understands very little about how her grandmother's Jewishness brought her first to the ghetto, then to the train, and now, to the Polish countryside where she wanders, searching for food and water for her dying sister.
Soon, Gretl finds refuge with Jakob, a Polish freedom fighter, and his family, where she is sheltered until the end of the war. Gretl is then sent away to a new life, a new name, and a new faith in Apartheid-era South Africa. As she comes of age in this strange place, she confronts its prejudices as she hides the truth of her past from her new family.
When Jakob makes his way to South Africa many years later, Gretl and Jakob are reunited in a love story that transcends time and distance and survives the ravages of hatred and war.
About the Author
International bestselling author Irma Joubert was a history teacher for 35 years before she began writing. Her stories are known for their deep insight into personal relationships and rich historical detail. She's the author of eight novels and a regular fixture on bestseller lists in The Netherlands and in her native South Africa. She is the winner of the 2010 ATKV Prize for Romance Novels. Facebook: irmajoubertpage
Do you enjoy reading historical fiction? What's the last good book you read?
Disclosure: I received this book for free from the publisher to facilitate my review. I am not being compensated for this post. All opinions are 100% my own.