Whispers in the Reading Room (The Chicago World's Fair Mystery Series) By Shelley Shepard Gray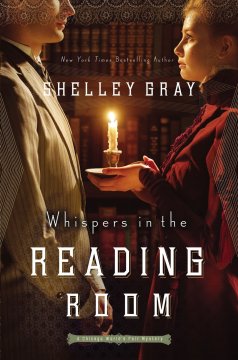 Whispers in the Reading Room (The Chicago World's Fair Mystery Series) By Shelley Shepard Gray is another historical piece. I am on a roll lately with these historical pieces 😉 that's two in one day!  So, what drew me in to force myself to get through another historical fiction piece of work? Well, this one was all about a librarian who finds herself intrigued with the dark and mysterious man who catches her eye. Given the description, he'd probably catch my eye, too. 😉
The story takes place after the closing of the Chicago World's Fair.  For those who are unfamiliar, the gates open on May 1, 1893 and remained opened for six months. The original name was World's Colombian Exposition and more that 26 million visitors passed through its gates. The fair was meant to celebrate the 400th anniversary of Christopher Columbus' first voyage to the New World. While there are many facts regarding this historical event, the ones which stand out are the serial killer who went on a killing spree during this time and there was also a political assassin during this time.
Despite not being much of a historian, I tend to recall stories of this particular exposition because of my true crime fascination. (Wait, didn't she just say on her previous post that she was obsessed with all this Holocaust related and now she's talking about true crime? Oh yes, I'm a bit on the dark and dreary meter 😉 )
Knowing the history behind the real life events, it puts this book into a different perspective. Here you have these two paths who have crossed, and yet, there is a whole world moving along right beside them. While some of these things are hinted on within the pages of this novel, many others are of the authors own imagination and only heighten the fascination with the story.
There is definitely a bit of that wealthy bad boy romance going on, but don't worry, this isn't another "Fifty Shades of Grey." This is another book which is shelved in the Christian Fiction so the romance, while there, isn't the main theme of the story and it is very tame.
I enjoyed this book so much that I have added the two previous books in the series to my read list. It should be noted, that this can be read as a stand alone novel. You do not need to read the previous two. The previous two stories are different characters and events which also happen during the Chicago World's Fair.
Book Description
Lydia's job at the library is her world—until a mysterious patron catches her eye . . . and perhaps her heart.
Just months after the closure of the Chicago World's Fair, librarian Lydia Bancroft finds herself fascinated by a mysterious dark-haired and dark-eyed patron. He has never given her his name; he actually never speaks to a single person. All she knows about him is that he loves books as much as she does.
Only when he rescues her in the lobby of the Hartman Hotel does she discover that his name is Sebastian Marks. She also discovers that he lives at the top of the prestigious hotel and that most everyone in Chicago is intrigued by him.
Lydia and Sebastian form a fragile friendship, but when she discovers that Mr. Marks isn't merely a very wealthy gentleman, but also the proprietor of an infamous saloon and gambling club, she is shocked.
Lydia insists on visiting the club one fateful night and suddenly is a suspect to a murder. She must determine who she can trust, who is innocent, and if Sebastian Marks—the man so many people fear—is actually everything her heart believes him to be.
About the Author
Shelley Shepard Gray is a New York Times and USA Today bestselling author, a finalist for the American Christian Fiction Writers prestigious Carol Award, and a two-time HOLT Medallion winner. She lives in southern Ohio, where she writes full-time, bakes too much, and can often be found walking her dachshunds on her town's bike trail. Find Shelley on her website, www.shelleyshepardgray.com, on Facebook: ShelleyShepardGray, and on Twitter @ShelleySGray.
I have never really been much of a historical fiction fan, but these last few books I have read are really opening my eyes to how great the genre really can be. 
Have you ever stepped outside of your normal reading genre to be surprised at what you found? I'd love to hear about it.
Disclosure: I received this book for free from the publisher to facilitate my review. I am not being compensated for this post. All opinions are 100% my own.